Read time 5 minutes
Looking for a solution to move data from your SharePoint on-premises to SharePoint Online? Get the best ones in this blog. Go through this blog and find the most helpful ways to move data from SharePoint on-premises to SharePoint Online.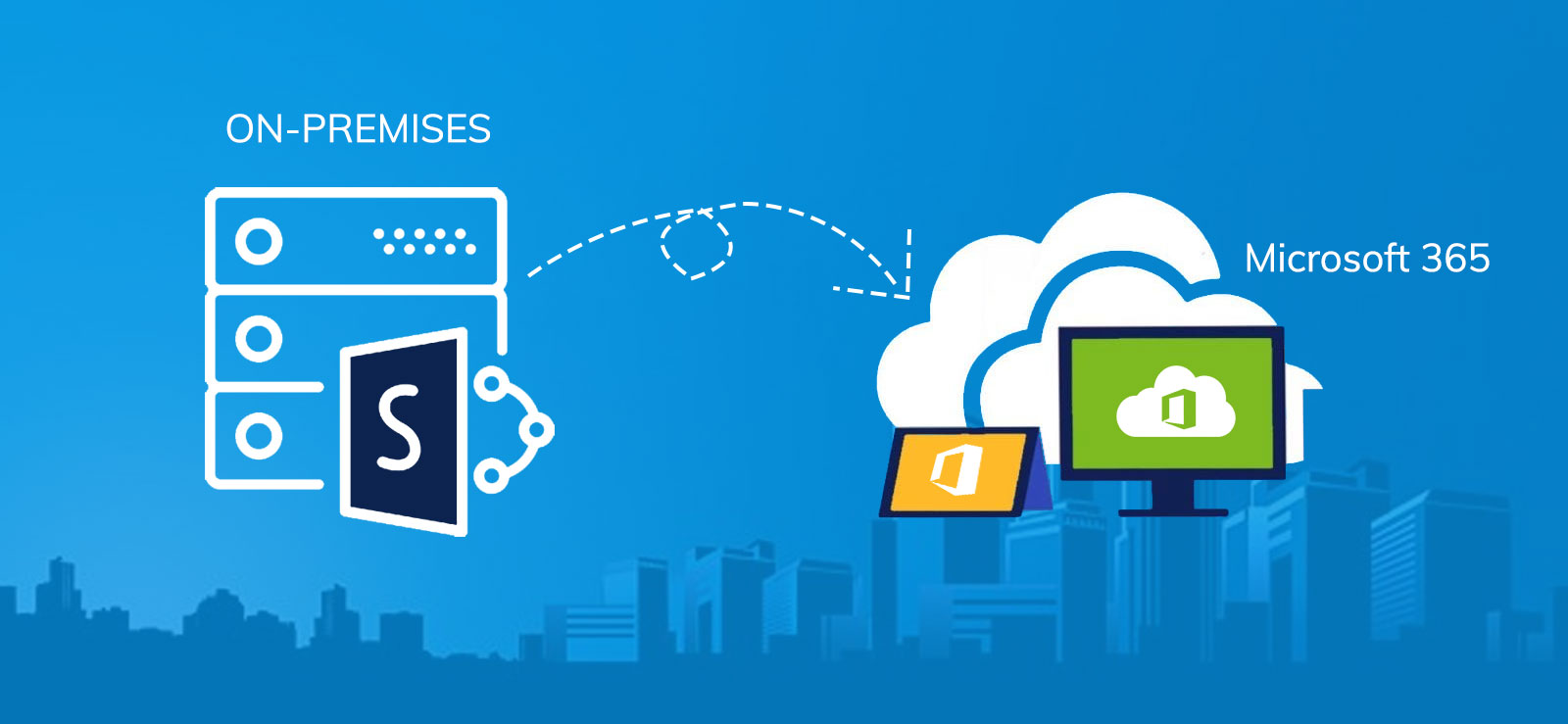 Seeing the potential of the cloud platform, most of the on-premises users are migrating their data to the related online application. It would not be surprising at all if SharePoint on-premises users are following the trend and are migrating their data to SharePoint Online. Owing to the advantage of SharePoint Online in Microsoft 365, many organizations are seriously considering this option now.
Let us know about the possible practices which users can follow in order to move documents and files from the on-premises SharePoint to SharePoint Online.
SharePoint Migration Tool – Microsoft Tool for SharePoint Migration
Microsoft has introduced a tool (SPMT) which is designed specifically to move your SharePoint data to Microsoft 365 for free. You can download this tool from the Microsoft site and use it for your migration.
In fact, Microsoft has a planning and assessment tool for this migration (for on-premises SharePoint 2013) which is known as the SharePoint Migration Assessment Tool. You can use this link to download and install this planning tool. Its function includes scanning SharePoint Server content and reporting any issues (if found) with the migration.
Which Migrations Do Microsoft Tool Supports?
The tool supports the following migrations
SharePoint Server 2016 (Public Preview) to SharePoint Online/OneDrive
SharePoint Server 2013, SharePoint Foundation 2013 to SharePoint Online/OneDrive
SharePoint Server 2010, SharePoint Foundation 2010 to SharePoint Online/OneDrive
Network and local file shares to SharePoint Online/OneDrive
This tool is available to all Microsoft 365 users and they can migrate data from SharePoint on-premises to the SharePoint Online account.
Pre-requisites for Migration
You must be a SharePoint Admin at tenant level and Admin at the site collection level
You should know the current location of the SharePoint data and the credentials of the source and the destination
SPMT supports only SharePoint On-premise 2010 and 2013 migrations
Now, let us move towards the process of using SPMT to migrate SharePoint on-premises to SharePoint Online manually.
Launch the installed tool and enter the Microsoft 365 login credentials as admin.

Go to Start your first migration and select SharePoint Server.


Provide the source SharePoint Server site URL and click on Next.

You need to enter the User name and password for the site next and then click on Sign in option.
Choose the document library containing the files for migration and make migration choices with the available list.
Next, provide the SharePoint Online site URL as the destination and select a document library as target. Click on Add then.
After this, a migration task is added. Click on Next to continue.
Confirm the migration task settings and click on Migrate to start the migration process.
Watch the ongoing migration and wait for the completion.
The SPMT migration tool allows monitoring as well as reporting migration jobs. Also, it allows resuming migration jobs paused before.
A Professional Tool for SharePoint On-premises to SharePoint Online Migration
We know Microsoft has been providing some free utilities and features allowing users to perform some data migrations manually. But certainly these facilities do not fulfill all the user requirements and are less flexible. In addition, the success of these solutions depends on the technical expertise and skills of the user.
If you want to perform the migration from SharePoint on-premises to SharePoint Online without any disturbances, limitations or pressure, then you should go for a professional migration solution.
Kernel Migrator for SharePoint is becoming the first choice of the users for moving SharePoint data from on-premises to cloud. This is because of the advanced features for a smooth, quick and risk-free migration. It supports migration from almost all SharePoint on-premises versions to SharePoint Online.
The tool helps you migrate SharePoint permissions easily. It migrates Documents, folders, views, list items, web parts, workflows etc. from SharePoint lists and libraries to an existing or new SharePoint Online sites. It also migrates versions along with the data. Inclusion of filters like date, users, files, etc. makes this tool suitable for selective migration. Users can also migrate public folder data from Exchange on-premises, Outlook profiles, and Microsoft 365.
Conclusion
There are some manual ways to perform SharePoint on-premises to SharePoint Online migration. However, professional migration solutions are preferred by many SharePoint administrators. So, go to SharePoint Migration tool website to have a close look at its features and download its trial version free.