Read time: 6 minutes
Summary: In 2020, the business landscape underwent a significant shift as remote work became the norm due to the pandemic. Collaboration became challenging, leading to the rise of various communication tools. Microsoft and Google introduced platforms for professional intra-organization communication, with Google offering 'Meet' and Microsoft offering 'Teams.' Microsoft Teams, part of Microsoft 365, saw explosive growth during the pandemic, reaching 145 million daily active users in April 2021. Its features include threaded chats, calling options, meeting scheduling, channels for discussions, and educational tools. On the other hand, Google Meet offers high-resolution video conferencing, encryption, multiple join methods, integration with Google apps, and control over calls with up to 30 participants. These tools have revolutionized how businesses communicate and collaborate.
Introduction
SharePoint on-premises serves as a robust solution to meet various document management needs within a business context. It effectively caters to workspace requirements, enhancing communication and collaboration. Within larger organizations, team members might experience limitations in terms of tools for storing, sharing, validating, and collaborating on content. SharePoint alleviates these constraints and offers a host of valuable advantages. Some notable benefits include:
Simplest document management.
SharePoint enables administrators and users to establish a wide range of lists and libraries, accommodating an extensive collection of documents. Your manager can swiftly review and distribute documents to others. These documents are searchable, granting authorized users access to information. Additionally, version control allows for tracking document access and edits by users.
Alleviate collaboration.
SharePoint's ability to centralize information in one location makes it an excellent platform for sharing ideas, fostering connections, and enhancing the overall quality of communication.
Effective workflows.
In SharePoint, you can easily create workflows to manage day-to-day tasks and check their progress. It makes the work assignment quicker and more straightforward than any other platform.
An electronic work processes.
SharePoint has significantly reduced the reliance on physical paper, streamlining work assignments, workflows, and documentation through its versatile features. SharePoint Online provides these advantages at a more cost-effective rate and enhances collaboration with other Microsoft tools such as MS Office Suite, OneDrive cloud storage, Exchange Online, and MS Teams. You can obtain a Microsoft 365 license plan that incorporates SharePoint Online as a fundamental component and seamlessly transition from on-premises SharePoint to the Online platform using the SPMT SharePoint Migration Tool.
SharePoint Migration Tool
Microsoft provides a free utility software – the SharePoint Migration Tool, to migrate sites from SharePoint on-premises to SharePoint Online. Additionally, the tool can migrate data to OneDrive and MS Teams too. It can be termed as a suitable assistant to move subsites to another site in SharePoint.
It can run SharePoint migration services from different versions of SharePoint Server-
SharePoint Server 2010.
SharePoint Server 2013.
SharePoint Server 2016.
Local Files/accessible network files.
Download the file from its URL-
https://spmt.sharepointonline.com/install/default.htm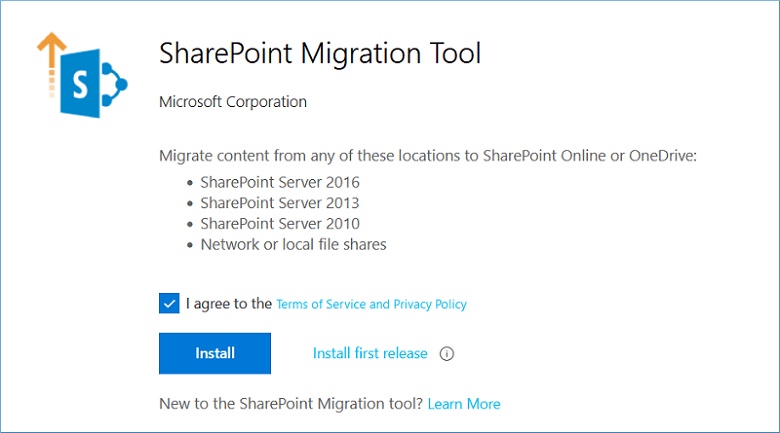 Click the Install button, and the downloader file will download the complete setup that you can execute to complete the installation.
However, before starting the migration process, you should be clear about two things:
Source – You must have read access to the SharePoint information you plan to migrate. So, you should run a check for SharePoint site access permissions to users and groups.
Destination – You should be the global administrator for the SharePoint account.
Run SharePoint migration tool
Once you've swiftly installed the SPMT SharePoint migration tool, its home screen will appear. Before commencing the migration process, it is necessary to enter your Microsoft 365 account credentials.
After inputting your Microsoft 365 account details, click Start a new migration option.
Select SharePoint Server as the source from where you require to copy the content.
There are three options – Site Migration, List or document Library migration, and workflow migration. We chose site migration to show the primary migration as an example for necessary SharePoint Migration service.
Input the site URL of the source account. Click Next.
sign in to your source SharePoint account by inputting the username and password. Click the sign-in option.
Choose the option if you want to move the current sit or all the subsites. Click Next.Click Next.
Select SharePoint as the destination option.
Input the site URL of the destination SharePoint Online account. Click Next.
. While reviewing migration, provide a name to the migration batch and check the source and destination site names. It will also show the migration type indicating that the site will migrate. Click Next.

The basic settings show various options that you can control before starting the migration. Click on View All Settings option to see more settings.
All migration settings provide multiple settings to control migration data from the SharePoint source better. Click Save.

The migration batch will start and show the progress while moving each object from the source site.

Thus you have successfully done a migration from SharePoint on-premises to SharePoint Online.
Conclusion
Besides SharePoint on-premises, the SPMT SharePoint tool is exclusively designed to function as a source. It cannot be utilized for transferring data between two online SharePoint accounts. If you require a more comprehensive SharePoint migration solution, consider employing Kernel Migrator for SharePoint. This alternative does not restrict migrations to specific versions and is compatible with all Microsoft 365 plans as well as various iterations of the SharePoint Server.
The tool can migrate an unlimited number of sites, lists & libraries, versions, and metadata of each item between various SharePoint accounts.