Read time: 4 minutes
As a SharePoint admin, it's quite challenging to carry out SharePoint 2019 to SharePoint Online migration. With the rise of cloud-based solutions, organizations are drastically shifting towards migrating their data to the cloud. When I got the task of migrating our SharePoint data, I was unsure about the ideal way to approach it.
However, through extensive research & testing, I discovered two simple methods for SharePoint 2019 to SharePoint Online migration. Here, I will share my personal experience & guide you through two easy migration techniques. The first method uses the Microsoft SharePoint Migration Tool, while the second method works with a professional third-party tool. Let's go through both methods in detail & help you make an informed decision.
Method 1: Microsoft SharePoint migration tool
The Microsoft SharePoint Migration tool is an official migration tool that supports SharePoint Server 2010, 2013, 2016 & 2019 migration. To migrate SharePoint 2019 to SharePoint Online with zero hassle & complexities, follow the given steps below.
Step 1: Download & install the tool
Firstly, download the Microsoft SharePoint Migration tool from this link: https://spmt.sharepointonline.com/install/default.htm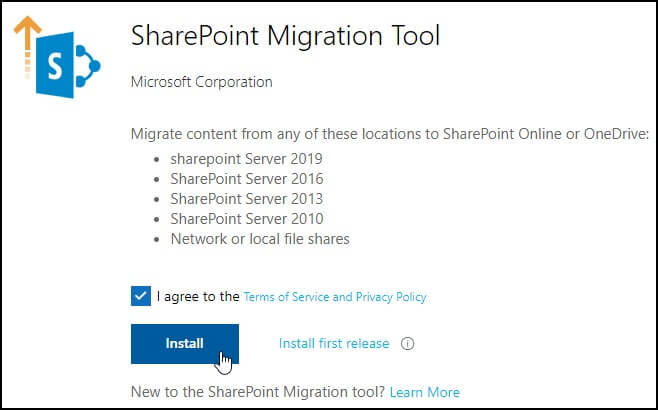 Step 2: Easy sign-In
After downloading the tool, install it and enter your Office 365 user credentials for an easy login.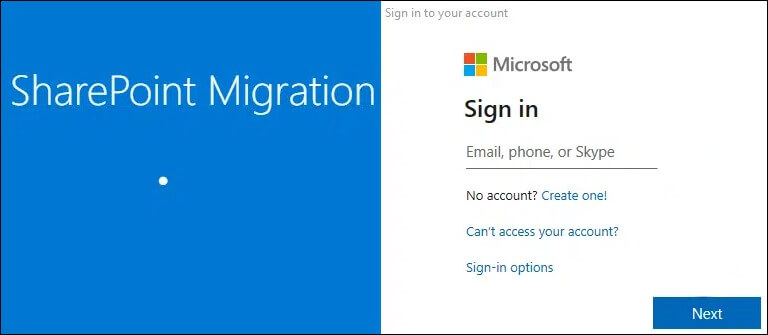 Using Microsoft SharePoint migration tool
Step 1: Data type source
As you access the tool, there will be three options available for migration for SharePoint on Premises to Online migration: SharePoint on-premises, file share, or JSON or CSV files for bulk migrations. Choose the SharePoint on-premises option.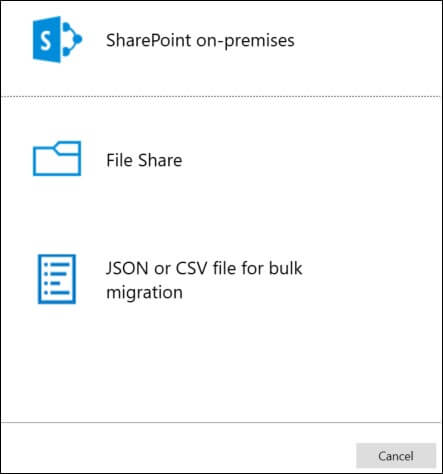 Step 2: Browse for the files
Next, browse for the data files from your system. Choose all of them and review them before uploading to SharePoint.

Step 3: Choose the destination
Select the destination library for your data. To make sure that all of your content is accessed easily by others within your organization, end your copy of the URL with just your site name.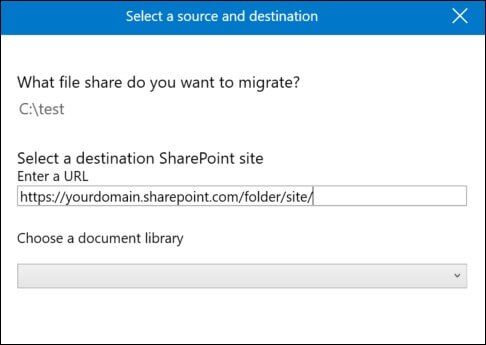 Step 4: Review & upload
Lastly, review all the source and destination locations, your data and tap on Migrate to start the migration. Depending on your data, the migration can take up a few minutes.

Method 2: Professional third-party tool
When we talk about SharePoint 2019 to SharePoint Online migration, the best method will be to utilize a professional third-party tool like the Kernel Migrator for SharePoint. With this top-notch software, SharePoint migration is quick, smooth & convenient.
Supports all the versions of SharePoint including SharePoint 2019, 2016, 2013, 2010, SharePoint Online, etc.
Migrates content along with metadata so that everything is transferred correctly & accurately.
Migrates bulk data with sizeable sites and site collections easily.
Allows to migrate customized permissions in source SharePoint account.
The automated migration scheduler makes the migration process run smoothly & efficiently.
It is the ideal tool for migrating SharePoint on Premises to SharePoint Online content. Its easy-to-use interface & powerful features guarantee a successful migration.
Wrapping Up
Both Microsoft SharePoint Migration Tool & the professional third-party solution (Kernel Migrator for SharePoint) are viable options for SharePoint 2019 to SharePoint Online migration. But, if you need a reliable & efficient migration process, the professional third-party tool is the way to go. With its advanced algorithms & simplicity, migrate your SharePoint data effortlessly. Furthermore, it guarantees complete security of your data during migration. Don't let migration become a headache, take the trial now.
FAQs
Q. How are SharePoint Server 2019 and SharePoint Online different?
A. The SharePoint 2019 software is an on-premises option & SharePoint Online is a cloud service available via Microsoft 365 subscription. Security, payment models & system requirements differ between the two platforms.
Q. Why is SharePoint Online better than on premise?
A. There are no special hardware or software requirements for SharePoint Online. You can get it as part of Microsoft 365. If you plan to use SharePoint On-Premises, your organization will need specialized hardware & software infrastructure.