Read time 4 minutes
Summary: In 2020, the business landscape underwent a significant shift as remote work became the norm due to the pandemic. Collaboration became challenging, leading to the rise of various communication tools. Microsoft and Google introduced platforms for professional intra-organization communication, with Google offering 'Meet' and Microsoft offering 'Teams.' Microsoft Teams, part of Microsoft 365, saw explosive growth during the pandemic, reaching 145 million daily active users in April 2021. Its features include threaded chats, calling options, meeting scheduling, channels for discussions, and educational tools. On the other hand, Google Meet offers high-resolution video conferencing, encryption, multiple join methods, integration with Google apps, and control over calls with up to 30 participants. These tools have revolutionized how businesses communicate and collaborate.
The year 2020 marked a significant turning point in the way we approach business operations. Presently, a substantial portion of the workforce operates remotely due to the persistent pandemic, posing challenges for effective team collaboration. Fortunately, various collaborative tools, platforms, and services have emerged to facilitate seamless communication among team members.
Notably, Microsoft and Google have developed dedicated platforms tailored for professional intra-organizational communication. These platforms enable users to engage in high-definition video calls, exchange messages, and share files and documents. Google provides "Meet," while Microsoft offers "Teams" as their respective solutions in this domain.
Google Meet is a video communication platform that seamlessly integrates chat functionality. Meanwhile, Microsoft Teams places a stronger emphasis on facilitating corporate discussions. In this article, we will explore the advantages both tools offer to businesses and delve into their respective feature sets.
Microsoft Teams
Microsoft Teams serves as a communication platform bundled with Microsoft 365 subscription packages, supplanting previous Microsoft business messaging services such as Skype for Business and Classroom. The COVID-19 pandemic presented Microsoft Teams with significant growth prospects, resulting in a substantial surge in its daily active user base.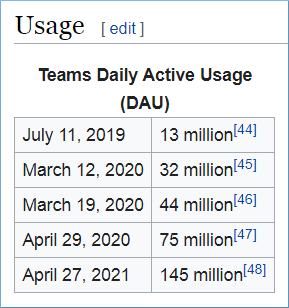 On April 27, 2021, Microsoft Teams' daily active usage has increased almost double fold to 145 million.
Features of Microsoft Teams
Chats:
The chat system is structured around threaded conversations, providing users with the ability to send text messages, incorporate emojis, and designate messages as either urgent or essential. Important messages are highlighted in red and adorned with an exclamation mark, while critical messages trigger persistent notifications until the recipient acknowledges them. Users can engage in group chats involving multiple participants and seamlessly share files and documents within these chat sessions. When undergoing SharePoint migration through a professional tool, the entire chat history, along with associated files, is smoothly transferred.
Calling: The Teams application employs various calling functionalities, including instant messaging, Voice Over IP, and video conferencing. Users of Teams have the capability to make phone calls to external numbers using the public switched telephone network (PSTN) directly from within the application.
Meeting: AUsers have the ability to arrange meetings and invite additional team members for a designated time slot. Once scheduled, the recipients will receive an invitation link, enabling them to join the meeting at the specified time. Furthermore, Microsoft Teams offers an Outlook plugin, ensuring that recipients receive the meeting link directly through their Outlook email. This system accommodates the inclusion of a large number of users via a single link.
Channels: Channels are topics of discussion that a user can set to avoid chatting through email or group messages. The receiver can respond to the discussion topic through text, GIFs, images, and even memes.
Education: Teachers can derive significant advantages from Office 365 for Education, enabling them to effortlessly assign, distribute, and assess assignments. The platform provides a dedicated assignments tab for streamlining these tasks, and educators can also utilize Office Forms to administer quizzes.
Protocols: Microsoft Teams adheres to Microsoft's proprietary protocols, including the MNP24 protocol. For VoIP communication, it utilizes the SIP protocol to establish connections with Microsoft servers. When client machines are safeguarded by a Network Address Translation (NAT) router firewall, they can establish connections to Teams conversations and video conferences via the Interactive Connectivity Establishment (ICE) method.
Google Meet
Google Meet is a video conferencing platform that builds upon the strengths of its predecessors, such as Hangout Chats and Google Chat. It is regarded by Google as a business-oriented evolution of Hangouts. In a Google Meet video conference, it supports a maximum of 30 participants.
Features of Google Meet
Video conferencing with high resolution: The video conference will get a much higher clarity than other apps. It can go up to 720p during video calls.
Call encryption: The voice/audio call will be encrypted to avoid any data loss.
Join meeting with multiple methods: A receiver can join the Meeting through a web browser link or Android and iOS apps.
Integration with Google Apps: Google Meet can integrate with other Google-based applications like Google Calendar and Contacts for better meeting scheduling.
Screen-sharing during meetings: During an ongoing meeting, the host can share the documents, spreadsheets, presentations, and other tabs.
Total control over video/audio calls: The host has complete control over the call, and they can add or remove members in a call.
Conclusion
Microsoft Teams and Google Meet are widely adopted and highly effective platforms, catering to organizations and businesses of varying scales. These two platforms boast a user base exceeding 100 million active daily participants and serve as essential tools for expeditious file sharing.
When looking to safeguard messages and files, you have the option to migrate Microsoft Teams utilizing the Kernel Migrator for SharePoint tool. This tool enables access to the complete content, including messages, text, shared files, and more. Following the migration, you can save this content to a designated destination or another Microsoft Teams account, making it suitable for various migration purposes.