Read time 4 minutes
The year 2020 will be known as the paradigm shift in how we conduct our business. Today, the majority of the employees are working from their homes due to the ongoing pandemic, and the collaboration is challenging for team members. There are several collaborative applications, platforms, and services that help you in communication between team members.
Microsoft and Google have designed their platform for professional intra-organization communication. Users can make HD video calls, send, and receive messages, and share files and documents. Google offers 'Meet' and Microsoft Offers 'Teams.'
Google Meet is a video messaging tool that embeds chat in it. At the same time, Microsoft Teams put more focus on business conversations. In the present article, we will check how both tools benefit a business and their features.
Microsoft Teams
Microsoft Teams is a communication platform that comes with Microsoft 365 subscription plans. It has replaced other business messaging services of Microsoft like Skype for Business and Classroom. The Coronavirus pandemic has given Microsoft Teams immense opportunity, and its daily active user count has increased by multiple folds.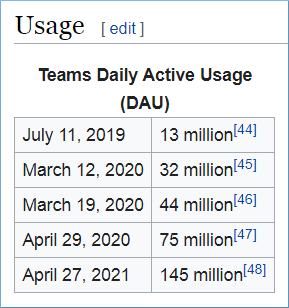 On April 27, 2021, Microsoft Teams' daily active usage has increased almost double fold to 145 million.
Features of Microsoft Teams
Chats: The chats are designed as threaded conversations. The user can send text messages, add emojis, mark the message as either urgent or essential. The vital message will display in red color with an exclamation mark. The critical message will send constant notification until the receiver sees the message. The user can conduct a group chat with multiple members and share files and documents between the chats. The chats are migrated completely along with their files during SharePoint migration using a professional tool.
Calling: Several methods in the Teams app use calling. There is instant messaging, Voice Over IP, and video conferencing. The Teams users can call phone numbers from the application through a public switched telephone network (PSTN).
Meeting: A user can schedule meetings and add other team members at the supposed time. The receiver will get a link and can join at the scheduled time. Teams also provide an MS Outlook plugin so that the receiver receives a link through Outlook email. Thousands of users can be added to Meeting through a link.
Channels: Channels are topics of discussion that a user can set to avoid chatting through email or group messages. The receiver can respond to the discussion topic through text, GIFs, images, and even memes.
Education: Office 365 for Education benefits teachers as they can assign assignments to users, distribute them, and then grade them. There is an assignments tab to complete such tasks, and the teacher can conduct quizzes through Office Forms.
Protocols: Microsoft Teams follows Microsoft-based protocols like the MNP24 protocol. VoIP uses the SIP protocol to connect with the Microsoft server. When the client machines are protected through the Network Address Translation router firewall, they can connect with Teams conversation or video conferences through Interactive Connectivity Establishment.
Google Meet
Google Meet is a video-communication service that incorporates the better services of its predecessor, like Hangout Chats or Google Chat. Google considers it as an enterprise-friendly version of Hangouts. During a video conference, there can be participants up to 30 members.
Features of Google Meet
Video conferencing with high resolution: The video conference will get a much higher clarity than other apps. It can go up to 720p during video calls.
Call encryption: The voice/audio call will be encrypted to avoid any data loss.
Join meeting with multiple methods: A receiver can join the Meeting through a web browser link or Android and iOS apps.
Integration with Google Apps: Google Meet can integrate with other Google-based applications like Google Calendar and Contacts for better meeting scheduling.
Screen-sharing during meetings: During an ongoing meeting, the host can share the documents, spreadsheets, presentations, and other tabs.
Total control over video/audio calls: The host has complete control over the call, and they can add or remove members in a call.
Conclusion
Microsoft Teams and Google Meet are both prevalent and successful platforms. They are useful for organizations and businesses of all sizes. Both these platforms have more than 100 million active daily users and are used for quick file sharing.
Whenever you want to protect the messages and files, you can migrate Microsoft Teams using Kernel Migrator for the SharePoint tool. It will access the entire content of messages, the text, the file shared, etc. Then you can save in at the available destination or another Microsoft team's account. It can be used for migrations as well.