Read on this blog to know about the factors that should be considered while planning a SharePoint Server upgrade or migration.
Any new version of SharePoint Server is better than its previous versions in terms of features, functionality, interface, storage capabilities, and performance. And there are two ways to move to the new version – Upgrade and Migration. However, users may get confused about the correct choice between the Upgrade and SharePoint to SharePoint Migrator options.
When we talk about the upgrade, it means upgrading the current SharePoint to the next available version. The migration could be from SharePoint Server/another source to SharePoint Server.
Comparison table for SharePoint Upgrade Vs. Migration
To help you choose between upgrade and migration, we have created a comparison table of the situations suitable for both. Have a look!
Ideal Conditions for

Upgrade

Migration

No requirement of taxonomy/architecture modification
Taxonomy/architecture needs to be redesigned
The existing version is 2010 or higher
The existing version is 2003 or one of the earlier versions
Need to shift to the next higher version
A movement to more than one higher version is required
Content is well-distributed
Content is not well-distributed
Folder structures are not shallow
Folder structures are quite shallow
Site Template includes Team Site, Records Center, Document Center
Custom Site Template used for document repository site collection
Note: If the user desire to move from the existing SharePoint Server version to SharePoint Online, then only the migration option would help.
The above table will clear your doubts and help you to make a good decision regarding the migration or upgrade. Let us discuss the points more.
An upgrade is recommended in the following situations
Upgrading is recommended only if re-designing is not needed (as upgrading the version moves the data with the same taxonomy).
Upgrading from the SharePoint version 2010 or higher version is only recommended. Upgrading to older versions is not beneficial as the older versions lack the new features and functionalities.
The user can move to the next newer version only as upgradation to even one version higher is not possible.
Content is arranged properly with no shallowness and has to be moved just like that to the newer version.
A migration is advised in the following situations
When the user needs re-designing the taxonomy of the SharePoint content.
When data is to be moved from older versions like 2003, 2007 to the latest versions.
When migration from an existing version to a one or more than one higher version is required (like from SharePoint 2010 to SharePoint 2016 or SharePoint 2019)
When the content arrangement is not proper (with too shallow folder structures).
When it is needed to move even customized site templates without causing any issues
SharePoint users can use any of the two options based on their current business or personal requirements. Still, the migration option has the upper hand and is popular with Microsoft SharePoint Server users. However, manual migrations are complex, lengthy, and always indirect. All these make this process almost infeasible.
But don't feel low, we have a solution for smooth, quick, and easy migration between any two SharePoint versions or SharePoint Online, namely Kernel Migrator for SharePoint. The tool performs migration from file system to SharePoint Server or SharePoint Online quite efficiently. It allows moving specific SharePoint Sites, Subsites, Lists, Documents, items, etc. along with permissions. This advanced SharePoint Migration tool supports all SharePoint Server versions and SharePoint Online plans. To get an idea about the software functions and features, users can try the free demo version of the tool available on the website.
[popupbox_btn]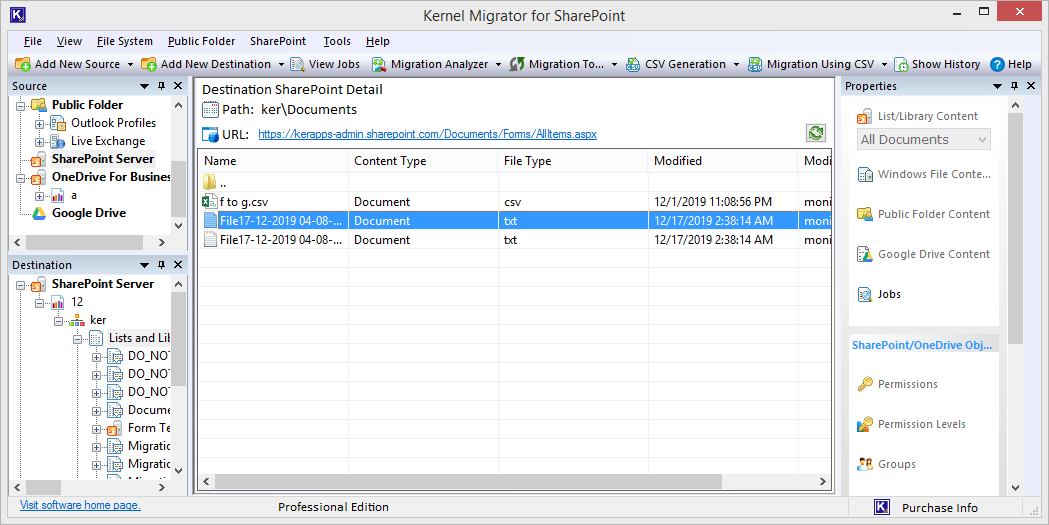 Conclusion

We have discussed the crucial factors to be considered while performing upgrade or migration in the current SharePoint environment. With some drawbacks associated with the manual migration between SharePoint versions, an efficient and secure professional SharePoint migrator tool is also recommended for the users at the end.