Read time 6 minutes
"Is it possible that Outlook is deleting my emails all by itself, without any command from my side? If yes, then I am facing the same issue, I have observed that a few of my emails are deleted from my account without any permission from my side. Can anyone tell me why it is happening and what should I do to fix it?"
Just like the above user, a few of us are not aware of certain features that Outlook possesses and one of which is the auto-delete feature. To answer the question asked above by the user, 'Yes,' Outlook can auto-delete emails or move to some other folder. Although there is no fixed reason for this, there can be a lot of situations in which Outlook might be behaving like this. Before moving for the solution, let's first discuss those cases.
Message Rules in Outlook
Outlook might be auto-deleting your emails, but remember, it is only an app that follows the commands given by its users. So, there is a fair possibility that at some point in time, you applied some wrong rules that are leading to this scenario right now.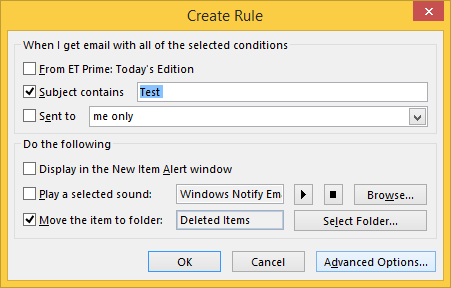 Move Conversation
Move conversation feature in Outlook doesn't delete the emails but moves emails from one folder to a specified one. Moving emails from one folder to another may give you the perception that they are deleted.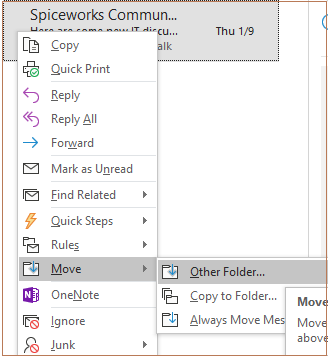 Ignore Conversation
Ignore conversation is another important feature that Outlook possesses. This feature will stop you from receiving the emails from a particular conversation you are a part of. Basically, it deletes those emails which are sent to you regularly, but you are not its active participant (like spam emails).

Fixing the Issue
To stop Outlook autodeleting the emails, you can go for a few quick fixes. You just need to make minimal changes in the settings, and it will work well for you. Let's see how:
Stop Outlook 2016 Automatically Deleting Emails- Solution 1
Let's start with stopping Outlook from automatically deleting emails from the Deleted Items folder. To do so, follow the below-mentioned steps:
Open MS Outlook > Click on File option
In the Advanced tab, click on "Empty Deleted Items folder when exiting Outlook" option.
Click on OK to finalize the changes.
Click on OK to finalize the changes, and you are done.
Once you perform all the above-mentioned steps successfully, there will be no change in your deleted items folder even after you exit or restart Outlook.
Stop Outlook 2016 Automatically Deleting Emails- Solution 2
If the above method didn't turn out to be the solution to your problem, then you might want to try this one. In this solution, we are going to try to stop autodelete from a specific folder. Let's do it:
Open Outlook and right-click on the specific folder (the one you want to make changes to).
From the menu, select the Properties option.
As you click on the properties option, a dialogue box will open, go to the AutoArchive category over there and mark the option "Do not archive items in this folder."
Click on OK to finalize the changes.
By following steps, as shown in the screenshot, all your older emails will now remain in the specified folder. To make similar changes to the other folders as well, follow the same steps again and again. This method is applicable to all folders of the Outlook.
Stop Outlook 2016 Automatically Deleting Emails – Solution 3
Another reason why all your emails are getting deleted is because of the other devices you are using Outlook on. Most people use Outlook on their smartphones, tabs, laptops, and other devices and hence keep the sync on.
If you too are using Outlook on many devices, then there is a high chance that your emails are getting deleted because they ate being deleted or moved from the other device. This type of confusion may arise due to IMAP and POP3 settings also. Where some devices are using IMAP protocols, others may be using POP3 protocols. So, you can either go for deactivating Outlook account on all those devices and see if the emails are not getting deleted anymore from your account. Or you can make some changes in settings like enabling the option "Leave a copy on the server" under POP3.

Conclusion and Recovery of Deleted Emails in Outlook 2016
In this blog, we have discussed about how one can solve the Outlook autodeletion issue with various approaches. To recover disappearing emails, check this blog out "Outlook Incoming Emails Disappear." But what to do when emails are deleted?
Sometimes there are some issues due to which your emails get deleted and sometimes there is no fault in filters or settings, but you accidentally delete them. If the emails that got deleted are recent, then you can recover it from the deleted items folder in Outlook. But what about emails older than that? For such cases, it is suggested to use a reliable third-party tool like Kernel for Outlook PST Repair. This tool is capable of recovering permanently deleted emails. Try it yourself to believe; here is a screenshot of the tool for all.