Read time 5 minutes
Summary:OST file errors, prevalent in older Outlook versions, often result in inaccessibility. The 'Cannot open specific Outlook items offline' issue can be addressed through manual methods, but they offer no guarantees. For highly corrupted or orphaned OST files, use Kernel for OST to PST Converter for reliable data recovery.
.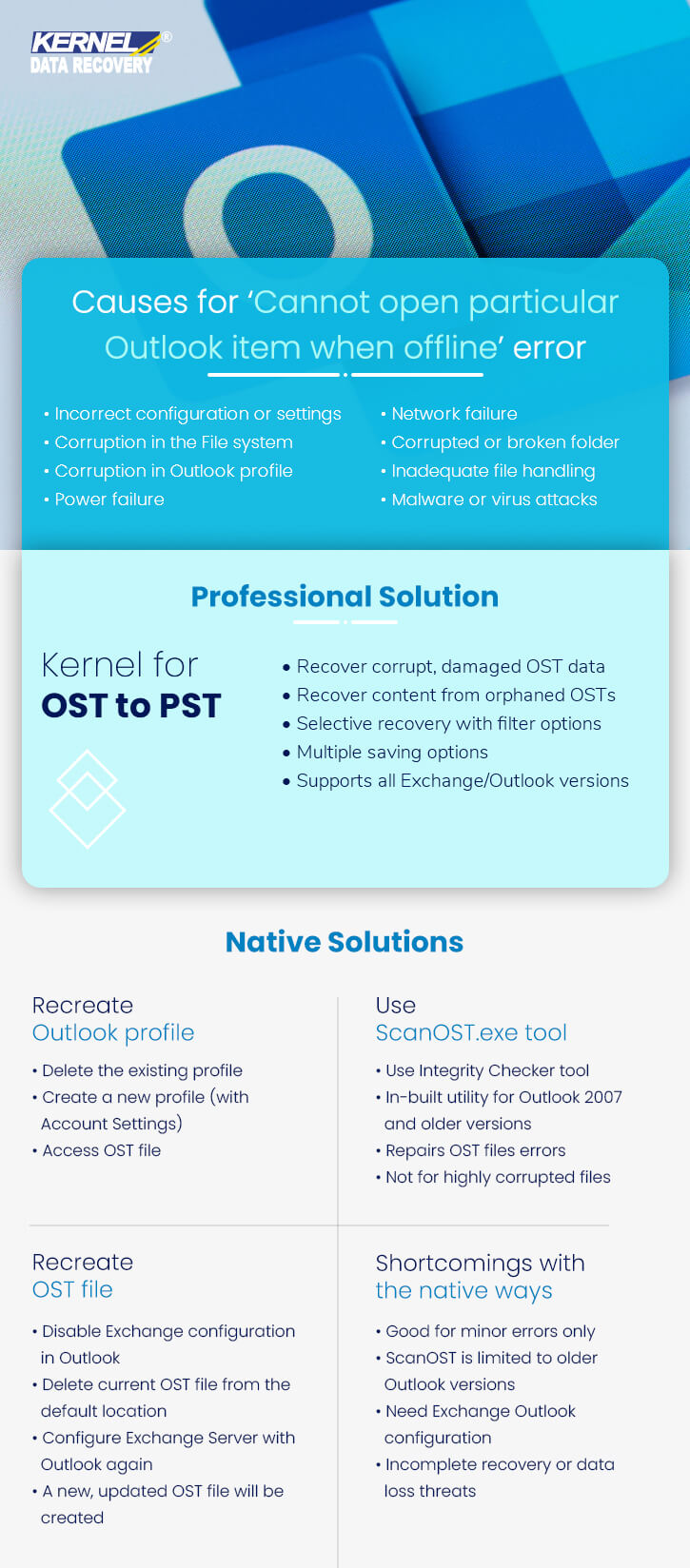 Significance of "Cannot open particular Outlook item when offline" error
When attempting to access an OST file in Outlook, users may encounter the error message, 'Cannot open a specific Outlook item when offline.' This error typically points to OST file corruption caused by network issues, system/application crashes, malware, power disruptions, or damaged offline folders. Additional factors could include a corrupted profile, incorrect account settings, or file corruption.
To prevent lasting impacts on both server and client, it's crucial to address this issue promptly. Let's explore potential solutions, beginning with native troubleshooting methods.
What native ways can fix the "Cannot open particular Outlook item when offline" error?
Try recreating the OST file

The Outlook OST file serves as a synchronized copy of Exchange Server mailboxes, updating when the server and Outlook client connect. Users can recreate this OST file by deleting the original from the default system drive location: 'drive:\Users\AppData\Local\Microsoft\Outlook'.

drive:\Documents and Settings\\Local Settings\Application Data\Microsoft\Outlook

Note: Once the OST file default location is known, you can also change the location of the OST file in Outlook.

Before rebuilding your OST file, follow these two essential steps: Firstly, permanently delete the existing OST file from its default location. Secondly, establish a new Exchange Server configuration with the Outlook application to download a fresh copy of mailboxes.

Use ScanOST.exe tool for OST file repair

ScanOST.exe, a built-in Microsoft repair utility, is designed to address OST file issues. For Outlook 2007 and earlier versions, you can find it at the default system drive location: 'Drive:\Program Files\Microsoft Office\Office_version.' However, for older versions, its location varies, as indicated below.

In Outlook 2003 – C:Program Files\Common Files\System\MSMAPI\scanost.exe

In Outlook 2002 – C: Program Files\Common Files\System\MAPI\scanost.exe

In Outlook 2000 – C: Program Files\Common Files\System\MAPINT\scanost.exe

So, your task is to locate Scanost and execute OST file recovery as described below.

Ensure that the Outlook application is not running.
Run the exe application on your system as an administrator.
Select the Outlook profile for your affected OST file.
Click on the Connect option if you wish to work offline.
Select your folder preferences as per the requirement.
Select the checkbox saying Repair errors and click the Begin Scan
The scan for errors and issues in the OST file will get started, and the repair action would be performed after this.
Wait for the process to get completed.
Try accessing the fixed OST file now and check if you get the success.

Try recreating Outlook profile

If recreating the OST file and using ScanOST.exe prove ineffective in resolving the error, it's possible that your Outlook profile is corrupted or configured incorrectly. In such cases, it's recommended to delete the old mail profile from the Control Panel's Mail Setup or Account Settings in Outlook and then create a fresh profile within Outlook. Afterwards, attempt to access the OST data in Outlook to verify if the error has been resolved.

Drawbacks with the Native Solutions

Not fit for repairing highly corrupted/damaged OST files
exe application use is limited to Outlook 2007 and older versions only
Unreliable solutions with no success guarantee
Incomplete data recovery from affected OST file
Involved data loss threats with manual OST repair solutions

Recommendation – Recover corrupt OST data with OST Conversion

To address severe corruption in Exchange OST files effectively, you require a professional solution capable of repairing OST file issues and recovering the content into a secure format like PST or destinations such as Office 365 and Exchange Server. The Kernel for OST to PST Converter tool stands out as the ideal and highly reliable choice for OST recovery in the market, known for its exceptional features and functionality.

Recovery of inaccessible, corrupt, orphaned or damaged OST files
Complete and detailed preview of recovered OST mailboxes content
Recovery of permanently deleted or lost OST file mailbox items
Export specific OST data to PST and file formats like MBOX, PDF, DBX, EML, MSG, etc.
Saving recovered OST content to Live Exchange, Office 365, Gmail, Outlook.com, and more destinations
Exclusive support to all Exchange Server and Outlook versions
A trial version free to download is available on the official website

Thus, we have identified the ideal solution to efficiently resolve all OST corruption-related problems and errors.