Read time 8 minutes
Summary: The "0xc10100aa" error in Windows Movies and TV app can be caused by insufficient memory, outdated drivers, corrupted system files, or an outdated operating system. To troubleshoot, update Windows, scan for viruses, update or reinstall drivers, and fix the Movies and TV app. p>
"Upon encountering the 0xc10100aa error within my Windows system, I experienced a state of panic. It became apparent that irrespective of the video file I attempted to access within the Movies and TV application, a consistent error message persisted, stating, "Your device lacks sufficient memory to execute this operation."
What could have been the issue with my computer? How could it possibly lack sufficient memory to play a basic video file? After conducting research and experimenting, I eventually identified multiple solutions to resolve this problem. Consequently, everything returned to normal operation, and no further instances of Error 0xc10100aa-related issues occurred.
Windows users often encounter the frustrating "0xc10100aa" error within the Movies and TV application, disrupting their enjoyment of sought-after feature films or beloved episodes from their favorite series.
However, there is still hope, as there exist straightforward techniques to address this error code and resume your important activities without additional disruptions. In the upcoming blog, explore simple, step-by-step instructions to resolve the "0xc10100aa" issue on Windows, allowing you to once more savor your multimedia content without interruption.
Reasons for Prevalence of 0xc10100aa Error in Windows
Let's take a look at the potential causes behind this issue.
Inadequate Memory:
The predominant reason behind the occurrence of the 0xc10100aa error is the insufficiency of available memory on your device. This typically transpires when your system lacks sufficient RAM or disk space to facilitate the playback of the video file you are attempting to access.
Obsolete Drivers:
One of the most prevalent triggers for the 0xc10100aa error is the presence of outdated drivers. When your device drivers are not up-to-date, they may encounter difficulties in establishing proper communication with your computer, thereby giving rise to this particular issue.
Corrupted System Files:
Another potential source of the 0xc10100aa error is the existence of corrupted system files. If any of your system files have suffered damage or deletion, it can result in various errors, including the appearance of this error message when you attempt to access certain programs or features on your PC.
Outdated Operating System:
If you have not performed recent updates to your operating system, this could also be a contributing factor to the 0xc10100aa error when trying to play videos within the Windows Movies & TV app.
Insufficient RAM:
One final element that may be exacerbating this issue is having insufficient RAM installed on your system, which fails to provide adequate resources for the smooth operation of applications, such as playing videos without encountering errors like 0xc10100aa on a frequent basis.
How to Troubleshoot Error 0xc10100aa in Windows? (Latest Methods)
Error code 0xc10100aa is a common Windows error that can be difficult to resolve. Fortunately, there are some methods you can try in order to troubleshoot the video not playing issue and fix any such problem.
Update Windows
The initial action to address video-related issues such as Error 0xc0000005, Video File Error 0xc10100be, Error Code 80040265, etc., is to ensure your Windows version is up-to-date. To do this, open Settings by pressing the "Windows + I" key combination. Select "Update & Security" from the list of options. Here, click on "Check for updates" and follow the on-screen instructions to install any available updates. If you have multiple devices connected to your system, ensure they are all updated.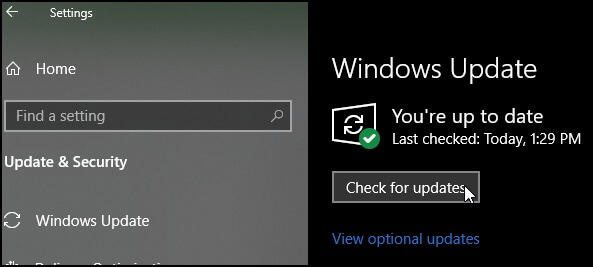 Scan Your System for Viruses
After you've performed a system update, it is crucial to conduct a thorough virus and malware scan. Malicious software can lead to various issues on your computer, potentially resulting in the activation of error code 0xc10100aa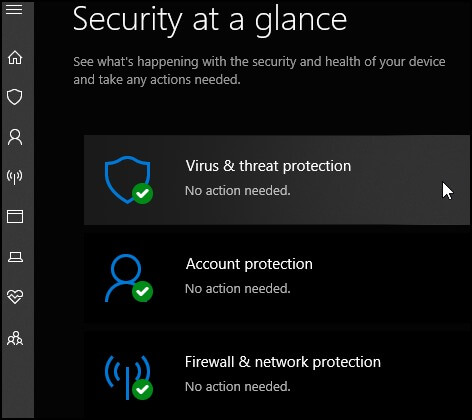 To perform a comprehensive system scan and address virus-infected files, initiate the process by accessing the Start menu. In the search bar located at the bottom of the window, enter "Windows Defender." From the search results, click on "Windows Security," and within the ensuing window's left side pane, choose "Virus & Threat Protection." Subsequently, click on "Scan Now" and diligently follow any additional on-screen instructions to effectively detect and fix virus-infected files and other malicious software.
Updating & Reinstalling Drivers
Are you still experiencing the error' 0xc10100aa'? You may need to update and reinstall the drivers for your device. Updating or reinstalling drivers can help you troubleshoot common video streaming errors in Windows. Follow the steps below.
Step 1: Access Device Manager
To begin, the initial action involves accessing the Device Manager. You can accomplish this by performing a right-click on the Windows icon and selecting "Device Manager" from the settings menu. Upon doing so, a window will appear, displaying a comprehensive list of the drivers and hardware currently installed and connected to your computer.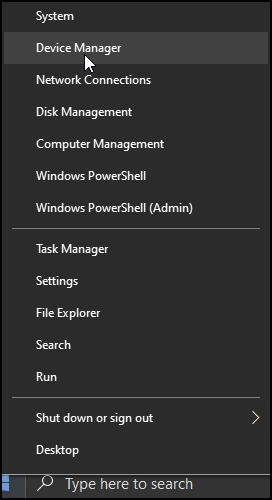 Step 2: Find Your Device Driver
After accessing Device Manager, navigate to the "Display adapters" section. Within this section, locate the particular device driver responsible for the error. Upon identifying it, right-click on the driver and choose the "Update driver" option from the contextual menu that emerges. This action will initiate a window where you can opt to either search for drivers automatically or browse your computer for drivers, depending on your requirements.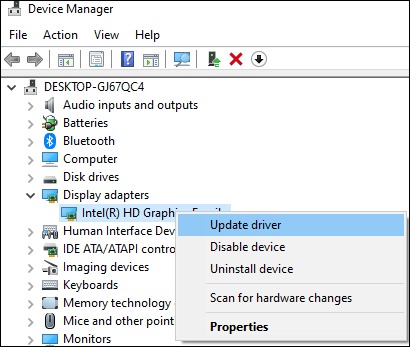 Step 3: Reinstall the Drivers
Following the device driver update, if you encounter continued difficulties in resolving Windows error 0xc10100aa, you may attempt to rectify the issue by re-installing the driver through the Device Manager. To do this, perform the following steps as previously outlined: Right-click on the driver, choose "Uninstall," and when prompted, select the "Delete the driver software for this device" option. Finally, click the "Uninstall" button located at the lower part of the screen.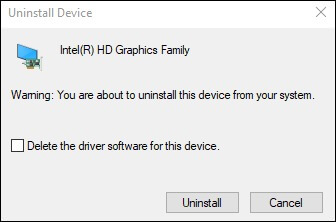 Following the removal of the device driver, proceed with Steps 1 and 2 once more. However, in lieu of updating, opt to reinstall the identical driver by choosing the "Install" option when prompted throughout the installation procedure.
Fixing the Movie & TV App
The first step to fixing the Movie & TV App is to delete all of your temp files. To do this, open the Run window, type "temp,"& press Enter.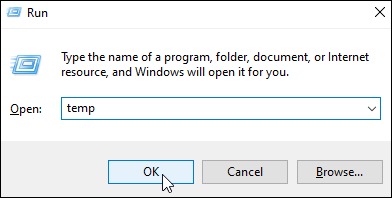 This procedure will display a list of temporary files stored on your computer. Proceed by individually selecting each file and removing them either by using the Delete key on your keyboard or by right-clicking and choosing the Delete option from the context menu. After successfully deleting all temporary files, please close the Run Window.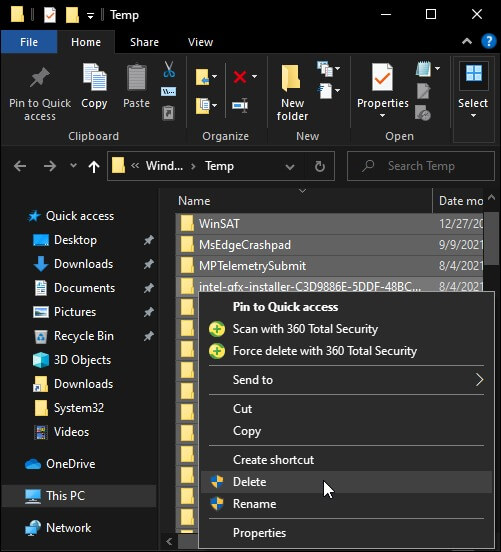 Uninstall & Reinstall App
Next, you'll need to uninstall & reinstall the Movie & TV application from your computer. To do this, search for 'Movie & TV' in the Start Menu search bar. Right-click it, select Uninstall and confirm by clicking Yes when prompted.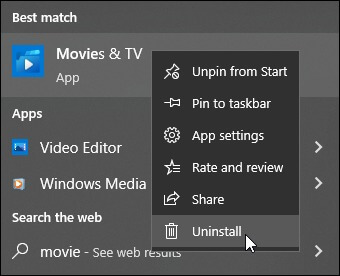 Once uninstalled, head over to Microsoft Store to reinstall it again. Search for 'Movie & TV' in the Store's search bar and download & install. Once it's done installing, you should be able to use it without any issues.
Using a Specialized Video Repair Tool
If you're encountering the 0xc10100aa Error on your Windows system, it's probable that one of your video files is responsible for this issue. To resolve this issue effectively, you require best video repair tool Our solution is designed to address this common problem with utmost ease. Utilizing the Kernel Video Repair Tool stands as the swiftest and most comprehensive remedy for resolving all related issues.
This utility is an advanced video repair tool that easily repairs corrupt videos without any hassle. It is a one-stop solution for all video corruption problems and helps users restore their precious memories quickly. Here are some of the features that make it stand out from other similar tools:
Size limitations are not a concern when it comes to repairing video files using this tool. Users can confidently repair video files of any size without being hindered by constraints typically found in other software solutions.
Furthermore, this tool boasts compatibility with all Windows media video file formats, elevating its versatility above that of its competitors.
Additionally, it simplifies the process of adding video files for repair through an intuitive 'drag and drop' feature, enhancing user convenience.
Finally, its user-friendly Graphic User Interface (GUI) adds the finishing touch, ensuring that users can easily navigate and utilize the tool to its full potential.
In addition to these features, this MP4 Repair Tool also supports all kinds of physical drives like HDD, SSDs & NVMe drives, making it even more reliable than other similar software tools available today.
Final Say
The 0xc10100aa error represents a frequent video playback problem encountered on Windows-based systems. Fortunately, multiple approaches are available to resolve this issue. We have compiled a list of effective methods, commencing with the simplest and progressing towards more advanced solutions. If the 0xc10100aa error persists despite implementing these steps, we advise utilizing the provided tool for a swift resolution. Have you previously experienced the 0xc10100aa error, and if so, which method did you employ to rectify it?