Read time: 7 minutes
Summary: Encountering video playback error 0xc10100be, often due to file format, extension issues, or corruption, can be resolved with methods like trying another player, using VLC's repair option, testing on different devices, and addressing copy protection. Additionally, consider updating codecs or utilizing video repair software for stubborn corruption issues.
Attempting to play a video and encountering an error message that reads, "This file is not playable that might be because the file is unsupported, the file extension is incorrect or the file is corrupt 0xc10100be" or "Can't play video error code oxc101100be" is a common occurrence for us.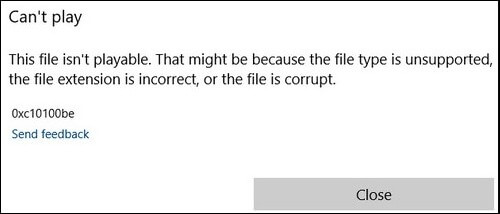 The 0xc10100be error found in video files is typically not a critical issue and can be promptly resolved using readily available free solutions. Numerous approaches are at your disposal to rectify the 0xc10100be video error. To begin, let's delve into the fundamentals and explore the underlying causes of this error in video playback.
Error 0xc10100be: What Does It Mean?
Every time you attempt to play a video, there's a chance you'll encounter error codes. Frequently, these error messages include codes that can be quite perplexing. One such common error is labeled as "this file isn't playable" with the code 0xc10100be.
This particular error tends to surface when you're trying to play MP4 or other video file, such as an MOV, and you're greeted with the 0xc10100be error code or the message "this file is not playable." This issue typically arises due to problems with the file format, potential corruption within the video file, or an incorrect file extension. In the sections below, we'll delve into the primary causes of this error.
Reasons Behind the Occurrence of Error 0xc10100be
The reasons for the prevalence of Error 0xc10100be are as follows.
The file you are using has a wrong file extension
The media player you are using doesn't support the file
Incompatible codecs in media player
Corruption in the video file
Windows Media Player has a copy protection feature enabled.
Power outage while playing video.
VLC/WMP are outdated.
Virus, Malware or Ransomware attack.

Instant Solution
Equip yourself with an instant utility Kernel Video Repair Software that can help you fix the video file error 0xc10100be quickly without any hassle.
How to Fix the Error "0xc10100be?"
After discussing all about causes behind the error let's now discuss how to fix video file error 0xc10100be-
Using Another Video Player
When you come across this error, consider attempting to play the video using a different video player. Occasionally, the video player you typically use may be unable to play a specific video due to format compatibility issues. If that's the case, you might find success by using an alternative video player. To assist you with any problems, we recommend using VLC Media Player, which is provided below.
Repair Video Via VLC Media Player
Besides being a media player, VLC comes with an option to repair corrupt videos. Follow the steps below to repair videos:
Launch the VLC media player.
From the Tools option, choose the option Preferences or hold Ctrl + P on the keyboard.

Next, tap on the tab Input/ Codecs present on the top menu.

Choose the option Always Fix within the Damaged or incomplete AVI file section. With this update, VLC will repair AVI video files when you open them.
Try playing the video with any other video player
When encountering this error, your initial step should be to attempt playing the video using an alternative video player. Occasionally, the video player you typically use may not be compatible with a specific video due to format limitations. Consequently, experimenting with a different video player could resolve the issue.
Test the Video on Other Devices & Systems
An alternative approach involves playing the video on a different device or system. This error may arise from the incompatibility of your current device. Therefore, if the video successfully plays on another system, it indicates that your initial device lacked the necessary support.
Turn off Copy Protection in Windows Media Player
Microsoft's Windows Media Player includes a copy protection feature that may make it inoperable to play video files. The following steps can be used to disable this feature:
Launch the Windows Media Player (WMP).
Go to the Tools tab & click on Options.

Next, tap on the option Rip Music & unmark the checkbox Copy protect music.

Lastly, tap on Apply & then OK to save the made changes.
Check & Change the File Format
If you change the file extension to one that doesn't match the file's MIME type, certain media players may struggle to encode or decode the file.
To access the file's specifics, simply left-click on it within your file manager. MP4 video files use the ".mp4" extension, so you'll want to ensure it is renamed with that extension. This adjustment can potentially fix the 0xc10100be error. When it comes to converting video files, formats like AVI, MP4, or MOV are the most universally compatible options.
You can choose between online and desktop video converters, but it's essential to prioritize the security of your video conversion tool. Consider using a trustworthy converter such as Kernel Video Converter software to change the file format, and then verify if the issue persists.
Update Codecs
Codecs obviously play an important role in playing a file, and hence expired versions of codecs may lead to this error. So, in Windows media player follow the below-mentioned steps to update the codecs:
Run Windows Media Player on your system and click on the Tools option from the menu.
Now, click on the Options button.
Now in the Player category, go to the Download codecs automatically checkbox and select it.
Finally, click on OK to proceed.
Fix corruption with the software
As previously discussed, one of the causes behind this error is data corruption. If you encounter this error while attempting to open a video file, it is likely due to corruption within the file. To address this issue, we recommend utilizing a robust video repair software. This automated tool is designed to effectively rectify various forms of corruption found in video files, including popular formats such as MP4, MOV, MPEG, MKV, WMV, FLV, and 3GP. With this tool, you can also repair MP4 individual or multiple videos and conveniently save them to your preferred location on your system.
Conclusion:
In this blog post, we have extensively explored the underlying causes of and effective remedies for resolving the Video File Error 0xc10100be. If manual troubleshooting methods prove ineffective in your case, it likely signifies that the error is stemming from file corruption. Consequently, we recommend employing a reliable software tool as a lasting solution to this issue. This software is designed to rectify even the most severe instances of video file corruption, safeguarding your valuable content from permanent loss. We trust you will discover this blog post to be a valuable resource in addressing this concern.