Read time 9 minutes
Summary: Migrating from File Servers to SharePoint is essential for modernization. SharePoint offers cloud-based accessibility, document version control, quick file search, centralized storage, and integration with Microsoft services. Migration includes transferring security permissions and user mapping. Kernel Migrator for SharePoint is a tool for efficient migration, with options to configure permission settings, upload files/folders, and remap users. This process ensures seamless collaboration, reduced administrative workload, and improved productivity in both on-premises and online SharePoint environments.
The imperative transition from traditional File servers to SharePoint has become essential in order to keep pace with the latest technological advancements. This shift may appear daunting to numerous organizations and their workforce due to the inherent complexities. However, with a well-devised strategy and the utilization of migration tools, it can be effectively managed.
Reasons to migrate from File Server to SharePoint:
There can be several reasons to move File Server to SharePoint, and the top ones are mentioned below-
Anytime & anywhere availability: The biggest reason users switch to SharePoint is that it is available in cloud deployment, allowing users to access their data from any remote location and any device, including mobile phones.
The Check-in and Check-out feature: The Check-in and Check-out functionality enables users to monitor document edits and ensures that they receive the most up-to-date version of the document once all edits have been completed.
Quick search option: In contrast to conventional servers, locating a file is lightning-fast. Simply input the file name, and within a matter of seconds, a comprehensive list of all relevant documents will swiftly materialize.
Stores previous versions: Once a user has changed a document, the latest version is available to the rest. But it stores the older version of the file before the modifications.
Centralized storage: Instead of saving documents in different locations, SharePoint stores all data at a centralized location, making it easier for everyone to access and manage it.
Integration with Microsoft services: SharePoint seamlessly integrates with various Microsoft tools, such as Microsoft 365, OneDrive, MS Office, and Teams. Users of SharePoint can also leverage all the advantages offered by SharePoint Online as a standalone service.
Migration of Security Permissions and Remapping of Users
SharePoint, developed by Microsoft, serves as a collaborative workspace and document sharing platform. It facilitates streamlined collaboration and sharing by enabling the collective storage of files and folders, which can be accessed and utilized by multiple users. SharePoint offers various productivity-enhancing features, including check-in/check-out functionality, publishing capabilities, version control, and single-instance storage, all contributing to improved work efficiency for users.
When an organization starts using SharePoint, it is necessary to move files and folders to it as end users mainly work on it. Owing to the cost considerations and file size limitations, moving only files and folders necessary for shared work is suggested. Remember that SharePoint is not a replacement for less expensive, more secure, and reliable file servers. But it works on both environments; on-premises and online. You can migrate the file server to SharePoint Online for cloud-based work, keep data within your organization, and migrate the file server to SharePoint on-premises.
SharePoint support for security permissions
Users and user groups in SharePoint can receive different permissions such as Full Control, Design, Contribute, Read, and Limited Access. These permissions determine the actions they can take on different SharePoint items. To facilitate this process, advanced migration tools like SharePoint Migrator can transfer security permissions from File Servers to SharePoint. Additionally, this tool streamlines the mapping of Active Directory (AD) user accounts to their corresponding SharePoint user accounts for efficient management.
Kernel Migrator for SharePoint – Migrate File Server to SharePoint Efficiently
It is an advanced SharePoint Migration tool that migrates Files/Folders from your File Servers to OneDrive for Business and SharePoint (On-premises and Online). Additionally, it helps you move Exchange/Office 365 Public Folders to SharePoint. This sophisticated tool owns many advanced features that facilitate requirement-based migration of Files/Folders. Here we focus on its features for permission migration.
How to configure Permission Settings in Kernel SharePoint Migrator?
Before initiating the migration process from the file server to SharePoint, you have the option to set up permission settings, which can also be modified during the actual migration process between the file server and SharePoint. This functionality grants you precise control over the data as it transitions to the new platform. To configure permission settings, follow these steps: Begin by opening the tool, navigating to the Tools menu, and selecting Settings. Then, proceed to the Upload Settings (File System) tab and access the Permission Settings section, where you can make the desired configurations.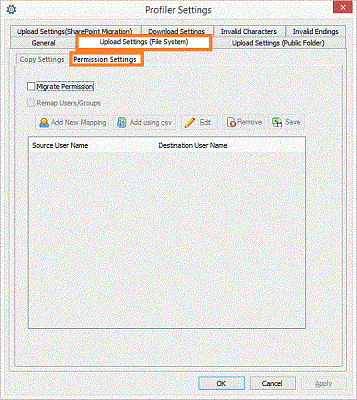 How to upload Files/Folders and Permissions to SharePoint?
The migration of user permissions to SharePoint holds significant importance during the transition of the file server to SharePoint. This crucial step ensures a seamless user experience within the SharePoint platform. It simplifies the process of migrating files and folders to SharePoint, facilitating a smooth transition. Following a preliminary analysis, the data from File Servers can be effortlessly uploaded to SharePoint. To gain a comprehensive understanding, let's delve into a step-by-step guide on migrating a file server to SharePoint Online.
Click File System > File System to SharePoint, or go to the toolbar and click File System > Migration to SharePoint.
Incorporate the content for migration with the File System to SharePoint wizard. Utilize the necessary options, such as adding files, folders, remote files, or remote folders, as needed.

The added content gets listed as shown.

Note: To view the permissions on a particular item or folder, select it and click the Groups/users Permissions button.

Enter the destination details on the Select Destination page.

Now, the software automatically maps the content attributes (of the source and destination) and displays them. You can edit the values if modifications are required or the mapping is incomplete.

Choose the necessary migration preferences on the Select Copy Option page, which initially presents the user-configured Upload Settings (File System) as the default. By thoughtfully making selections, the user can refine the content to be included in the upload process.
To transfer permissions linked to Files/Folders, select the Migration Permissions feature. This activates the Remap Users option, which permits user mapping. To perform the mapping, select the Remap User option and then click on the Add New Mapping button (Alternatively, you can import a mapping list from a CSV file by clicking the Add Using CSV button).

Note: Permissions can only be migrated if the user exists in the Active Directory of SharePoint. Otherwise, user remapping will be necessary. When migrating from a file server to SharePoint Online, maintaining permissions is essential for ensuring access to older data in the new account.
Add a source user name and destination user name.

Now the mapping details are displayed, and you can map the accounts before the file server to SharePoint migration.


If you are migrating from a remote file system, provide login credentials.
To instantly upload the Files/Folders, select Execute Immediate (you can schedule the upload too).

Now the software provides the summary of the migration job. You should read the summary deeply before migrating the file server to SharePoint. You can go back and change the settings too.

Once the migration process is completed, the software displays a confirmation

The seamless transfer of security permissions alongside Files and Folders during migration results in the eradication of post-migration disorder. This allows end users to smoothly access and work with Files and Folders, minimizing disruptions. Consequently, administrators will experience a significant reduction in their workload. File Server to SharePoint facilitates the remapping of Active Directory (AD) users to SharePoint users and streamlines the migration of permissions.
Conclusion
A user seeks to enhance their document processing capabilities by migrating their file server to SharePoint. SharePoint is a versatile software solution suitable for both on-premises and online deployment, designed to enhance business productivity. The migration process is facilitated by Kernel Migrator for SharePoint, which ensures the seamless transfer of data along with its associated permissions, rights, limitations, and properties. Prior to migration, mapping and permission selection are configured, and the chosen data is subsequently transferred.