Read time 9 minutes
The migration from File servers to SharePoint is the need of the hour to be at par with recent technological advancements. The shift can be overwhelming for many organizations and their employees due to the complexities involved. But it can be handled rightly with a proper plan and migration utility.
Reasons to migrate from File Server to SharePoint:
There can be several reasons to move File Server to SharePoint, and the top ones are mentioned below-
Anytime & anywhere availability: The biggest reason users switch to SharePoint is that it is available in cloud deployment, allowing users to access their data from any remote location and any device, including mobile phones.
The Check-in and Check-out feature: The Check-in and Check-out feature allows all the users to keep a check on the editing of a document. All the users receive only the latest version of the document, after all the editing is done.
Quick search option: Compared with traditional servers, the search for a file is completed in a jiffy. Just enter the name, and the list of all related documents will appear within a few quick seconds.
Stores previous versions: Once a user has changed a document, the latest version is available to the rest. But it stores the older version of the file before the modifications.
Centralized storage: Instead of saving documents in different locations, SharePoint stores all data at a centralized location, making it easier for everyone to access and manage it.
Integration with Microsoft services: SharePoint integrates well with other Microsoft utilities, including Microsoft 365, OneDrive, MS Office, and Teams. SharePoint users can also utilize all the benefits of the stand-alone SharePoint Online.
Migration of Security Permissions and Remapping of Users
SharePoint is a Microsoft platform for collaborative working and document sharing. You can place files and folders that are collectively used by many users on SharePoint to make collaboration and sharing more efficient. The SharePoint features like check-in/check-out, publishing, versioning, and single instance storage allow users to work more effectively.
When an organization starts using SharePoint, it is necessary to move files and folders to it as end users mainly work on it. Owing to the cost considerations and file size limitations, moving only files and folders necessary for shared work is suggested. Remember that SharePoint is not a replacement for less expensive, more secure, and reliable file servers. But it works on both environments; on-premises and online. You can migrate the file server to SharePoint Online for cloud-based work, keep data within your organization, and migrate the file server to SharePoint on-premises.
SharePoint support for security permissions
Permissions like Full Control, Design, Contribute, Read, and Limited Access can be assigned to users/user groups of SharePoint to control what operations can be performed on various SharePoint objects. Professional migration tools like SharePoint Migrator allow you to migrate security permissions of files/folders to SharePoint from File Servers. Also, it will enable quick mapping of AD user accounts with SharePoint user accounts.
Kernel Migrator for SharePoint – Migrate File Server to SharePoint Efficiently
It is an advanced SharePoint Migration tool that migrates Files/Folders from your File Servers to OneDrive for Business and SharePoint (On-premises and Online). Additionally, it helps you move Exchange/Office 365 Public Folders to SharePoint. This sophisticated tool owns many advanced features that facilitate requirement-based migration of Files/Folders. Here we focus on its features for permission migration.
How to configure Permission Settings in Kernel SharePoint Migrator?
You can configure permission settings before the file server to SharePoint migration and edit the same at the time of migration between the file server and SharePoint. It will provide you with control over the data on the new platform. This is how you can configure Permission Settings: Open the tool, select Settings from the Tools menu, and then go to the Upload Settings (File System) tab and click Permission Settings. You can configure permission settings here.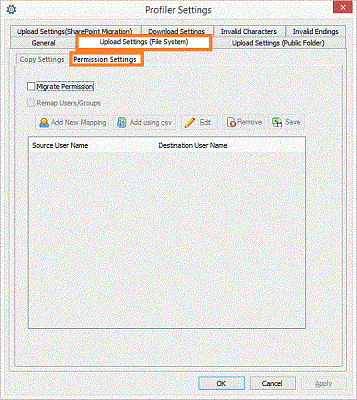 How to upload Files/Folders and Permissions to SharePoint?
Migrating user permission to SharePoint is very important as we migrate the file server to SharePoint. It allows users to work on the SharePoint platform without any difficulties. One can use it for easy migration of Files/Folders to SharePoint. After pre-migrating analysis, one can upload the data from File Servers to SharePoint. Let's discuss in brief how to migrate file server to SharePoint online step by step:
Click File System > File System to SharePoint, or go to the toolbar and click File System > Migration to SharePoint.
Add the content to be migrated using the File System to SharePoint wizard. Use Add File(s), Add Folder, Add Remote File(s), or Add Remote Folder option as required.

The added content gets listed as shown.

Note: To view the permissions on a particular item or folder, select it and click the Groups/users Permissions button.

Enter the destination details on the Select Destination page.

Now, the software automatically maps the content attributes (of the source and destination) and displays them. You can edit the values if modifications are required or the mapping is incomplete.

Select the required migration options in the Select Copy Option page—by default; it displays the Upload Settings (File System) configured by the user. By carefully selecting the options, the user can filter the content to be uploaded.
To migrate permissions associated with the Files/Folders, choose Migration Permissions. This enables the option Remap Users, by which you can map the users. To remap, choose Remap User option, and click Add New Mapping (You can also use a list from a CSV file for mapping. For this, click Add Using CSV button).

Note: Permissions can be migrated only if the user from the source is available on the AD of SharePoint. Otherwise, you need to remap users. To migrate file server to SharePoint Online, the permissions are useful in allowing the accessibility of older data in the new account.
Add a source user name and destination user name.

Now the mapping details are displayed, and you can map the accounts before the file server to SharePoint migration.


If you are migrating from a remote file system, provide login credentials.
To instantly upload the Files/Folders, select Execute Immediate (you can schedule the upload too).

Now the software provides the summary of the migration job. You should read the summary deeply before migrating the file server to SharePoint. You can go back and change the settings too.

Once the migration process is completed, the software displays a confirmation

Migration of security permission along with the Files/Folders eliminates post-migration chaos completely, as end users can work on Files/Folders without much trouble. Consequently, administrators' workload will be reduced considerably. File Server to SharePoint supports remapping AD users to SharePoint users and permissions migration.
Conclusion
A user attempts to migrate file server to SharePoint where they can process their documents in a better way. SharePoint is an enterprise-friendly software that you can use on both on-premises and online versions and increase the productivity of your business. Kernel Migrator for SharePoint will assist you in migrating the data and their permissions, rights, limitations, and properties. The mapping and permission selection is done before the migration, and migration will move the selected data.