The use of web-based email services like Gmail has its advantages. Gmail allows its users to use up to 15 GB's of data free on its cloud storage. Also, you can import MBOX files of other email clients easily to Gmail using a professional tool like Kernel MBOX to PST.
Kernel for MBOX to PST converter tool can save your MBOX emails in different destinations PST, email servers like Office 365/Exchange Server, or web based email clients like Gmail, Yahoo, AOL etc.

Backup Gmail Data
Though it doesn't provide any direct native method to back up the mailbox data, you can use the Google Takeout (https://takeout.google.com/settings/takeout) feature in order to download an offline copy of your Gmail mailbox.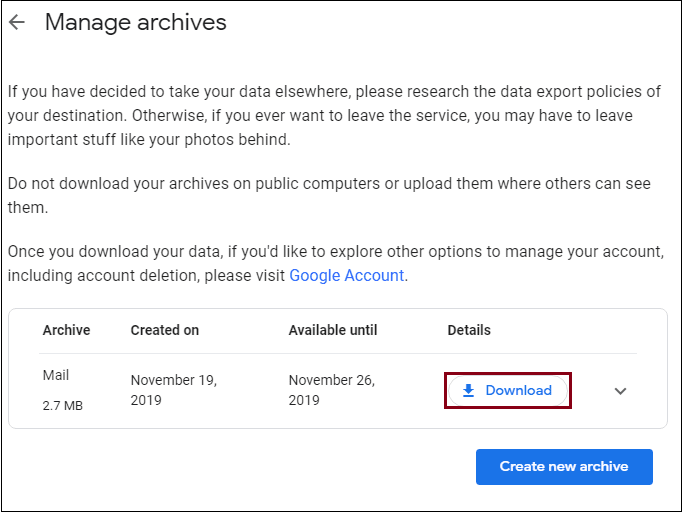 Once downloaded, the MBOX file can be used as a backup.
How to Import MBOX to Gmail?
Unlike other email client applications that facilitate importing data from different sources, Gmail doesn't provide any direct function to import data from an external source directly to its mailbox. However, there is a way around.
First, you need to convert the MBOX file into PST format. Then you can import this PST file into Outlook after configuring it with the Gmail account into which you need to import the MBOX file.
Manual methods, however, are quite hectic and requires a series of consecutive steps. However, if you use reliable third-party software to migrate data into Gmail, it would be much easier.
Kernel MBOX TO PST is a conversion tool which lets you convert or migrate MBOX/MBX/MBS/MSF to PST, MSG, EML, Domino, GroupWise, Exchange, Gmail, Google Apps, Yahoo, AOL, etc.
The MBOX to PST Converter tool is quite convenient and handy; besides this, it supports 20 MBOX email clients, Windows, Outlook with all their versions. The tool allows you to have a preview of particular files and folders before the conversion, which helps you decide what is required to convert and what not. The tool allows you to apply filters on source data so that you can convert/migrate as per your requirements. The tool is so powerful that it lets you recover the deleted items without bringing any harm to data integrity.

Let's see how the tool works and how you can Import MBOX to Gmail Account.
Launch Kernel for MBOX to PST Converter on your Windows machine and start with clicking on the Browse button to add the desired MBOX folder.
Navigate to the folder containing the required MBOX files, select the folder and click OK.
Once the folder gets added, Click Finish.
Here, you can have the preview of data items associated with the MBOX files. Now, to save the required file, click on the Save button located just below the menu bar options.
Select the Output type as "Gmail" and click Next.
Select the desired filters to save specific data; this, however, is an optional window. If you don't feel like making any changes to your converted file, skip this step and click Next.
Enter your Gmail account credentials and click on the Finish button to start the migration.
Wait until the process gets completed.
Once the process gets completed, a pop-up message will flash on your screen, saying that the data has been saved. Click OK to finish the process and exit the tool.