Gmail is the web-based email service that has become the de facto communication medium for lots of users. A free Google account gets a 15 GB of total space that all apps share between themselves including Gmail. When the size of an account reaches to such limit, then you can either delete the data or move it to another account. The simple method is to use Google Takeout service (https://takeout.google.com/settings/takeout) and download your data. But takeout creates an MBOX file that you cannot import into Gmail directly. In this article, we will tell you 2 method to import MBOX file into Gmail account using Thunderbird browser and a professional software.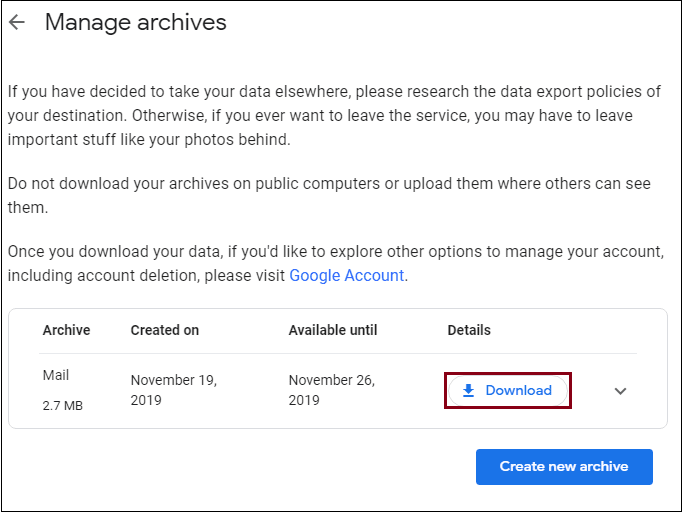 How to Import MBOX File to Gmail?
Once the Google backup file is downloaded, you can use the same file to import the mailbox data in different emailing platforms that support the MBOX file format. Suppose you have created a new Gmail account and needed to import the emails that were on the previous Gmail account. All you have to do is download the copy of your Gmail data via Google Takeout and import the downloaded file via any MBOX supported email client like Thunderbird.
Method 1- Import MBOX to Gmail Using Thunderbird
In order to import your Gmail backup (MBOX) file to Thunderbird, first, you have to configure your Thunderbird client with the existing Gmail account. After a successful configuration, follow the given instructions to import the backup MBOX file to Thunderbird.
Launch Thunderbird and click on the Menu button located at the extreme right of the interface.
Navigate to Add-ons >> Add-ons.
In the Add-ons Manager window, select ImportExportTools NG and click on the Add to Thunderbird button.
You will get a pop-up asking you to add the ImportExportTools NG add-on. Click on the Add button and re-launch Thunderbird.
Go back to the Thunderbird mailbox window, right-click on Local Folders and select ImportExportTools NG >> Import MBOX file.
Select the Import directly one or more MBOX files option and click OK.
Browse to the location where you have saved your Gmail backup (MBOX) file. Select the file and click Open.
Again, go back to the mailbox window and select the imported backup file to view its email contents. Select the emails that you require in the Inbox folder and drag and drop those selected email messages. You can also select the entire emails (Ctrl + A) and move them to the desired folder.
Manual methods, however, are quite hectic and requires a series of consecutive steps. Apart from using Thunderbird browser, there is a professional solution to import large-sized MBOX files to Gmail without losing data and protecting mailbox's integrity.
Method 2- Import MBOX File to Gmail Using Professional Tool?
Kernel Import MBOX to Gmail is a conversion tool which lets you convert or migrate MBOX/MBX/MBS/MSF to Gmail, PST, MSG, EML, Domino, GroupWise, Exchange, Google Apps, Yahoo, AOL, etc.
The MBOX to PST Converter tool is quite convenient and handy; besides this, it supports 20 MBOX email clients, Windows, Outlook with all their versions. The tool allows you to have a preview of particular files and folders before the conversion, which helps you decide what is required to convert and what not. The tool allows you to apply filters on source data so that you can convert/migrate or import mbox into gmail as per your requirements. The tool is so powerful that it lets you recover the deleted items without bringing any harm to data integrity.

Let's See How the Tool Works to Open MBOX File in Gmail Account
Launch Kernel Import MBOX to Gmail Converter on your Windows machine and start with clicking on the Browse button to add the desired MBOX folder.
Navigate to the folder containing the required MBOX files, select the folder and click OK.
Once the folder gets added, Click Finish.
Here, you can have the preview of data items associated with the MBOX files. Now, to save the required file, click on the Save button located just below the menu bar options.
Select the Output type as "Gmail" and click Next.
Select the desired filters to save specific data; this, however, is an optional window. If you don't feel like making any changes to your converted file, skip this step and click Next.
Enter your Gmail account credentials and click on the Finish button to start the migration.
Wait until the process gets completed.
Once the process gets completed, a pop-up message will flash on your screen, saying that the data has been saved. Click OK to finish the process and exit the tool.

Wrapping Up
This article is intended to help users import MBOX file from different sources to Gmail. We have elaborated the manual procedure to open MBOX file in Gmail using Thunderbird client. You can also use the tool to import MBOX to Gmail without Thunderbird.
Software Video Tutorial to Import MBOX file to Outlook, Gmail, Yahoo, etc.