GroupWise Migration Solutions from Us
Microsoft Exchange Server brings more advantages than the any other email server and Kernel for GroupWise to Exchange brings these advantages to you. The software uses the multiple methods to login to the GroupWise account like Default mode, Login mode, Command line mode, and accesses the mailboxes directly. You can also choose to migrate the archive items separately from other mailboxes.
The filter options like item types, skip duplicate items, and date range are also good for trimming down the whole data. It gives you a total control over the migration.
Migrate GroupWise mailboxes to live Exchange Server.
Migrate GroupWise mailboxes to PST (Outlook).
Connect multiple mailboxes using the Proxy Access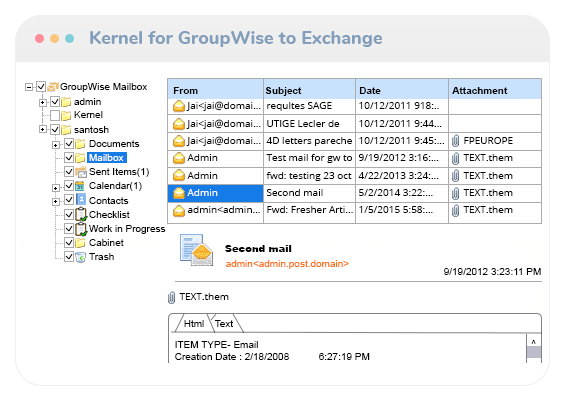 Kernel for GroupWise to Outlook is an efficient solution to conduct a safe migration from GroupWise to Outlook. As Outlook is a feature-rich email manager, businesses like to migrate their data to Outlook. Our tool will help you to export multiple mailboxes to Outlook PST files with the help of smart filters and better output options.
There are multiple methods to login to the GroupWise account as per your login settings, and the tool provides the option to connect with single or multiple mailboxes within the home screen.
Migrate emails, Contacts, Calendar, & Notes to MS Outlook.
Migrate the archive items separately.
Preview of selected items before migration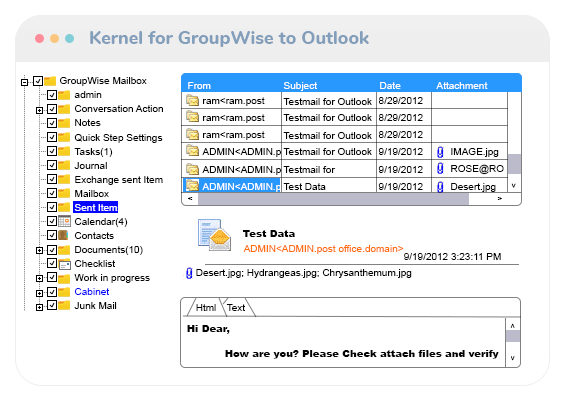 The benefits of Office 365 attract businesses to migrate to it. When GroupWise users plan to migrate to Office 365, Kernel for GroupWise to Office 365 saves you from running a manual approach. There are many advanced features in this tool, like different login methods, filters, etc. With this tool, the Office 365 migration requires only the credentials of the account, and no post-migration activity is required.
Migrate unlimited GroupWise mailboxes to Office 365.
Migrate in batches with MS Excel worksheets.
Recover and migrate deleted GroupWise items.