Just like any Word or Excel file, PST files are also prone to errors and corruption. There are many reasons for PST file corruption. Some major causes are discussed below.
Bad Sectors on Hard Drive: It is a common error. When the local machine's hard drive has bad sectors, PST files saved on it gets corrupted easily. So accessing them becomes impossible.
Network Issues: It is a practice these days to keep or save important data on a network server. But, what if network server or devices that connect to the server encounters an issue? The saved PST file will become inaccessible to the user. Situations like network failure or network breakdown might corrupt the PST file.
Sudden Power Failure: Unexpected power failure can cause PST file corruption. At the time of sudden power failure, if the PST file is open, it can become corrupt.
Malicious Software: Any malicious software installed or downloaded to your machine can lead to corruption of PST file data as well.
After PST file corruption or damage issues, you need to repair and recover corrupt PST file data. By using
PST repair tool
you can repair and recover PST file data.

Here are some free PST repair tools that are recommended by experts:
Method 1: Repair with Inbox Repair Tool
The Inbox Repair Tool from Microsoft is a very simple tool which helps to repair the header of the PST file and delete the irrelevant details from the file that are not recognized by the tool. By default, this tool is located in one of the following locations:

If you are unable to find it in the above location for any reason, just go to Start and search for SCANPST.EXE. Still, if you face any issue, just download the Inbox Repair Tool from Microsoft's website.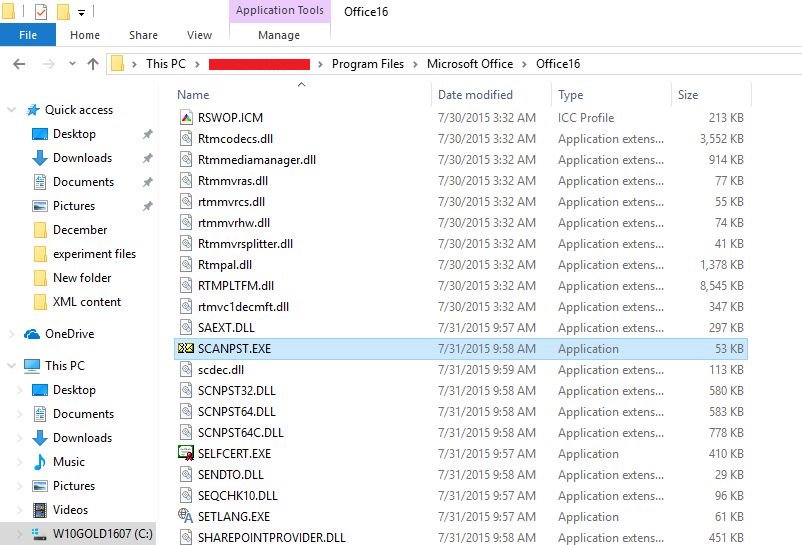 Follow these simple steps after installing:
Step 1: Launch the Inbox Repair Tool, click Browse and choose the corrupt PST file, and click Start.

Step 2: After completion of the process, the tool will display errors found in PST file. Now, click Repair. The file repair begins. , Sometimes the file is not recovered and repaired in the first shot, so you willt have to repeat the procedure several times. After repairing, you might not face the same issues anymore in Outlook for accessing the PST file.
Method 2: Truncate Oversized PST File
When the users launch MS Outlook (especially older version) and try to access PST files, you might face following error "Errors have been detected in the file . Quit all mail-enabled applications, and then use the Inbox Repair Tool."
The problem mentioned above occurs due to the exceeded size of PST file as the limit of Outlook data files is 2 B (in older Outlook versions).
Hence, to fix such a problem, reduce the PST file size so that it is in the specified limit. Use the Oversized PST and OST Crop tool by Microsoft which will delete some data from the PST file to reduce its size. Before using the tool, make a copy of the corrupt PST file as all the tool deletes some data.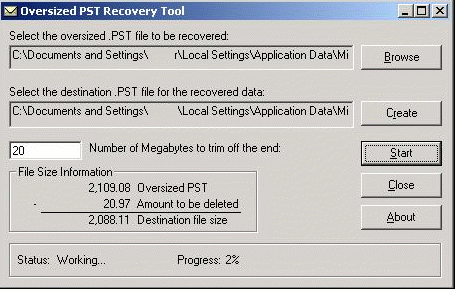 While using this tool, please remember:
Your machine should have 2 GB of free hard disk space so that the tool can generate a copy of PST file.
Truncate the file between 20 to 25 MB less than the 2 GB limit. It will give you enough space for working.
This method is not 100 percent reliable. Also, truncated data will be missing from the original file.
Method 3: Free Recovery of PST Files using Kernel PST Repair Tool
Using Kernel for Outlook PST Repair is one of the simplest and easiest ways to repair corrupt PST files. This tool offers some great features to repair a PST file.
Repairing of oversized as well as damaged PST files
Recovery of deleted messages and attachments
Saving in different file formats and destinations
Support for all version of MS Outlook
If you're not able to find a PST file on your system, the Search option in the tool allows you search for a PST file in the entire Hard Disk. After recovery, you can save the PST file in the desired format and location. Also, you can save 25 items from each folder completely FREE.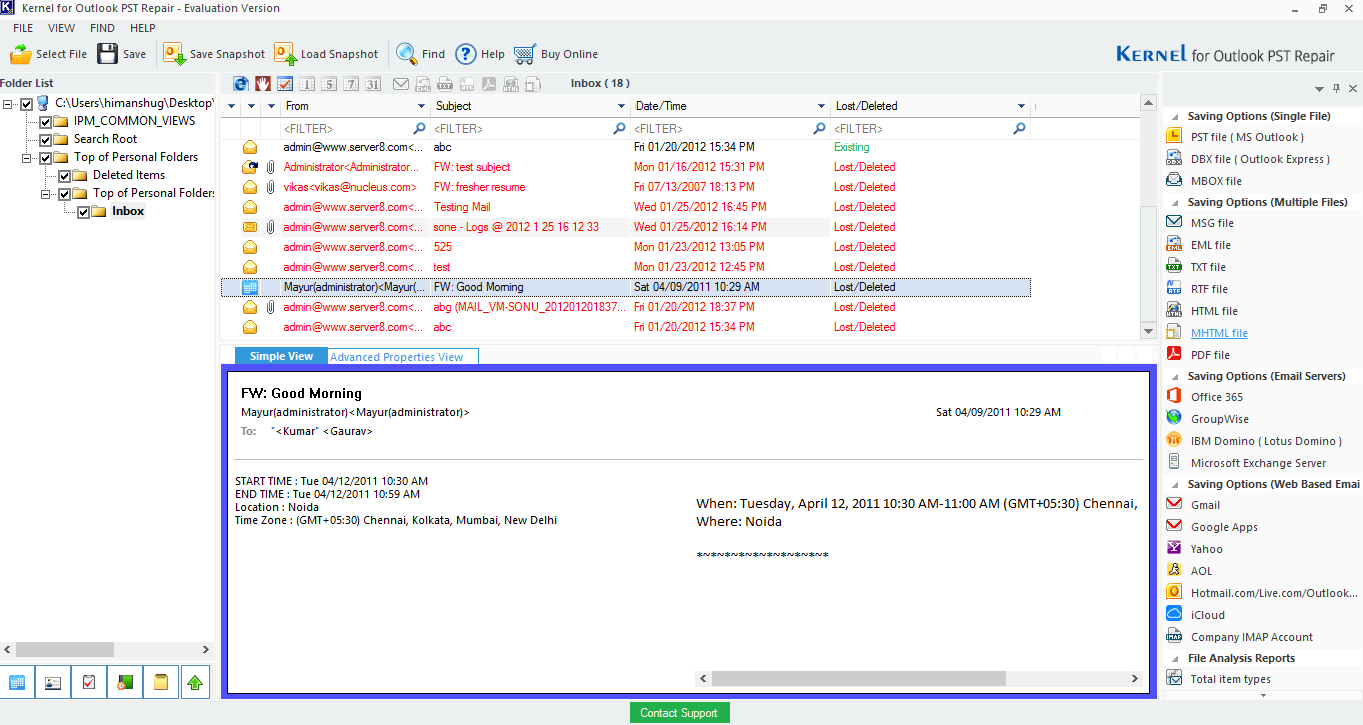 Conclusion
The three free solutions – Inbox Repair Tool, Oversized PST and OST Crop tool, and Kernel for Outlook PST Repair—helps you deal with PST and Outlook issues in three different ways. The first one helps to repair corrupt PST files, the second one helps to reduce the size of PST files, and the third one helps to recover Outlook PST data (25 items/folder free).