Read time: 7 minutes
Businesses today use computer networks extensively, making it necessary for the network administrator to monitor the internet activity of all users. Virus and malware infections can damage company networks, and inappropriate websites such as gaming, social, and social networking can waste bandwidth and reduce productivity. In addition to seeing how your computer has been used recently, you can inspect suspicious activity such as browsing the internet and uploading files when no one was supposed to be accessing the PC.
Every time you use the Internet, your actions leave a record of the sites you visit, as well as everything you do. Often, websites store a small piece of data, referred to as a cookie, on your computer. Besides cookies, many websites will track your browsing activity through your user account. Browser tracking does not pose a serious threat to your online security, but you should be aware of how your information is collected and used to secure and protect your computer.
Why do Websites Track User Browsing Activities?
The reasons for tracking your browsing activity on a website may be numerous. Sometimes, it's just a matter of making browsing faster and easier. In addition, this data can be used to learn about your browsing habits and preferences. Moreover, you can also use this to track your internet activity online.
What can Cookies do?
A cookie can store information about the websites you visit and the items you click on. If you do not have an account with a particular site, the information is typically stored in a cookie on your computer.
Top Ways to Track Your Internet Activity
As we are now clear with the basics of internet activity, browser working, etc., we will help you with the easiest methods and an advanced employee monitoring software to track the internet activity in your system.
Checking Internet History via Chrome
It is easy to delete Web History. But just to check the visited sites & internet history, you can always go through the history in Chrome. For this, follow the steps below.
Open Google Chrome and click on the three dots on the upper-right side of your desktop screen.
Go to the History tab and you will get to see a detailed list of all the visited sites. Track your Chrome internet activity from here.
Check Browsing History & Cache
Open Internet Explorer. Hold Ctrl + H on your keyboard. From the History tab, you can choose to view your internet activity date-wise. For example: Click on 2 Weeks Ago and you can track the internet activity of the past two weeks.
For the cookies and temporary internet files option, click on the Settings symbol on the upper-right side of your screen.
Click on Internet Options.
Under the General tab, tap on Settings.
A Website Data Settings window will come up. Under the Temporary Files section, you can check for copies of web pages, images, media, and more.
Tap on View Files and you can get all the info, in the given location.
To make modifications to history and website, cache, you can use the other two tabs, History and Cache and databases.
Check Router Logs
Type 192.168.1.1 or 192.168.0.1 in the address bar of your browser to access your router. Log in with your administrator username & password.
Look for the Logs section on the administration page.
In case the feature is not activated, click Enable. Each computer connected to the network will have its IP address recorded in the router.
On the next page, click Logs to access the logs. All of the IP addresses accessed by network users are found in the router's list.
Using Task Manager
Hold Alt+Ctrl+Del on your keyword to access Task Manager.
On Task Manager, tap on the tab App History.
In this tab, you can see the details of monitoring the data usage on your apps in your system.
Note: You can also click on Delete usage history for resetting the data usage counter, but keep in mind that the counter will reset automatically every 30 days.
Using Settings
From the Search option on your Desktop, type Settings.
Under the Settings Dashboard, scroll down and select the option Network & internet.
Next, tap on Data Usage. Under the Data Usage tab, you can see how much data you have used over the past 30 days over Wi-Fi and Ethernet.
For a detailed view of network data usage across all applications on your computer, tap on the Usage details link.
Note: You can also set a data limit for all your apps by using the Enter limit option under the Data Usage tab.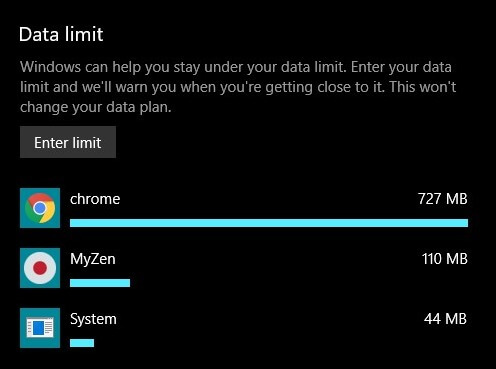 Now as we are through with the best ways to track the internet activity on your PC, we will help you with the easiest method to track internet activity on your system. You can go for the Kernel Computer Activity Monitor tool. This tool helps in keeping a track of all the internet activities including browsing history, pages visited, visit time along with username, applications launched with time & app name, etc. Moreover, it monitors employee Skype chat conversations on an infinite number of computers at the same time and performs the monitoring in a hidden manner.
With Accessed Applications Report, Monitored Email Activity, Unique Tracking Ability, Unified Log Recording, this advanced tool offers compatibility with all versions of Windows. You can try the demo version for free. Feature, functionality, and capabilities of the software are available for evaluation and analysis before the purchase is made.
Closing Notes
Our blog brings the best ways to track the internet and browser activities on your system. Also, we introduce an easy-to-use Kernel Computer Activity Monitor tool. We hope you can track all your internet activities using our methods. As per our view, keep the manual methods aside and take the assistance of the Kernel Computer Activity Monitor tool. Download the tool, use it for free and make your decision.