Read time 6 minutes
Skype, a widely used multiplatform telecommunications software product which specializes in services like Video Chat, Text Chat, Voice Calls, is now available on vastly used devices running different Operating System environments, for example, Windows, MacOS, Android, iOS, etc.
Before jumping right onto 'How you can Monitor Skype Chat Conversations,' we'll discuss Skype and what does it offer, to let you get through a basic idea about the tool and why the need of Monitoring Skype Chats arises.
Skype?
Skype was founded in 2003 by a group of people from Sweden & Denmark, and the first public beta version was released on August 29, 2003. Acquired by Microsoft Corporation on 10th May 2011 for US$8.5 billion, the company was integrated as one of Microsoft's divisions, followed by acquiring all of Skype technologies; the final acquisition completed on 13th October 2011.
After coming under Microsoft's roof, Skype itself has been through major changes and improvements. Also, Microsoft introduced Skype both for business and individuals.
For example, Skype is a VoIP tool with free communication for normal users which also be used by a business of up to 25 people; Skype for business is Microsoft's offering for businesses. Earlier it was Lync which later was rebranded as Skype for business in 2014 with two different versions available to choose from Microsoft Office 365 Suite & Skype for Business Server.
How Secure is Skype?
There are two different versions of Skype available: Skype & Skype for Business and both offers distinctive features and security standards.
Skype, a tool meant to be used by consumers is encrypted for conversations between Skype users covering Instant messages, calls and file transfers using 256-bit AES encryption (a specific industry standard which is also used by US government).
Skype for business, on the other hand, offers more hefty security standards in comparison with its consumer analog. Skype for Business uses the same security standards as of Office 365 cloud platform, and Skype for Business Server offers security options like Central Management Storage, Server-to-Server authentication, Role-Based Access Control, and Planning & Design tools.
Is it possible to Monitor Skype?
In a way Yes! You can monitor the usage of both Skype & Skype for Business within Microsoft's predefined bars. Microsoft has given Skype Manager utility which is the central control center for Skype. A company can monitor Skype usage by Time, Date, Duration and Destination of Calls & Conversations using the control center.
The administrator can look over the member's activity but getting permission from all members to access their info is mandatory. Without permission, the administrator only has access to the credit balance of members.
Regarding Skype for Business, the user data is stored on Microsoft's servers, though the need for close monitoring would not be necessary. Skype for business includes monitoring data and reports like Peer-to-Peer activity, Conference Participant activity, Client user report, Block user reports and an option to turn on the Call Quality Dashboard to monitor call quality.
Straightforwardly, using the Central Control Center, you can monitor the data generated by the user activity which we can also be phrased as metadata.
Why Monitor Skype Chat Conversation?
In companies, where thousands of employees work, it becomes very critical to keep track of the users' activities to ensure the integrity and confidentiality of crucial data.
Just by monitoring the user-generated reports and tracking the message's source & destination, you would not know the actual context of the end-to-end conversation in Skype. Thus it is possible if an employee leaks out the important information of a company, which as a result would cost tons of money and adversely affect both the employer and the employee.
It is very important for employees to maintain discipline and show a positive attitude towards productivity during their work hours. They should complete the assigned work within the given deadline and be creative to bring new ideas. Thus, it is certainly challenging to figure out what people are doing indeed.
How would you figure out if people who work in the business environment are on the right track, and they are not putting the precious time in non-productive tasks and not getting engaged in personal conversations with the colleagues? Therefore, to ensure continuity in the work stream and productiveness from employees, it becomes necessary to monitor Skype Chat Conversations.
So, if Skype or Skype for Business is your companies or organization's primary tool for work communication and client handling, then it is recommended that you monitor Skype Chats.
Monitor Skype Chat Conversations
Like it is voiced above, the administrators can track user-generated reports, reports on blocked users, source & destination of messages, call durations, call date, and call time. Technically it can be described as monitoring the data of data, say metadata. But it is not possible to understand what the conversation was about or what did the messages convey actually.
In the nick of time, Microsoft didn't add this functionality in any of the Skype versions, which leaves no option but to rely on a third party tool. But which tool should you choose for such a delicate task? You can find a ton of third-party computer monitoring software, but it is difficult to find a reliable tool.
Employee Desktop Live Viewer
It is an advanced tool developed by Kernel Data Recovery with the latest technology standards in conjunction.
Employee Desktop Live Viewer offers salient features like invisible monitoring, monitoring of systems in different regions, etc. With lots of quality surveillance features, the tool offers a whole new dimension in the game of monitoring. Thus, it would become easy to ensure a significant boost in productivity, data confidentiality, and organizations integrity.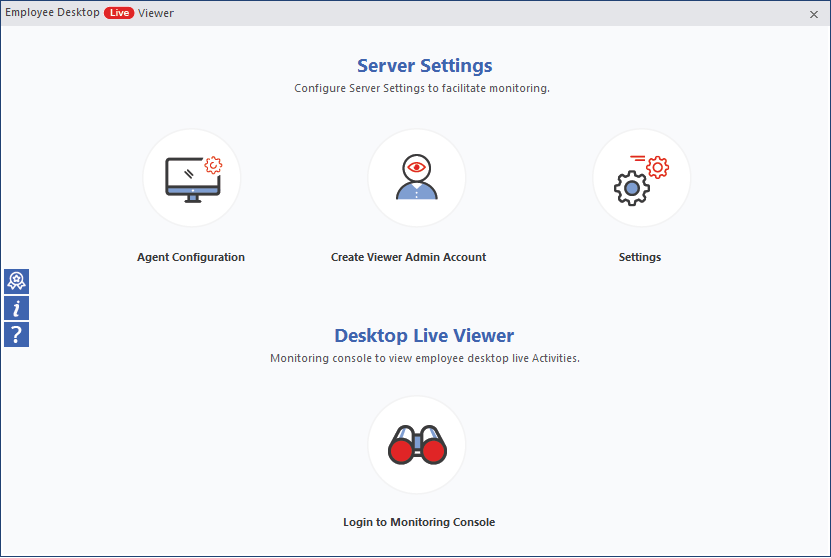 Conclusion
Skype is an essential tool both for businesses and individuals when it comes to telecommunication services, but the paucity of full-fledged monitoring features exists. The task of Skype chat monitoring can be a challenge; "Employee Monitoring Tool Helps to increase Employees' Productivity", with this tool you can track user activities, the conversation context remains a mystery. So, it becomes essential to use a desktop monitoring tool to know more about Skype conversations of employees.
Tips to Remote Monitoring Work from Home Employees