Read time 5 minutes
Whenever you delete a file from your system, only the address to the file is deleted from NTFS and FAT drives. These files remain hidden on your system unless overwritten by other files. Hence using any data recovery tool, it is then possible to recover these "deleted" files in a jiff. This poses a grave risk of data theft; hence some caution is advised when handling such sensitive data. Data such as net banking passwords, private photos, private photos, credit card details, videos, emails, and chat messages are classified as sensitive. Therefore, it becomes more important to wipe your disk clean when you decide to sell or give away your PC.
We will discuss various ways to overwrite your confidential data effectively. Following are some of the prominent ways to effectively encrypt/ scramble your confidential files beyond repair:
Method #1 Using Windows PowerShell and Cipher
This method takes advantage of the inbuilt Windows feature that can be used to overwrite the deleted files.
Launch Windows PowerShell by searching for it.
In the command prompt enter: cipher /w:<filepath> as shown below in the snippet.
The tool will now attempt to overwrite all the deallocated data in the filepath

Note: your existing data in the file location will remain intact, and only the deleted files will be overwritten.

Note: The process to overwrite the deleted files will take some time. So, be patient.
Method #2 Changing the Recycle Bin's Properties
When you delete a file on your system, it gets dumped into the Recycle Bin, and from there, one can quickly restore files to their previous locations. If you would like to delete file permanently from pc, which means that files will be permanently deleted and will not go to the Recycle Bin. The detailed steps are outlined below:
Right-click on the Recycle Bin icon.
Choose Properties from the list.
Next, choose the drive for which you want to delete the data permanently. Make sure to select Don't move files to the Recycle Bin. Remove files immediately when deleted option. Click Apply > OK.
Note: This method does not guarantee the complete removal of deleted files from your system. To permanently delete data from computer or PC, one has to overwrite them.
Method #3 Use a Professional Tool
If you would like a more secure way to dispose of your confidential data, then you should look for a professional file shredder tool. Kernel File Shredder is just the tool that you need. Kernel File Shredder can securely delete any unwanted or confidential data stored on the drive. It comes equipped with newest and advanced data encryption algorithms such as the Zeros (1 passes), DOD 5520 (3 passes), US Army AR 380-19 (3 passes), USAF 5520 (3 passes), German VSITR (7 passes), HMG ISS Baseline (1 passes), HMG ISS Enhanced (3 passes), Russian GOST P50739 95 (2 passes), Canadian OPS-II (7 passes), Peter Gutmann (35 passes), and DOD5520 + Peter Gutmann. The user has the option to schedule a file shredding task at a predefined time. It also generates a detailed log file containing the information regarding a shredding process.
Install Kernel File Shredder on your system and launch it.
Next, click on the Add Files\ Folders tab to add files and folders to shred. Next, choose the shredding method from the drop-down menu, as shown in the snippet below.
In a few seconds, your sensitive file(s) will be completely overwritten. Click OK to exit the current process.
Software Working Video about How to Delete Data Permanently from PC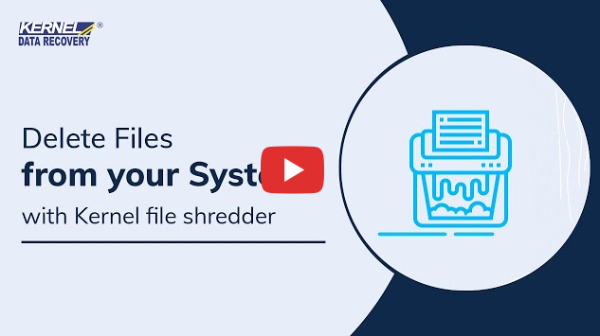 Why Should you Use Kernel File Shredder Software?
It saves the unauthorized access of files by shredding them completely.
It creates log information for the shredding job.
It allows the selective shredding by choosing only File and Folders, Recycle Bin, and Useless files, etc.
It follows the standard shredding algorithms like DoD, US Army, German VSITR, HMG, etc.
Conclusion
Disposing sensitive information from your PC is required in cases when you decide to sell or give away your PC. A simple deletion is not sufficient, as these "deleted" files can be quickly recovered using any data recovery tool. The files need to be overwritten for permanent deletion. Two manual methods are described in this blog post to permanently delete data from storage media or PC. These methods do not guarantee the permanent deletion of sensitive files as these are not equipped with advanced data scrambling methods. So, one should only trust advanced file eraser software options such as Kernel File Shredder for getting rid of any sensitive data files, which might create havoc if it falls into the wrong hands.