Read time 7 minutes
As the name suggests, a File Shredder is a software that can permanently delete files from your system. It is a well-known fact that merely deleting a file from your system simply hides it from the operating system. It means that when a file gets deleted, only the address to the file is deleted from the NTFS and FAT drives. These "Deleted Files" are not entirely erased from your system unless overwritten by other information. That's what precisely a file shredder software does- it overwrites the selected files, ensuring that it can never be retrieved using any data recovery program.
We are going to look into some of the promising shredder software that can help you safeguard your private data and can prevent you from identity thefts. We are going to review a total of seven File Shredder tools that will help sheath your information such as net banking passwords, credit card or account details, private photos, videos, emails, chat messages, from falling into the wrong hands. So, if you are interested in a detailed comparison between the top seven file shredder tools, then stick around till the end.
Kernel File Shredder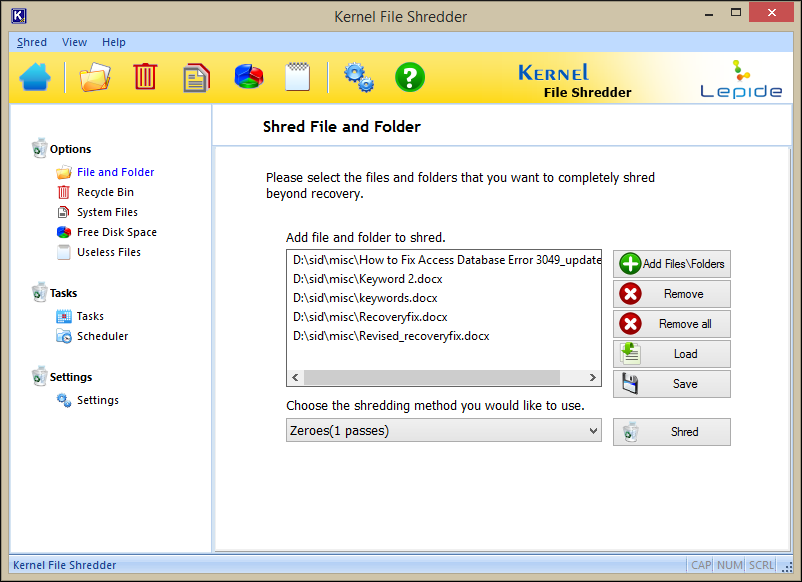 Kernel File Shredder is an efficient utility that can very quickly prevent any unauthorized person from gaining access to your confidential data by shredding it effectively. It employs advanced algorithms based on the Gutmann method which was developed by Peter Gutmann, and it still remains one of the best software-based data sanitization methods. In addition to this, it also employs other prominent algorithms such as the Zeros (1 pass) method, DOD 520 (3 passes), US Army AR380-19 (3 passes) and US Air Force 5020 (3 passes). Therefore, making it virtually impossible for any data recovery tools to recover your data from shredded files.
Using this tool, you can schedule in advance any file shredding tasks that will be executed automatically. The user can also rename the file(s) or folder(s) before shredding them. After the shredding process, it generates a log file containing information regarding the shredding operation. For more privacy, one can set a password on the software that will save the software from unauthorized usage. Moreover, it offers several shredding options such as files and folder, recycle bin, system files, free disk space, and useless files. Hence it is easier to sherd files located in specific locations using this tool as it comes simple interface which will help you to complete the shredding without any help.
Eraser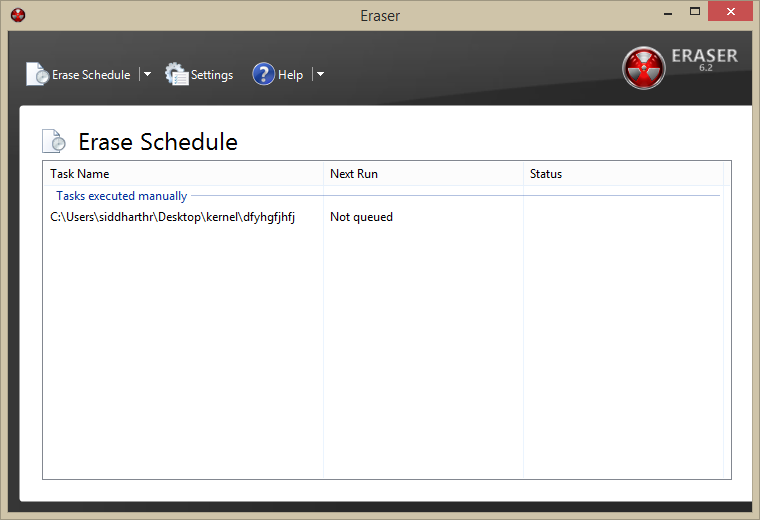 Eraser is one of a kind tool that promises to effectively remove sensitive data from your hard drive by overwriting it several times based on carefully selected patterns. It currently supports Windows XP, Windows Server 2003, Windows Vista, Windows Server 2008, Windows 7, 8, 10, and Windows Server 2012, 2016. On top of that, it is freeware and released under the GNU General Public License. It basically uses three data erasure algorithms, including the US DoD 5220.22-M. This tool comes with an open-source software with its source code released under GPU General Public License.
Overall it is a decent program and does the job, but sometimes it quits unexpectedly, and the support is minimal.
Freeraser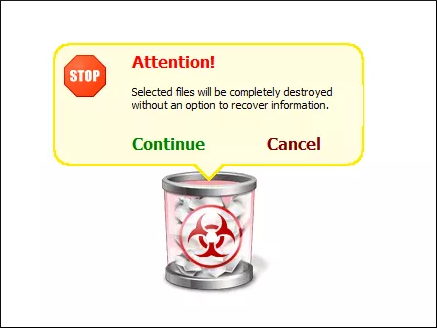 Freeraser is a secure file and folder eraser software that can very quickly delete confidential files that are beyond recovery. Freeraser has three data shredding methods, such as Military Standard DOD 5520.22-M and NSA Standard. It works on Windows XP, Windows Vista, Windows 7, and Windows 10 operating systems. As the name suggests, it is a freeware. Freeraser is easy to use; it places a recycle bin like an icon on your desktop that you can use to shred files. The drag and drop feature is quite convenient to use.
Hard Disk Scrubber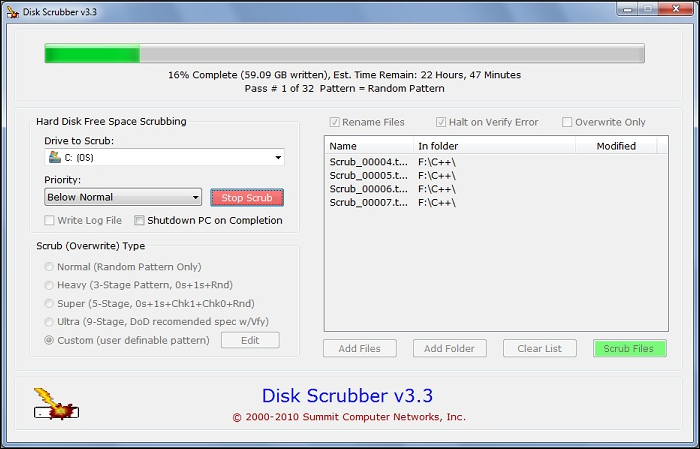 Hard Disk Scrubber is a freeware which can effectively delete sensitive data from your PC. It can be used to overwrite free space or delete data permanently from PC, so it becomes impossible to recover any data from them. It is quite easy to operate and can scrub files in a few mouse clicks. It uses data sanitization methods such as AFSSI-5020, DOD 5520.22-M, and Random Data. It also lets you generate a custom wipe pattern, for example, writing a specific pattern over files.
PC Shredder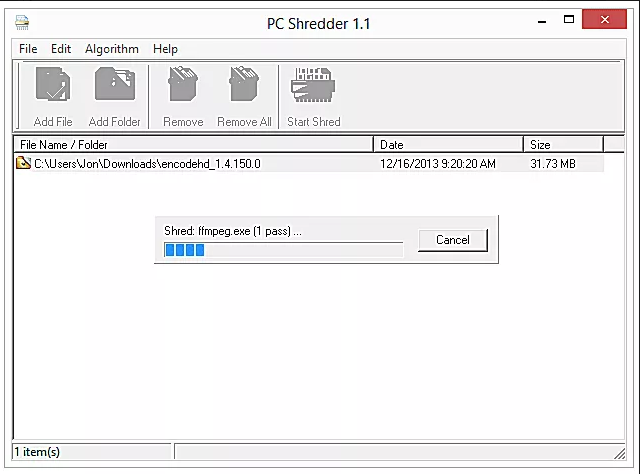 PC Shredder is another freeware utility that is easy to use. Just browse for the files to shred them instantly. It wipes out the free space created by previously deleted files and increases the free hard disk space improving the performance of your PC. It uses three data sanitization methods- DOD 5220.22-M, Gutman, and Random Data. The interface is minimalistic but does the job. It is quite a portable shredder tool and only takes 300 KB of space. Basically, no minimum system requirements but performs better on high-speed systems. It is free for both personal and professional uses.
Hardwipe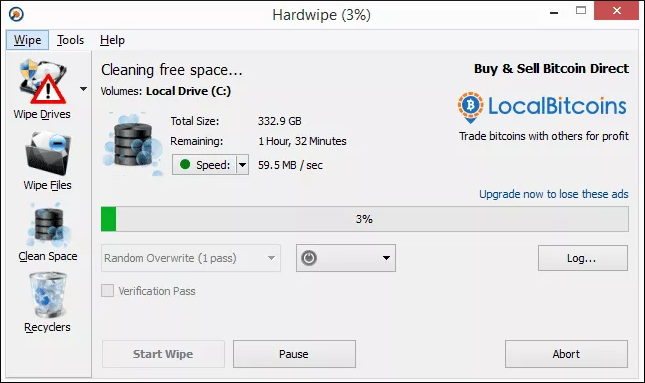 Hardwipe is a data sanitization toolkit that claims to erase data on disk and external storage devices permanently and ensures that your sensitive information cannot be recovered by anyone. It easily wipes internal drives and portable media. It automatically closes once its process is completed. It can be booted via a USB drive and can integrate easily with Windows PE for a boot and nuke data sanitization solution. It also generates log reports after the wiping operation. It supports significant sanitization schemes such as GOST R 50739-95, DOD 5220.22-M, Schneier, and Gutmann. However, it only shreds one folder at a time and contains advertisements. It is free of cost for non-commercial purposes.
WipeFile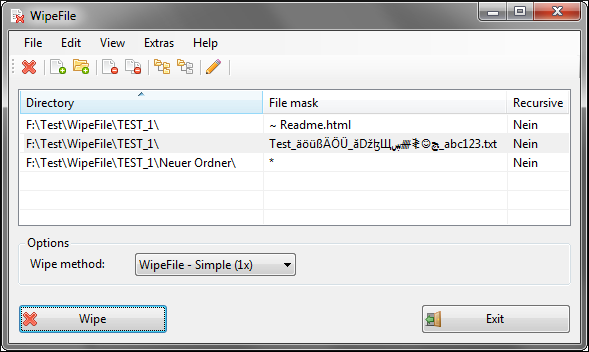 WipeFile is a useful utility that can delete securely delete files and folders. It claims to overwrite the information entirely, and so there is no way to restore or reconstruct the file content. It supports fourteen advanced methods such as US Navy standards, the standard of US DOD, USAF and NATO. On top of that, it is a freeware and available in all major languages. The tool allows you to save the files in the queue as it can be later restored and removed.
Conclusion
Due to increasing events of data breaches leading to problems such as identity thefts and unauthorized data access, it is required to have a shredding tool that can encrypt confidential data beyond recognition. Freeware file shredding tools work well but lack new and updated shredding algorithms. Here, we have discussed the top seven best shredding tools available to the users. A detailed overview of seven best file shredding tools is presented; hence the user can have their picks after accessing the pros and cons of each of these utilities.