Read time 6 minutes
MS Outlook is the most trusted and valued email client among a large number of email clients, both opensource and professional. Unlike IMAP users, POP3 users are those who mainly like to work with their email from a single PC. The primary reason for anyone to opt for a POP3 account is the online mailbox space is limited. But, if you frequently use multiple devices and not worried about the online mailbox space, then IMAP might be the right choice for you.
It is interesting to know that POP3 configured accounts directly removes the messages from the server once these are collected in Outlook (desktop application). In MS Outlook 2010 and 2013, the default setting is to leave the messages on the server for 14 days even if they are downloaded in the Outlook desktop client.
How to Configure POP3 Account in Outlook?
If you have never configured a POP3 account before then, the following section is for you. Just follow the steps outlined below:
Go to File > Info > Click on Add Account
Enter the email account that you want to add and in Advanced Options select Let me set up my account manually.
Now you will be prompted to select from the various account types. Select POP from the options.
This opens up POP Account Settings. Configure it by entering the following information in the respective sections:

Incoming mail: pop.mail.com. Port: 995.
Opt for This server requires an encrypted connection (SSL/TLS).
Outgoing mail: smtp.mail.com. Port: 587.
Encryption method: From the drop-down, select STARTTLS.

Click on Next.


Now enter the account password and click on Connect.
While Outlook configures your account, the following message is displayed:
Next, you might also be asked to enter the account credentials separately.
Check whether the account has been configured correctly by opening Outlook.
Repair POP3 PST files of Outlook 2016 & 2019 using scanpst.exe
Based on your Outlook version the scanpst.exe tool can be found here-

In Outlook 2019: C:\Program Files (x86)\Microsoft Office\root\Office16
In Outlook 2016: C:\Program Files (x86)\Microsoft Office\root\Office16

Launch scanpst.exe
Next, from the dialog box, browse for the .pst files and click Next. Mostly, the PST files can be found here-C:\Users\user\Documents\Outlook Files
The tool will now scan for consistency.
If any inconstancies were found, then click Repair.
If the process is completed successfully, you will be prompted with a Repair Complete message.
Now, open the Outlook and try to access the repaired PST file.
Repair POP3 PST files using Kernel for Outlook PST Tool
Kernel for Outlook PST Repair is specially developed to be used in a scenario in which one is unable to repair the PST files using the scanpst.exe. This tool can repair severely corrupted PST files irrespective of the file size. This tool can help you to recover the accidentally deleted messages along with the attachments quite quickly. One can also opt to save the recovered files in formats such as PST, DBX, MBOX, etc.
How would you feel like if you can directly export the recovered files to Office 365, email servers or web-mails? There is good news for you – this tool has the capability to do it. There is also no need to worry about the Outlook version as it supports Office 365 Outlook, and Outlook, 2019, 2016, 2013, 2010, and 2007.
After installing the software, launch it. At first glance, the user interface (UI) looks clean and well balanced. With this tool, one can overcome issues like Cyclic Redundancy Error which prohibits the user from copying a PST file from one location to another.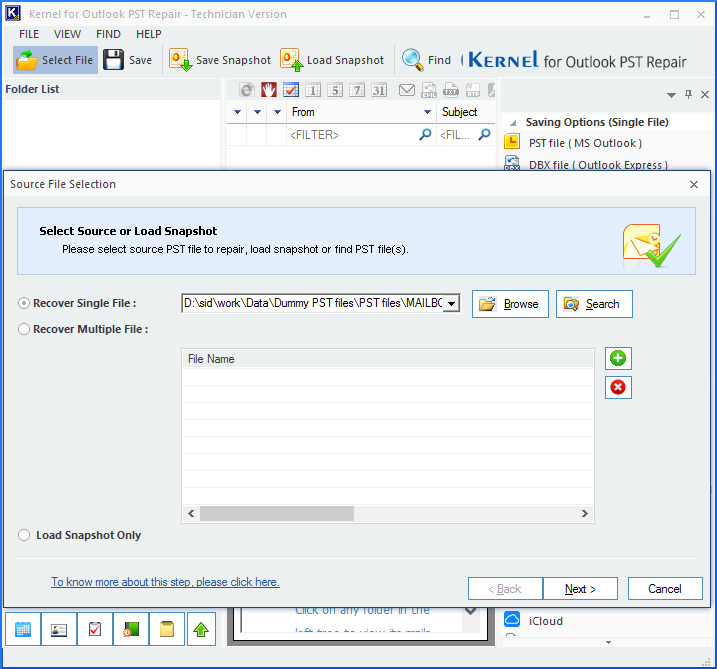 Conclusion
In conclusion, we have looked at the steps to configure a POP account in Outlook. In cases of minor corruption, one can use the Inbox repair tool, i.e., scanpst.exe. In events of major file corruption, scanpst.exe is useless, and one must look for a reliable, professional tool. One such tool for you is Kernel for Outlook PST. Using this tool, one can also overcome issues such as Outlook not responding error and PST file access denied. Remarkable features of this application software make it a must-have tool in an event of file corruption.