Read time 6 minutes
Summary: This guide outlines the process, including using the Inbox Repair Tool for minor issues and employing professional solutions like Kernel for Outlook PST for severe file corruption. Ensure the integrity of your Outlook data with these effective repair methods.
MS Outlook stands out as the preferred email client for a wide range of users, offering trust and versatility in the email management landscape. While both open-source and professional email clients exist, it's essential to consider your needs and preferences. POP3 users typically prefer working from a single PC, primarily due to limited online mailbox space. However, if you frequently switch between multiple devices and have no concerns about mailbox space, IMAP could be the more suitable option for your email needs.
It's worth noting that POP3-configured accounts in MS Outlook directly remove messages from the server once they are collected in the Outlook desktop application. In MS Outlook 2010 and 2013, the default setting is to retain these messages on the server for 14 days, even after they have been downloaded to the Outlook desktop client.
How to Configure POP3 Account in Outlook?
If you've never configured a POP3 account before, the following section provides step-by-step instructions. Simply follow the steps outlined below:
Go to File > Info > Click on Add Account
Enter the email account that you want to add and in Advanced Options select Let me set up my account manually.
Now you will be prompted to select from the various account types. Select POP from the options.
This opens up POP Account Settings. Configure it by entering the following information in the respective sections:

Incoming mail: pop.mail.com. Port: 995.
Opt for This server requires an encrypted connection (SSL/TLS).
Outgoing mail: smtp.mail.com. Port: 587.
Encryption method: From the drop-down, select STARTTLS.

Click on Next.


Now enter the account password and click on Connect.
While Outlook configures your account, the following message is displayed:
Next, you might also be asked to enter the account credentials separately.
Check whether the account has been configured correctly by opening Outlook.
Repair POP3 PST files of Outlook 2016 & 2019 using scanpst.exe
Based on your Outlook version the scanpst.exe tool can be found here-

In Outlook 2019: C:\Program Files (x86)\Microsoft Office\root\Office16
In Outlook 2016: C:\Program Files (x86)\Microsoft Office\root\Office16

Launch scanpst.exe
Next, from the dialog box, browse for the .pst files and click Next. Mostly, the PST files can be found here-C:\Users\user\Documents\Outlook Files
The tool will now scan for consistency.
If any inconstancies were found, then click Repair.
If the process is completed successfully, you will be prompted with a Repair Complete message.
Now, open the Outlook and try to access the repaired PST file.
Repair POP3 PST files using Kernel for Outlook PST Tool
Kernel for Outlook PST Repair is purpose-built for scenarios where repairing PST files with scanpst.exe proves ineffective. Regardless of the file size, this tool excels at repairing severely corrupted PST files. It facilitates the swift recovery of accidentally deleted messages and their attachments. Additionally, users can choose to save the recovered files in various formats, including PST, DBX, MBOX, and more.
Imagine the convenience of directly exporting your recovered files to Office 365, email servers, or webmail platforms. This tool makes it possible, eliminating the need to fret over Outlook versions, as it offers seamless support for Office 365 Outlook, as well as Outlook 2019, 2016, 2013, 2010, and 2007.
After installing the software, launch it. The user interface (UI) presents a clean and well-balanced design. This tool effectively addresses issues like the Cyclic Redundancy Error, which often hinders users from copying PST files from one location to another.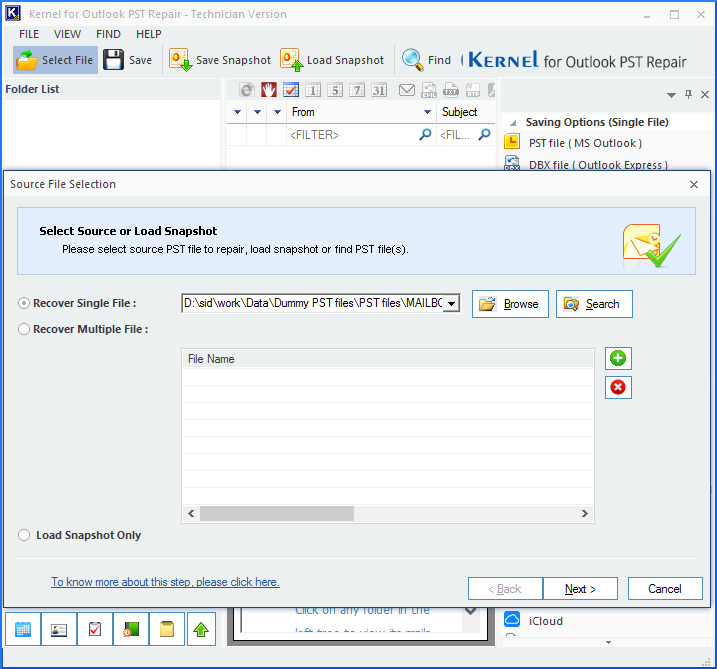 Conclusion
we've explored the steps to configure a POP account in Outlook and discussed the use of the Inbox repair tool, scanpst.exe, for minor corruption issues. However, for severe file corruption problems, scanpst.exe may not suffice, and a reliable professional tool is necessary. Kernel for Outlook PST stands out as a solution, capable of resolving issues like the Outlook not responding error and PST file access denied. The remarkable features of this application make it an indispensable tool for tackling file corruption scenarios.