Read time 9 minutes
Both OST and PST files hold importance to an Outlook user. They act as storage container of all the user's data including emails, contacts, tasks, calendar etc. The only difference is that PST and OST store this information in the online and offline mode respectively. Due to the vast quantity of information, the file size turns out to be oversized. It gets tricky to manage oversized OST files and in addition, corruption in any of these will ultimately cause Outlook data to suffer. Hence, it is crucial to solve oversized OST file issues in Outlook. Also, the storage capacity of the file depends on the installed version of MS Outlook application.
| | |
| --- | --- |
| Outlook Version | OST File Size Limit |
| Outlook 2002 and earlier versions | 2GB |
| Outlook 2007 | 20GB |
| Outlook 2010 and later versions | 50GB |

Instant Solution
Try automated tool Kernel for OST to PST to resolve OST file corruption issues due to Oversized OST file, Virus Infection, Storage Media Failure or any other reasons.
How OST files get oversized?
OST file contains all the data you have generated or received since the account is activated on Outlook. It includes all emails (different folders), attachments, calendar schedules, tasks, contacts, notes, hidden items, public folders, etc. When you forget to delete unimportant data, it gets piled up, exceeds the file storage limit and causes corruption in OST file and troubles in Outlook. Large-sized attachments also cause oversized OST files.
Issues in Outlook due to Oversized OST file:
Cannot open or load .ost file document.
Cannot add data to existing Exchange .ost file.
Pauses in MS Outlook program.
Error messages during synchronizing process.
Manual Solutions to fix errors because of "Oversized" OST files
Basic Activities: Follow these primary activities or instructions to manually eliminate the unused and unwanted data from the OST file.
Delete unwanted emails from your OST folders permanently
Save crucial and large-sized OST file attachments on your system
Ensure that the Deleted Items folder in the OST mailbox is cleared
Rename your OST file from the default location and let it be generated again.
Disabling all Add-Ins: Add-Ins in Outlook may disrupt or affect its normal functioning. To improve the performance of Outlook, disabling Add-Ons is a suitable option. To perform this, follow below steps –
In Outlook, go to File menu, select Options, then click Add-Ins.
Under Manage option, select COM Add-Ins and click Go.
Unselect all the Add-Ins that are currently not in use or non-functional and click OK.
Archiving OST file data: Archiving OST file data might reduce OST file size and clear some space occupied on the server. You can change archive OST file location in your system. Archiving OST file may prevent your OST file file from crossing a predefined size limit. To archive the file, steps are given below.
Click on the File tab>click Cleanup Tools>select Mailbox Cleanup.
Next, two options are available:

You can move older items in the mailbox to an archive folder by clicking on the AutoArchive option.
Click Empty and delete items from Deleted items folder.
Compressing Outlook Data File: OST file size can be reduced using the In-built utility in Outlook. Reducing file size might help in improving Outlook performance provided that user has deleted a number of items. To compact OST file, follow given steps.
Delete those items which are not required further.
Open folder list view, and in Navigation pane, right click on the folder, click Deleted items and click Empty folder.
In Outlook, click on the File tab and from Account Settings, select Account Settings.
Click on the Data Files tab, select the data file to be compacted and click Settings.
In the opened dialogue box, click the Advanced tab and then click Outlook Data File Settings.
In Outlook Data File Settings dialogue box, click Compact Now, which is the final step.
The above-discussed methods might help in reducing OST file size or clearing some space on the server by moving these files to a different location. But if OST files become corrupt due to their size, you might lose data from them. A third-party tool is required to overcome such oversized OST file issues if it has caused inaccessibility issues in Outlook.
Kernel for OST to PST Converter is a useful utility that repairs OST file completely and also converts OST file into PST file efficiently without losing any data. You can download "Trial Version" for free and retrieve your lost or inaccessible data in different formats as per the requirement. Features like In-built search option, smart filters, splitting OST files, a complete preview of file and File Analysis report can be utilized through this utility. The user can make use of another remarkable feature Saving snapshot of the current process for future use by buying a "Full Version" of the utility.
With the 'split PST' feature of the software, the user can resolve issues related to oversized OST files. The tool converts oversized OST file size to PST format and then, using Split PST feature, saves the file into multiple PST files. Let us understand it with the steps.
Launch the tool.
On the Home Screen, click Browse to add the oversized OST file from the system location. Click Next.

Preview the retrieved OST mailbox data and click Save below the menu bar.

Select PST File (MS Outlook) file from the list and click Next.

Apply filters as per your choice and click Next.

Use Split option by selecting the splitting file size against it as per your requirements. Click Next.

Click Browse and provide the saving path for the PST files on your system. Click Finish.

The saving process will get started and completed soon.
Hence, it is quite easy to deal with over-sized or corrupted OST files with this converter tool.
Summary
Outlook and Exchange users suffer from many issues, including data accessibility and synchronization due to an over-sized OST file. The blog suggests some DIY solutions like Disabling Add-ins, Archiving OST file, Compressing OST file, etc. For dealing with over-sized OST files, reliable OST to PST Converter software is explained too.
Proposed by Mr. Simon_Wu Microsoft contingent staff, Moderator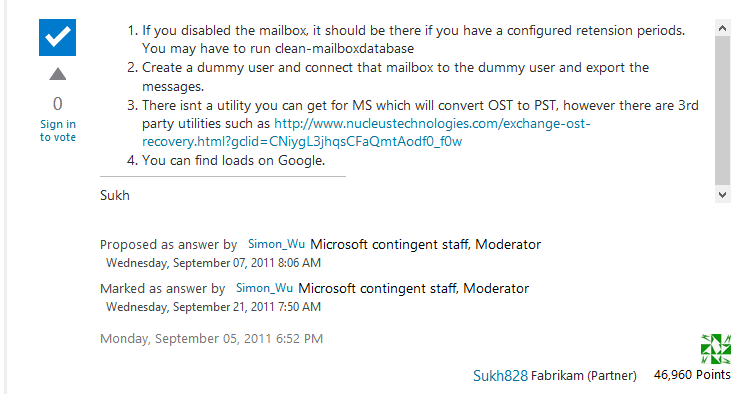 Read more : https://social.technet.microsoft.com/Forums/windowsserver/en-US/f6885ef7-fdc5-460c-86a8-cf262ec795ef/microsoft-excgane-2010-mailbox