Read time 6 minutes
Summary: Replace ScanPST.exe with Kernel for Outlook PST Repair, a reliable alternative. This tool effectively repairs and recovers corrupted PST files, ensuring the retrieval of essential mailbox items such as emails, contacts, calendars, tasks, and notes. Bid farewell to PST file issues and embrace hassle-free data recovery.
The Inbox Repair Tool (Scanpst.exe), is a Microsoft utility designed for repairing damaged Outlook Data Files, both OST and PST. It serves as the initial recourse for Outlook users encountering issues with their PST files, offering a free and readily available solution. Downloading Scanpst.exe is a straightforward process./p>
Where can you find scanpst.exe?
The Scanpst.exe (Inbox Repair Tool) can be found in varying locations depending on the Windows OS version. To download Scanpst.exe, please follow the path provided below:
C:\Program Files\Microsoft Office\Office16 (for 64-bit Windows)

C:\Program Files (*86) \Microsoft Office\Office16 (for 32-bit Windows)
Locate Scanpst in Different Versions of Windows OS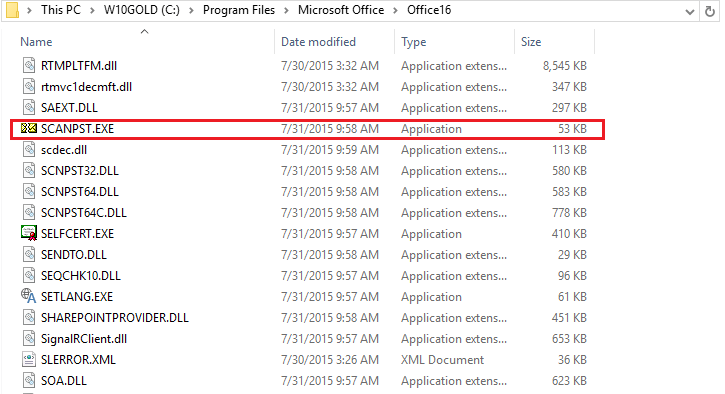 Limitations of Scanpst.exe
The Scanpst.exe, often regarded as the Inbox Repair Tool, serves as an initial remedy for PST file corruption problems. While it can successfully repair PST files in numerous cases, it does not guarantee complete restoration in all instances. This utility does have certain limitations and shortcomings.
Severely damaged corrupt PST files can never be repaired using scanpst.exe.
Scanpst.exe needs to run at least 5-8 times to completely remove the errors.
Scanpst.exe is vulnerable to the external threats like malware and spyware attacks.
Kernel for Outlook PST – a proven alternative to scanpst.exe
Its capabilities include fixing PST files, recovering inaccessible data from them, and enabling the storage of retrieved data in PST files or other designated destinations. The following steps outline the procedure for repairing PST files.
Launch the application.
Click the Browse button if you are familiar with the location of corrupt PST file. Otherwise, click Search button to search the PST file. It will open a new window named Search PST File(s).
Click Browse button to select the required folder or drive where you want to search for the PST file, and then click Search. It will list all the PST file present in the selected file or folder. Select the desired PST file from the list and click OK.
The selected PST file will get enlisted in Source File Selection window. Now click Next.
A new window named Information will inform you about the whole process of repairing PST file and the output modes available. Click Finish.
Now the PST file data can be previewed.
Select any file or folder you want to retrieve and click the Save button.
The Select Output Type page will have a list of various output formats available. Select PST file (MS Outlook) and click Next.
The Select Filter(s) page allows you to apply different filters like From, To, Subject, Folder Name, Item Type, and Date Range (it is an optional step, and you may skip it). Click Next after selecting the filters.
Select the required PST splitting option and click Next.
Select the path where you want to save the PST file. Just browse the location and click the Finish button.
After the successful repair, you will get a notification that the PST file has been successfully saved at the given location. Click OK to finalize the conversion process.
In cases where the Scanpst.exe tool falls short in repairing a PST file, Kernel for Outlook PST Repair proves to be a valuable alternative. This advanced tool conducts an in-depth scan of corrupt PST files and efficiently recovers mailbox items, including emails, contact lists, calendar events, tasks, and notes, among others.