Read time 6 min
The Inbox Repair Tool (Scanpst.exe) is a Microsoft utility to repair damaged Outlook Data Files (OST and PST). It is the first tool Outlook users try when they find some issues with their PST files. One can simply download Scanpst.exe for free.
Where can you find scanpst.exe?
Scanpst.exe (Inbox Repair Tool) located in different location in different versions of Windows OS. To download Scanpst.exe, follow the bellow given path:
C:\Program Files\Microsoft Office\Office16 (for 64-bit Windows)

C:\Program Files (*86) \Microsoft Office\Office16 (for 32-bit Windows)
Locate Scanpst in Different Versions of Windows OS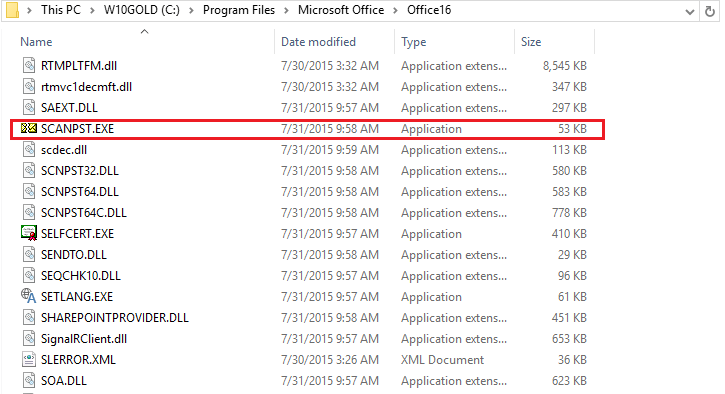 Limitations of Scanpst.exe
The Scanpst.exe (Inbox Repair Tool) is considered as a first-aid tool for PST corruption issues. The application will repair the PST file in many cases. However, there is no surety that it will completely repair the PST file. There are many shortcomings with this utility.
Severely damaged corrupt PST files can never be repaired using scanpst.exe.
Scanpst.exe needs to run at least 5-8 times to completely remove the errors.
Scanpst.exe is vulnerable to the external threats like malware and spyware attacks.
Kernel for Outlook PST Repair – a proven alternative to scanpst.exe
Kernel for Outlook PST can repair PST files, recover inaccessible data from PST files, and save them to PST file or other destinations. The following steps will show you the procedure to repair PST files.

Launch the application by clicking Start>All Apps> Kernel for Outlook PST Repair> Kernel for Outlook Repair.
Click the Browse button if you are familiar with the location of corrupt PST file. Otherwise, click Search button to search the PST file. It will open a new window named Search PST File(s).
Click Browse button to select the required folder or drive where you want to search for the PST file, and then click Search. It will list all the PST file present in the selected file or folder. Select the desired PST file from the list and click OK.
The selected PST file will get enlisted in Source File Selection window. Now click Next.
A new window named Information will inform you about the whole process of repairing PST file and the output modes available. Click Finish.
Now the PST file data can be previewed.
Select any file or folder you want to retrieve and click the Save button.
The Select Output Type page will have a list of various output formats available. Select PST file (MS Outlook) and click Next.
The Select Filter(s) page allows you to apply different filters like From, To, Subject, Folder Name, Item Type, and Date Range (it is an optional step, and you may skip it). Click Next after selecting the filters.
Select the required PST splitting option and click Next.
Select the path where you want to save the PST file. Just browse the location and click the Finish button.
After the successful repair, you will get a notification that the PST file has been successfully saved at the given location. Click OK to finalize the conversion process.
When the scanpst.exe tool fails to repair the PST file, Kernel for Outlook PST repair can be helpful. It deeply scans the corrupt PST files and quickly recovers mailbox items like emails, contact list, calendar events, tasks, and notes, etc.

User Review