Read time 9 minutes
Summary: Explore comprehensive guidance on repairing damaged profiles across various Outlook versions. Whether you're using Outlook 2010, 2013, 2016, or later, this blog provides step-by-step instructions to tackle profile issues effectively. Learn how to troubleshoot problems like data file corruption, missing emails, or configuration errors to restore your Outlook functionality. Master the art of profile repair, ensuring a seamless email experience across different Outlook versions.
An Outlook profile encompasses crucial settings, email accounts, and user information. Users often maintain separate profiles for work, personal, and other purposes. However, profile corruption can be a distressing ordeal, especially when valuable data is at stake. Fear not! In this blog, we delve into the causes of Outlook profile damage and provide comprehensive solutions for different Outlook versions. By the end of this read, you'll not only be equipped to repair your Outlook profile but also explore professional tools for an efficient resolution.

Instant Solution
Try automated tool Kernel for Outlook PST Repair to repair corrupt PST file and fix Outlook PST error issues. It supports Office 365 Outlook, 2019, 2016, 2013, 2010, 2007.
How Outlook Profile may get Damaged?
Outlook profile corruption often arises from a variety of factors, with a corrupted PST file being a primary culprit. When a PST file becomes corrupted, it can render the entire profile inaccessible, necessitating repairs. Another common trigger is when the PST file size exceeds its limit; Outlook imposes size restrictions, and breaching this limit can lead to profile corruption. Extensive use of folders or subfolders can also contribute to profile issues, making it advisable to avoid such scenarios. Further causes of profile corruption are detailed below.
A sudden crash of Outlook
Any type of hindrance or interruption during Outlook Data transfer
Abrupt shutdown of Outlook program
Incomplete installation of Outlook
Incomplete configuration of profile
How Can You Detect It?
There are multiple signs for a corrupted profile or a damaged PST.
You are facing error "Operation failed" in Outlook when you are trying to reply. This may happen due to PST issues or malware attack.
You are facing an error "Cannot start Microsoft Outlook. Cannot open the Outlook Window." Then you need to repair Outlook profile as soon as possible.
Your Outlook is slowing down, or you are facing some hang issues. Then you might need to repair your profile.
What are the Precautions You May Take to Avoid This Error?
There are some measures that you can take to avoid Outlook profile damages.
You can follow a habit of backing-up all the PST data.
Whenever you are importing data into PSTs, make sure that there are no interruptions.
Always make sure to close Outlook properly and also make proper arrangements for battery or electricity backup in case of power loss.
How to Access the Outlook Profile?
No matter which version of Windows you are using, the process for accessing the profile is same.
Go to Start, and open Control Panel.
Click Mail.
Click on the Show Profiles button in the Profiles section.
Now you will have a Mail dialogue box, where you can see your profiles.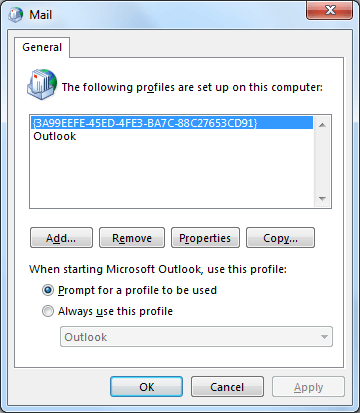 Here you can see the Outlook profile. Select it and perform whatever action you want to perform. Let's have a look at the options available.
Add: – By clicking this option you can add a new profile by following a few simple steps.
Remove: – If you want to remove or delete a profile, select it and click on this button.
Properties: – Click on this button, and a new dialogue box will appear with options like Email Accounts and Data Files, where you can set up email accounts and change settings.
Copy: – By clicking this you can copy the Profile if needed.
Always use this profile / Prompt for a profile to be used: – These are the selections you can make on the basis of your preferences.
Note: – Addressing a corrupted Outlook profile often involves the option of removing and recreating it. While this approach may resolve the corruption temporarily, there is no assurance of a permanent fix. In some cases, the issue may recur after an initial resolution, making it an imperfect solution for long-term stability.
So, let's discuss a few methods to resolve this issue.
Repair Outlook 2007 Profile
If you are working on Outlook 2007 and you face the corruption in Profile, you need to follow the below-mentioned steps:
Start with clicking on the Tools button and select Account Settings.
In the Account Settings window, click on the Email tab and select the Outlook profile, and click on Repair button.
Now, follow the on-screen instructions and your profile will be repaired successfully.
Repair Outlook 2010, 2013 and 2016 Profile
Now, let's see how you can repair profile in Outlook 2010, 2013, and 2016. Here we are going to discuss the steps in Outlook 2016, and you can apply the same procedure in Outlook 2013 and 2010.
Open Outlook and click on the File tab.
Click on the Account Settings drop-down button and select Account Settings.
Now, in the Email tab, select the Outlook profile and click on Repair button.
Now, enter the login details and click Next.
Wait for the repair process to take place.
Once the repair is done, click on the Finish button.

Repair PST With an Automated Method

In situations where none of the aforementioned methods prove effective, especially when dealing with PST-related issues, seeking assistance from a third-party tool becomes imperative. Enter Kernel for Outlook PST Repair, an expert solution designed to swiftly and effectively address a wide range of PST-related problems, providing a comprehensive and reliable resolution.

As the software opens, you will see a dialogue box 'Source File Selection.' Start by clicking on the Browse button. In case there is no dialogue box, click on the Select File option to open the same.
In this step, you can have a preview of the file. Click on the individual items to have the preview.
Now, click on the Save button on the top and select the desired file format, like PST file (MS Outlook). Click on the Next button to proceed.
The tool allows the user to apply filters and decide what exactly they want to repair and save. Select the filter options and click on Next to proceed.
Now, provide a saving path to your file by clicking on the Browse button. Also, you need to select saving preferences and click on the Next button.
The process will take some time to complete, once it is done click on OK.

Writer's Perspective:

Outlook profile corruption can severely disrupt your workflow if left unaddressed. This blog focuses on the various aspects of Outlook profile corruption and offers solutions. Through extensive research, it's evident that pinpointing the exact cause is often time-consuming and inconclusive. Given the crucial role of PST corruption in profile issues, my recommendation, based on experience, is to prioritize PST examination. For efficient PST repair, a third-party tool like Kernel for Outlook PST is a time-saving and effective choice. With its advanced features, it offers a comprehensive solution to tackle any PST-related problem swiftly.