Read time 9 minutes
"Today I logged in to my system for my routine work and as soon as I tried to look for an Outlook folder, it was missing. For the first few minutes I could not understand what had happened, but later I realised that it was missing. The folder was there a day before in Microsoft Outlook; now it's missing, and can't find it anywhere. It has important messages & attachments, what to do now? Please help, it is very important for me."
Trying to locate an outlook folder in its default location on your system, but it is not there. Has it happened with you ever, leaving you both stunned and confused?
Many users seek help on how to find a lost folder in Outlook 2016 as they can't figure out how the folder went missing and where exactly it can be found?
Natively, there is no option or feature to bring the moved or mistakenly drag & dropped folder back to its original location/path, in Outlook's desktop client (application). However, Outlook holds the ability to assist you in quest of looking for the lost folder through different advents.
In this article, we'll walk you through different methods or ways to find a lost folder in Outlook 2016; you can practice any method you find suitable.
How you May Lose or Miss a Folder?
Well, it is important to know the situations and circumstances in which you have lost your folders. So, here we are going to mention such scenarios so that you can take precautions next time. Also you will be able to find a better solution if you know the reason for the same.
You may misplace a folder in case you are dragging and dropping it from one location to another. You may have placed in some other folder or its sub folder.
You may also not find a particular folder if you or someone else has renamed it accidentally. In such a case, you can easily find the folder with an odd name and check its content to see if that is the same folder you are looking for.
Check Trash Bin
To keep the mailbox clean and clutter free, we delete messages, folder(s), and items which are not that important. All the deleted items then, goes to the trash or bin folder. Thus, before thinking of any other method, open and check the trash or bin, whether the folder you're looking for is in there or not, as sometimes items get deleted mistakenly or unknowingly.
To open trash or bin, open Microsoft Outlook for desktop and move over to the left side and click on Trash/Bin.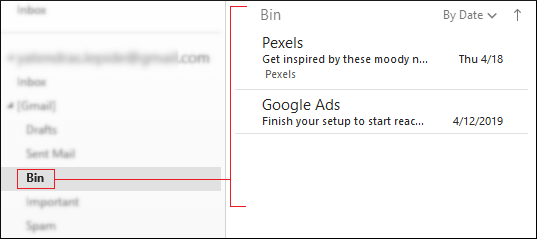 Run Advanced Folder Search
If looking into Trash/Bin folder didn't help at all, then try searching for the Folder and in some cases the item you're looking for. Outlook has multiple search options for varying purposes, out of those search options Advanced Folder Search is one we're going to use.
Follow the steps below to use Advanced Folder Search to search for the missing folder(s), messages, attachments or other items:
Launch Microsoft Outlook application.
Switch to Search tab on the menu bar.

Now, click on Search Tools and select Advanced Find option.

Advanced Find window would pop on-screen. Type the name of Folder or message (if you're looking for a missing message as well) and click on Browse button to start the search.
The missing item will be found, and path/location will be shown over the screen. In some cases, Advanced Find feature may not work due to many reasons standing behind like issues due to file indexing, using multiple non-native accounts in Outlook, and so on, however, you can search the web for how to fix Outlook 2016 search problems, and also try other workarounds available below.
Check Folder List and Size
With this method, you can generate a list of all folder(s) with the disk space (size) consumed by them. Doing so will help you in saving time and saving yourself from the long and tiring task of clicking on each and every folder one after the other.
Go through the below steps to List all folder(s) & size:
Open Outlook.
Now, right-click on respective mailbox's link and select Data File Properties, as shown below:

Now, click on Folder Size button.

Inside the Folder size window, you'll find the path/location of each folder which is inside the mailbox and size of all folder(s) respectively.

Run VBA Macro Code
If the folder is still missing and you're confused about what to try next, then it's time that you try running the VBA Macro Code.
Using this method, you'll first define a custom search program which can be named with any string of your choice and later execute the program to search for the missing folder.
Follow below-given steps to define a custom search program with VBA Macro Code and later initiate the search:
To create a custom search program, we'll first have to enable the Developer tab in the menu bar.
Open Microsoft Outlook.
Now, click on the File > Options, and select Customize Ribbon.
Customize Ribbon window will now pop on-screen. Checkmark Developer option > click Next.

Developer menu tab will now be available in the menu bar, let's define and run the custom folder search program now,

Click on the Developer tab in the menu bar and select Visual Basic.
Microsoft Visual Basic for Applications window will now appear.
Expand Microsoft Outlook Objects, and double-click on ThisOutlookSession.
Inside the Project1 – ThisOutlookSession (Code) window, input the VBA Macro Code given below:


Now, select Run > Run Sub/UserForm in the menu bar.

Find Lost Folder – custom search program is running now.
Type the name of the missing folder, as shown below and click Ok.

Folder location/path will be displayed on-screen.
Note the folder path and click Yes.

With the methods given above, you can pace up your folder or item search quest and get results faster. These native Outlook methods help you to find a lost folder in Outlook. Also, for scenarios similar to above, we suggest using a dedicated Outlook PST repair software.
Kernel for Outlook PST Tool
Its an advanced standalone tool made to handle all issues related to Outlook PST data file(s). The tool enables the user to repair corrupt or damaged PST data file(s).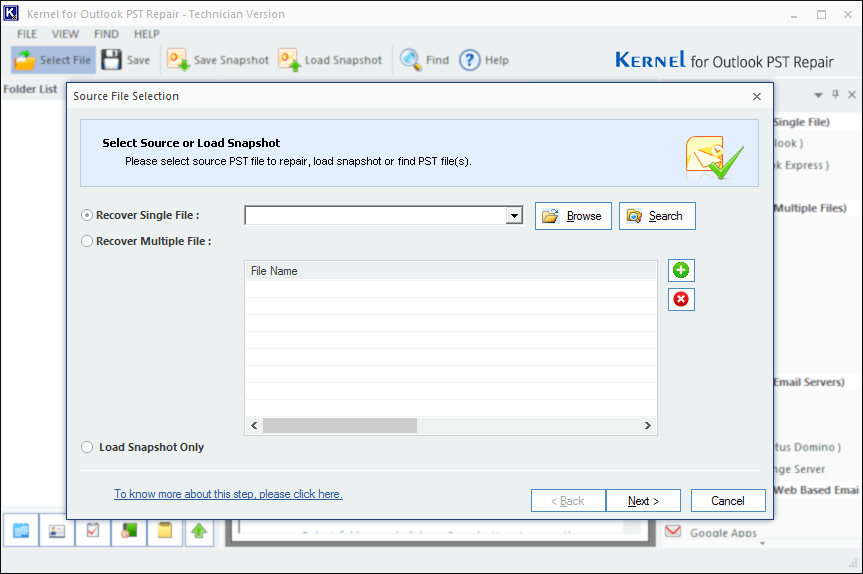 The tool assists you with corrupt or damaged file repair and recovery. There is no limitation of PST file size, and it supports both ANSI & UNICODE encoding formats. Additionally, you can use the software to export PST file data to Office 365, Email Servers, and Web Mails.
Wrap
Sometimes the need for those item(s) or folder(s) which were thought to be unwanted surfaces again. And the native application doesn't prove to help but not Kernel for Outlook PST; it's the one-stop shop for all issues PST.