Read time 5 minutes
A dash cam is an in-car camera system that has the capability to make a video and audio recording of your journey. "Precaution is better than cure," hence one needs to be vigilant all the time on roads. Accidents or any unforeseen events on roads are not entirely avoidable. Therefore, in turbulent times like these, a dash cam might save you from some trouble in settling insurance disputes/ claims and might also record some unlawful events that might help authorities in their investigations. For example, police dash cam videos can provide crucial footage and valuable insights during a heated confrontation of police with the person of interest. Nowadays, dash cams even include a parking mode that starts recording when an impact is detected. These are hence helpful in discouraging anti-social elements from committing crimes like carjacking and vandalism.
Ways To Recover Damaged Dash Cam Videos
Just like any other storage media, dash cam recordings are also prone to corruption, accidental deletion, malware attacks, and improper handling of the device. If any of these are causing you distress, then stop panicking. If you are a victim of the aforementioned cases leading to data loss, then you might find this section helpful.
Following are some of the feasible ways to undo the damage:
Method # 1: Assign a New Drive Letter
If your system detects a drive location that has become inaccessible, then you have to assign a new drive letter to the affected disk volume. To do so, please follow the steps shown below:
Hold + X keys and select Disk Management from the list.
In order to change the drive letter right click on the drive and then select Change Drive Letters and Paths.
Click Add /Change and choose the letter from the drop-down.
Next, click OK to proceed.

Note: IT is advised not to format the drive as it will result in data loss. Quickly copy and transfer the files to a secure location once the drive becomes accessible. Try out the next method to repair dash cam video if you are still facing issues.
Method # 2: Perform Chkdsk
You should consider this option when you receive an error message repeatedly, prompting you to format the inaccessible drive. The details steps are described below:
Hold + X keys and click on Command Prompt (Admin) from the list.
Type chkdsk x:/f (please replace the letter x in the command with the drive letter that you want to perform chkdsk on, for example- chkdsk D:/f) in the command prompt and press the enter button.
This might take a while as the chkdsk process starts to repair your files.

Note: if this process ends without an error, then restart your PC before attempting to read your files off of the drive.
Method # 3: Reinstall the Driver
Connect the SD card of your dash cam to your computer. The steps to reinstall disk drivers are outlined below:
Right-click on This PC icon and click on Properties.
From the left pane select Device Manager.
Next, expand the Disk drives from the list and right-click on the removable drive (SD card of dash cam).
Click Uninstall > OK.
Safely disconnect your SD card and restart your PC.
Connect your SD card to your PC and restart to check.
Method # 4: Kernel Video Repair
The previous methods do not guarantee successful recovery of video files from a dash cam. It is therefore advised to get the help of professional tools such as the Kernel Video Repair. It can very quickly repair all kinds of inaccessible, corrupt video files. One can also repair MP4 video files using this utility. A newly added feature now allows the user to fix corruption in multiple video files, all at once. The drag and drop functionality makes it easier to upload many affected video files.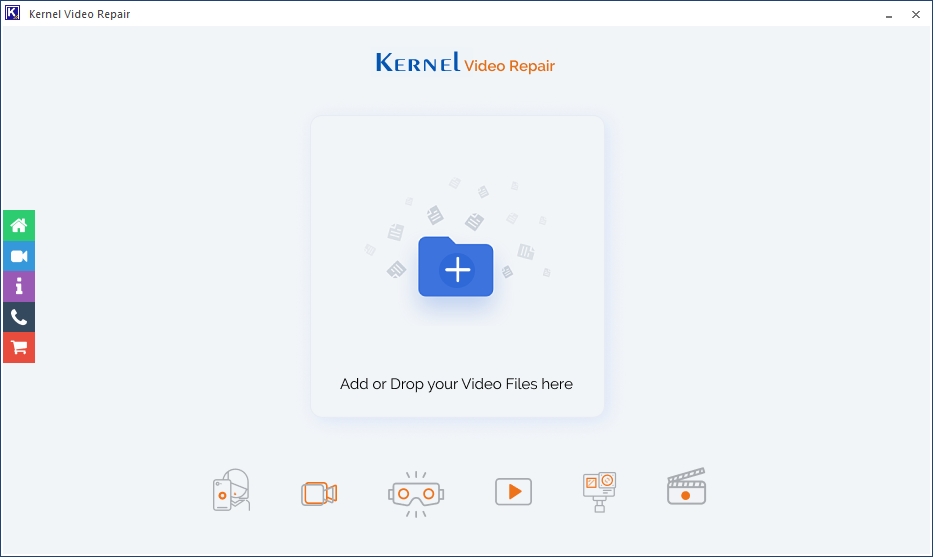 Conclusion
Footage from the dash cams plays a vital role in settling car insurance claims and can also help the driver to improve their driving habits. Damage or loss of dash cam video data can be disastrous for some; therefore, in this post, we have introduced a few manual methods to repair the inaccessible and corrupted dash cam video files on the SD card. It can also repair MOV video files from an affected SD card. These manual methods are trivial in nature hence are not guaranteed always to work. If these methods don't work out for you, then you should try the this software.