Read time 5 minutes
Summary: A dash cam is a car camera recording system for safety and evidence. Recovering damaged videos involves methods like drive letter assignment, chkdsk, driver reinstallation, or professional tools like Kernel Video Repair. Dash cam footage aids insurance claims and safety.
A dash cam is an automotive camera system designed to record both video and audio during your journeys. The old saying, "Prevention is better than cure," holds true on the road, where accidents and unexpected incidents are often unavoidable. During turbulent times, such as these, a dash cam can prove invaluable by aiding in insurance claims and potentially capturing unlawful events for authorities' investigations. For instance, police dash cam footage can provide crucial evidence and insights during intense encounters between law enforcement and individuals of interest. In today's world, many dash cams also offer a parking mode that activates recording upon detecting an impact, serving as a deterrent to anti-social elements involved in activities like carjacking and vandalism.
Ways To Recover Damaged Dash Cam Videos
Similar to other storage mediums, dash cam recordings can also be susceptible to corruption, accidental deletion, malware attacks, and mishandling of the device. If you're currently facing any of these issues and feeling anxious, there's no need to panic. If you've experienced data loss due to any of the scenarios mentioned above, you may find the following section to be of assistance.
Following are some of the feasible ways to undo the damage:
Method # 1: Assign a New Drive Letter
Should your system identify an inaccessible drive location, you will need to allocate a new drive letter to the affected disk volume. To accomplish this, kindly adhere to the following steps:
Hold + X keys and select Disk Management from the list.
In order to change the drive letter right click on the drive and then select Change Drive Letters and Paths.
Click Add /Change and choose the letter from the drop-down.
Next, click OK to proceed.

Note: It is strongly recommended that you avoid formatting the drive to prevent data loss. As soon as the drive becomes accessible, swiftly copy and transfer the files to a secure location. If you continue to experience problems, proceed to the next troubleshooting method for repairing dash cam videos.
Method # 2: Perform Chkdsk
You should consider this option when you receive an error message repeatedly, prompting you to format the inaccessible drive. The details steps are described below:
Hold + X keys and click on Command Prompt (Admin) from the list.
Type chkdsk x:/f (please replace the letter x in the command with the drive letter that you want to perform chkdsk on, for example- chkdsk D:/f) in the command prompt and press the enter button.
This might take a while as the chkdsk process starts to repair your files.

Note: if this process ends without an error, then restart your PC before attempting to read your files off of the drive.
Method # 3: Reinstall the Driver
Connect the SD card of your dash cam to your computer. The steps to reinstall disk drivers are outlined below:
Right-click on This PC icon and click on Properties.
From the left pane select Device Manager.
Next, expand the Disk drives from the list and right-click on the removable drive (SD card of dash cam).
Click Uninstall > OK.
Safely disconnect your SD card and restart your PC.
Connect your SD card to your PC and restart to check.
Method # 4: Kernel Video Repair
When it comes to repairing MP4 video files, conventional techniques often fall short in ensuring a successful recovery from a dash cam. That's why it is highly recommended to enlist the assistance of specialized tools like Kernel Video Repair. This powerful software swiftly restores a wide range of inaccessible or corrupted video files, including the capability to repair MP4 video files seamlessly. Furthermore, a recent enhancement enables users to address corruption issues in multiple video files simultaneously. The intuitive drag-and-drop feature simplifies the process of uploading numerous affected video files, making video recovery a breeze.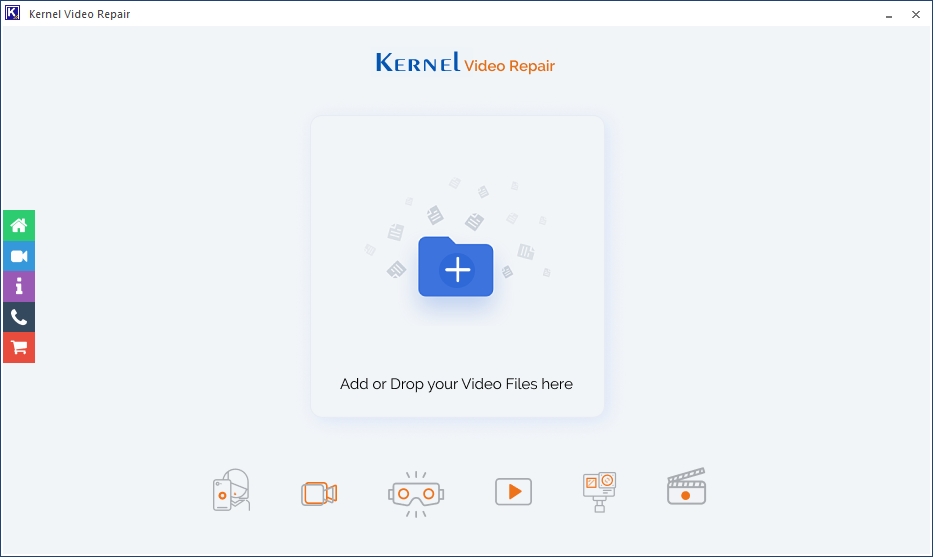 Conclusion
The footage captured by dash cams is essential for resolving car insurance claims and assisting drivers in enhancing their driving skills. However, the loss or corruption of dash cam video data can be catastrophic. In this article, we have presented several manual techniques to repair inaccessible and corrupted dash cam video files stored on an SD card. Additionally, this software can also repair MOV video files on the same SD card. While these manual methods may not always guarantee success due to their simplicity, if they prove ineffective, you may consider using the mentioned software for more reliable repair.