Read time 9 minutes
Mailbox Full: Your mailbox is full, you may not be able to send or receive items.
As an Outlook user, you may be familiar with this message. With the accumulation of emails, the Outlook mailbox grows in size. And users often neglect or forget this fact. They notice it only after getting the 'Mailbox Full' error message while trying to access the mailbox.

Main issues with increased Outlook mailbox size?
Outlook users receiving the above-mentioned error due to over-sized mailbox size have to face many associated problems or issues that are listed below:
Low productivity with slow performance of Outlook application
Unable to send or receive new email messages, i.e. loss of communication
Good chances of corruption in Outlook PST file with oversized data
Loss of data due to increased level of corruption in the PST file
Outlook application redundancy with unable to use the service
What you can do to reduce the size of Outlook mailbox?
In order to send and receive emails without issues, it's necessary to reduce the size of Outlook mailbox. Deleting some emails and attachments would be the easiest way to do this. But this alone is not enough to cope with the situation. That is why Microsoft has provided some inbuilt features in Outlook to deal with the 'Full Mailbox' situation. Also, some third-party Outlook management tools are extremely helpful in this regard.

A few simple ways to reduce mailbox size are:
Note: It is recommended to all users take a full backup of their Outlook PST files in advance before performing the manual solutions to reduce the Outlook file size as some may result in data loss due to manual errors.
Delete large Outlook emails and attachments
Deleting large emails, undoubtedly, is the wisest technique. Rather than randomly deleting large-sized files, you can follow a systematic approach to manage Outlook attachments . The steps are:
Open Outlook. In the folder list, click Search folder, then select New Search folder.

Scroll down the list and under Organizing Mail, select Large mail. Click Choose under Customize Search Folder.

Specify a size in the 'Show mail greater than' box (for example 6000 KB). Click OK to continue.

Click OK again and a folder named 'Larger Than 6000 KB' is created under Search Folders. This newly created folder will get updated with the mails of size more than 6000 KB automatically.
When you face mailbox size issues, just go to the Search Folders. There, click on the newly created folder, and delete your mails which are not so important. If you need, you can save the attachments to your drive before deleting it (by right-clicking on the attachment and then clicking 'Save As' or 'Save All' option). Continue doing this, until the mailbox has enough space for new emails.
Use Mailbox Cleanup Tools
You can trim the size of your mailbox using the options in the Outlook Cleanup Tools (you can access it by following File>Info>Cleanup Tools).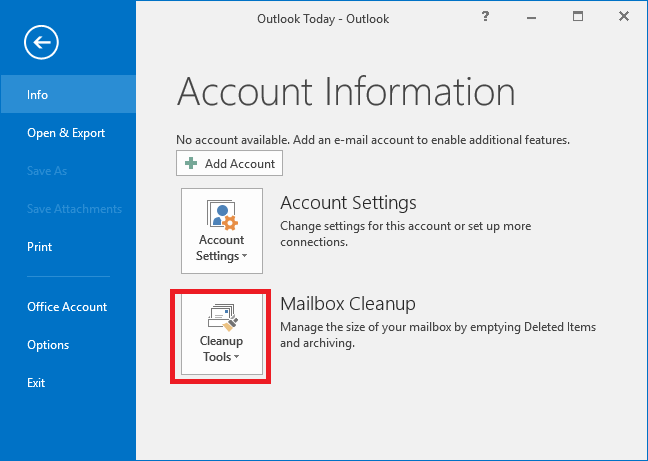 Three options are available in the Cleanup Tools dropdown list:
Mailbox Cleanup
Empty Deleted Items Folder
Archive
Using the Mailbox Cleanup Option, you can view your mailbox size/mailbox folder sizes. Also, you can find items larger/older than a specified limit.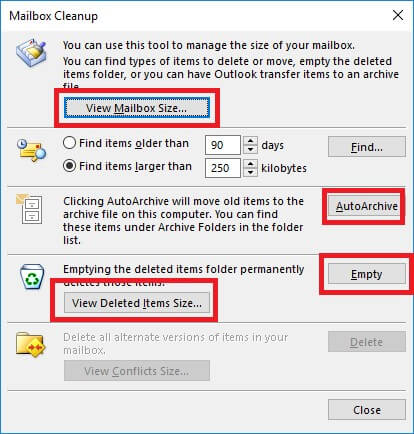 Mailbox Cleanup also provides you the facility to archive the older items which are not needed anymore. Click AutoArchive to move your unwanted items to a separate folder automatically. With its advanced options, you can filter the items you need to archive. And you can Browse and select the location where you need to save your archived items.
With the Empty option, you can delete all the items present in the Deleted Items folder permanently. Before that, you can view the deleted folders and subfolders (if any) and their sizes.
Compress the Outlook data file (PST)
In Outlook, Outlook data files can be compressed manually. Compressing files would help in restoring some space in the mailbox. Before starting the procedure, delete the items that are not required. In Navigation pane, right-click the Deleted Items folder and then click Empty 'Deleted items' folder. Then follow the steps given:
Launch Outlook. In the File tab, select Account Settings and then click Account Settings.
Click the Data Files tab, select the PST file to compact, and then click Settings.

In Outlook Data File dialogue box, click Compact Now. This is the final step.

Archive older PST file items
Microsoft Outlook includes an AutoArchive feature to archive the old or unrequired PST file items to a separate PST file on the system hard drive which users can make use of whenever required. Let us know the steps to perform this.
Launch your Microsoft Outlook application.
Move to Files>Options>Advanced.
Navigate to the AutoArchive section on the panel and click AutoArchive Settings under it.
Now select the checkbox saying Run AutoArchive every days and provide the number of days as an interval for regular automatic archiving process.
Provide other options like deleting old items, etc. and finally click on AutoArchive.
Note: You can archive items manually from PST file mailbox as well.
Use the Cleanup feature to remove redundant messages
Conversation refers to a set of messages to someone regarding a particular subject and consequent responses/replies to it, making a long thread of emails. Most of the times, there are several messages containing same information as in previous messages. Conversation cleanup automatically clears all those redundant messages. More important is the fact that before deleting any conversation, conversation clean up evaluates each and every message which is part and parcel of the conversation and only after that it deletes them. For example A sends a message to B & C. B replies to the message of A. This reply goes to A & C. Then C replies to B in the same transaction and this reply goes to A & B. When C will delete this conversation through conversation cleanup then except the last reply of C consisting of single copy of chain of messages starting from A will be deleted. This plays a significant role when a message is sent to several recipients and there are multiple replies from them. To clean up conversation follow the steps given below:
Go to Home> Delete tab>Clean Up
Now, use any of the options:

Clean Up Conversation: This will evaluate the current conversation and delete the redundant messages
Clean Up Folder: This will evaluate all the conversations of the folder and delete all the redundant messages of conversations contained in this folder
Clean Up Folder and Sub Folders: This will evaluate all the conversations of the folder and sub folders and delete all the redundant messages of conversations contained in the folder and sub folders.
Note: You can even make a setting for messages to be exempted from Clean up and where shall messages move when deleted.
Try third-party Outlook management tools
With third-party tools, it is easy to manage the size of Outlook mailboxes. Tools are available to compress and compact PST files, to remove duplicate items from mailboxes, and even to split large PST files. Some favorite tools for Outlook management are:
Kernel for PST Compress & Compact
This tool compresses and compacts Outlook PST files to reduce their size. It clears unnecessarily space so that new data can be saved. Compress PST tool also removes attachments from emails and saves them to a separate folder.

Kernel for Outlook Duplicates Remover
This tool helps users to remove Outlook duplicate items from mailbox folders. It uses advanced filters to detect duplicate items.

Kernel for PST Split
This tool helps to split large-sized PST files into small PST files. It splits files based on criteria like Date, Size, etc. Even password-protected PST files can be split using this split PST tool.

Third-party tools for Outlook management have many advantages over manual methods. They are more reliable, efficient, and fast compared to manual methods.
Conclusion
Unusual size of mailboxes can trouble Outlook users in many ways. However, some manual tricks, as well as efficient third-party tools such as Kernel Outlook Management Tools as described above, are available to handle these issues properly.