Read time: 4 minutes
Microsoft Teams Premium has introduced a new feature that promises to take notes during meetings using OpenAI's ChatGPT technology. The AI-powered assistant can generate Microsoft Teams AI meeting notes, recommend tasks & even help create meeting templates for Teams users. Currently priced at $7 per month, Microsoft Teams Premium will soon become available for $10 per month starting in July.
This new feature is expected to make note-taking during meetings faster & more efficient, thus saving the time and effort of a team. Meet ChatGPT- the new personal assistant that will take Microsoft Teams meeting notes on your behalf without missing a beat.
What are the features of ChatGPT in Microsoft Teams?
With the integration of ChatGPT, Microsoft Teams Premium provides unique features that will boost productivity during meetings. These features include the following: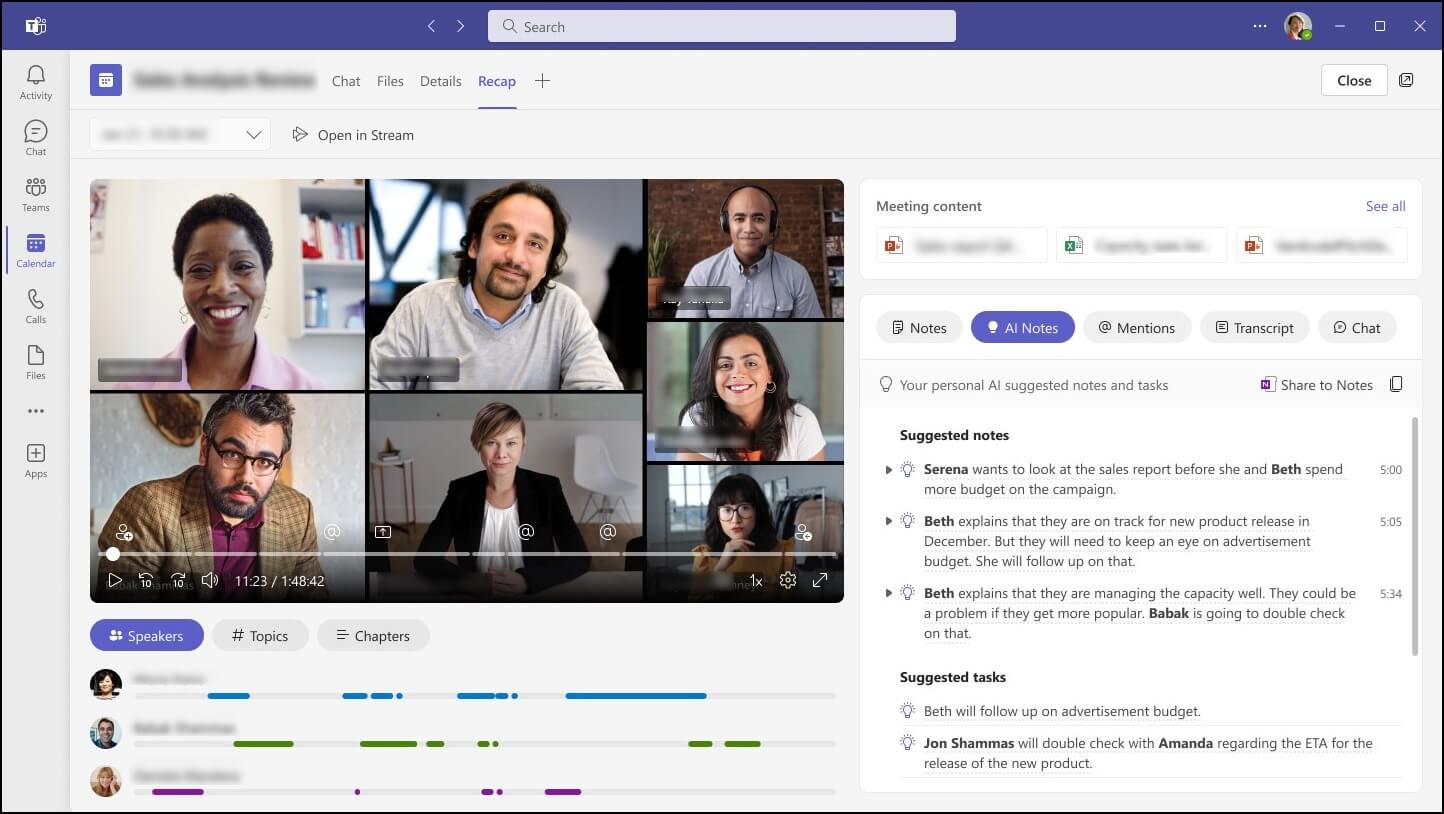 Intelligent recap
The ChatGPT technology uses natural language processing algorithms to identify key discussion points during a meeting. Using this algorithm, the AI technology can generate a meeting recap highlighting important conversations & action items. This feature will transform how users take notes during Team meetings & lead to increased productivity.
AI-generated chapters
Automatic chapters will be generated based on the transcript during Live meeting recordings. This feature enables users to easily access & view the entire discussion by topic or speaker, like watching a YouTube video. This means users can find & review specific parts of the meeting discussion with ease.
Personalized timeline markers
Personalized timelines are among the most impressive features of the ChatGPT technology in Microsoft Teams. During a meeting, the AI identifies when a user joins or leaves the meeting. With just a single click, the user can quickly listen in on missed points during a meeting.

The AI tool can also identify when a user's manager or closest colleagues talk or mention their name during the meeting. This feature ensures users remain informed of the discussion points even when they cannot attend some meetings.
Benefits of ChatGPT for Microsoft Teams users
By integrating ChatGPT into Microsoft Teams Premium, Microsoft has revolutionized how teams collaborate during meetings. Here are some of the benefits Microsoft Teams users can expect by using ChatGPT technology:
Increased productivity: With ChatGPT technology, users can now rely on the AI to take Microsoft Teams meeting notes & generate action items once the meeting concludes. This will enable users to save time and have better productivity.
Improved collaboration: As team members can view meeting highlights & AI-generated chapters, they will be able to increase their collaboration efforts. This will lead to better team cohesion & cooperation.
Automated workflow: The Microsoft Teams AI meeting notes will improve workflow significantly & reduce the time spent on post-meeting tasks like organizing tasks, sending follow-up emails & scheduling follow-up meetings.
Kernel Microsoft Teams Migration – A powerful migration tool
Moving to Microsoft Teams is an exciting yet challenging journey, especially for organizations. With the Kernel Microsoft Teams Migration tool, organizations enjoy an effortless transition to Microsoft Teams without losing any data. This tool is designed to migrate chat histories, conversations, documents, & other critical files. The migration process is smooth, dependable, efficient, and compatible with several platforms.
Other features of the tool include:
Batch migration: Our tool enables organizations to migrate bulk data.
Solid security: With our tool, you can ensure that your data migration is safe & secure.
Data mapping: This software guarantees that files are correctly mapped & transferred without data loss.
Migration reports: You can view the final migration via migration reports to check for data accuracy.
Winding up
Integrating ChatGPT technology is an exciting step for businesses looking to enhance their collaboration efforts. Microsoft Teams Premium is set to transform how we conduct meetings by providing advanced tools powered by AI technology. The natural language processing algorithms integrated by ChatGPT will enable users to create more detailed Microsoft Teams AI meeting notes, resulting in more efficient workflows.
Further upgrading these features along with using the Kernel Microsoft Teams Migration will guarantee excellent data migration & content management. To end with ChatGPT abilities, we can say that Microsoft has opened a world of AI and Machine Learning possibilities.