Read time: 6 minutes
Summary: Microsoft Teams, a popular collaborative platform, offers guest access for external participants. This feature allows outsiders to join meetings and discussions without compromising sensitive data. Guest access is available across various Microsoft 365 plans, with different permission levels for owners, members, and guests. This article provides steps to enable guest access and configure permissions in Teams. Additionally, it highlights the importance of data backup for Teams and suggests using the Kernel Microsoft Teams Migration Tool for secure data migration. Enabling guest access in Microsoft Teams streamlines collaboration with external users while safeguarding data security.
If you're employed in large corporations or multinational companies, you're likely well-acquainted with the significance of teamwork and collaboration. There are occasions when we need to coordinate meetings with colleagues operating from different locations or with external parties for the purpose of sharing information. Enter Microsoft Teams—a collaborative platform we rely on. Since its inception, Microsoft Teams has surged to become the fastest-growing application within the Microsoft 365 suite. It boasts millions of users worldwide, spanning various enterprises. Through Microsoft Teams, establishing connections and disseminating data and information to both internal team members and external stakeholders is seamless.
To provide access to users outside the team, Microsoft Team has two options – External Sharing and Guest Access. With external sharing, SharePoint Online makes all kinds of data and information accessible to specific users. And with guest access in Microsoft teams, the owner can allow an outsider to join by granting access permission.
Guest access
A team is a collective of individuals collaborating towards a common goal. When someone from outside the team offers assistance or suggestions, they are referred to as a guest. This can encompass individuals not affiliated with the group or organization, such as a former colleague, business associate, vendor, or supplier.
Enabling guest access proves beneficial when you need an external participant to join the team for meetings or idea exchange while restricting their access to sensitive data in order to prevent security breaches. This feature permits guests to engage in chats, video, and voice calls.
Guest Access Licensing
Guest access does not necessitate an extra subscription. The Guest access feature is supported by all Microsoft 365 plans, including Business Standard, Enterprise, and Education.
In Microsoft Teams, some permissions are applied to every member according to their position:
Owners- If you're the organizer and manager of these team gatherings, you're authorized to both include and exclude members, invite guests, modify team configurations, and oversee all administrative-level responsibilities. It's worth noting that there can also be multiple owners present in a team meeting.
Members- The team members have permission to interact with other members and can view, upload, and change files.
Guests- As a guest who isn't part of the team, your capabilities are limited compared to members and owners. You're only able to access and utilize the permissions granted to you by the owner.
How to allow Guest Access?
To enable guest access through the admin center, first, log in to your Microsoft 365 admin page. Follow these steps to grant Guest access –
Step 1- Login into your Microsoft 365 Admin center.
Step 2- Now go to Teams (under Admin centers).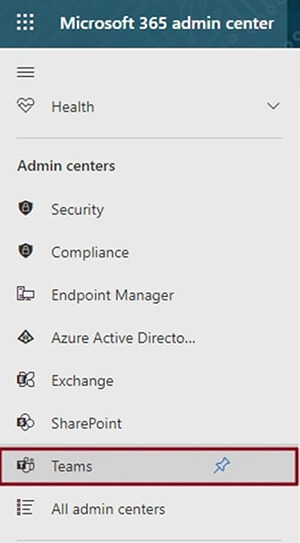 Step 3- Now go to Users on the left pane.
Step 4- Select Guest Access under Users.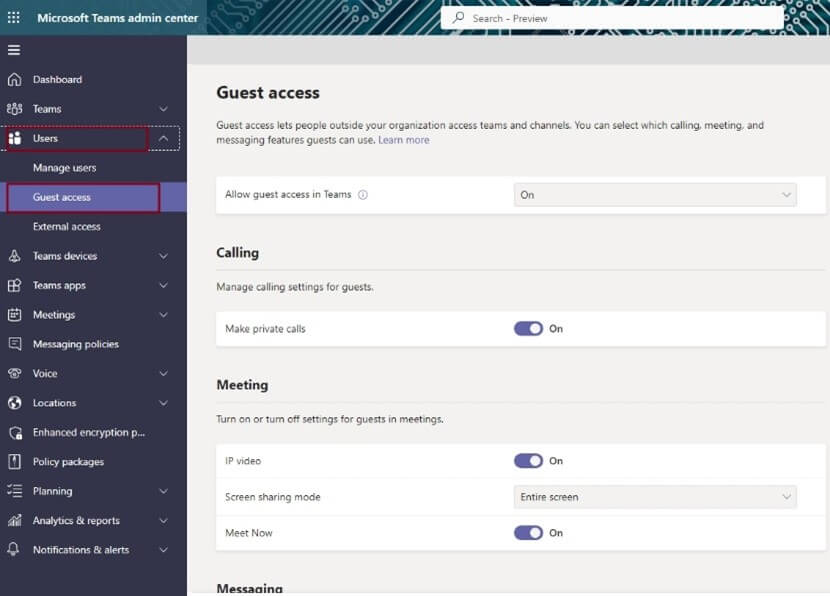 Step 5- Enable the tab Allow Guest Access in Teams in the Guest Access window.


How to Set Guest permission?
When a guest gets added to the team, then team owners can opt to configure guest permissions. Here are the steps to set guest permissions-
Step 1- Go to Teams on the left pane.
Step 2- In the Teams window, go to the team name.
Step 3- Now select More options and go to Manage Team.
Step 4- Select Settings and go to Guest permissions.
Now select the permissions you want to allow to the guest.
Note– The Owner has full authority to change or modify permissions of members and guests.
How to add a guest?
Step 1- Click on the Teams icon on the left.
Step 2- Now select a team and click on the three-horizontal dot.
Step 3- Click on Add member from the drop-down list.
Step 4- A new window will appear; enter the guest's email address here.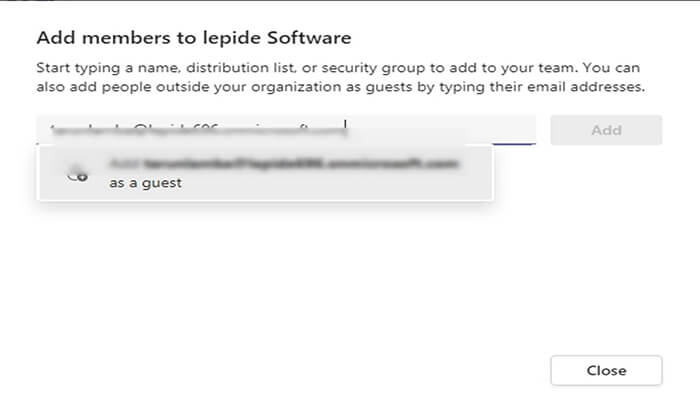 A guest refers to an individual external to the organization. They can be invited using an Outlook or Gmail email account to join the team as a guest member.
Step 5- Now, finally, click on the Add button.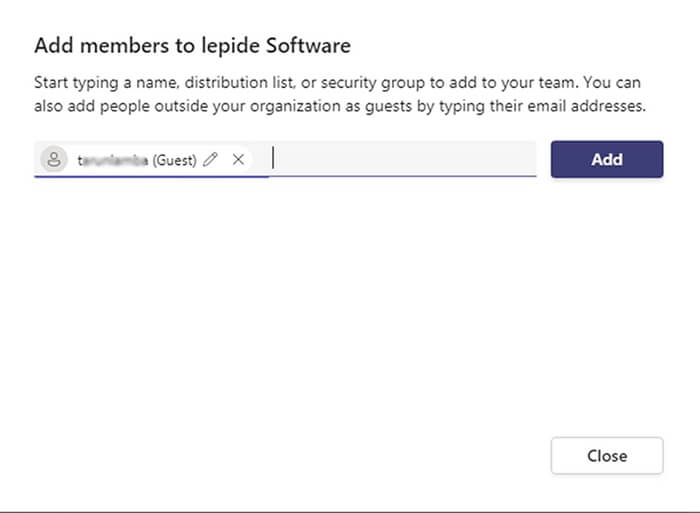 After this, the guests will receive a welcome email invitation about joining Teams.
How to manage settings and permissions in Microsoft Teams?
Step 1- Click the Teams icon, select any team name and click on the three-horizontal line.
Step 2- Now click on the Manage team from the drop-down list.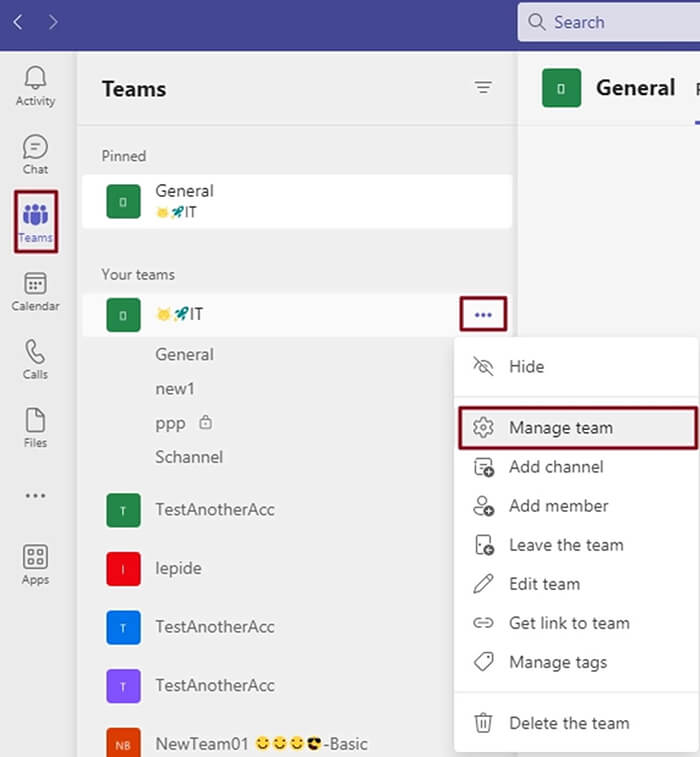 Step 3- In this window, the owner or admin can manage members and channels, check, or uncheck the options in settings, can check analytics, and even more.
Microsoft Teams keep lots of confidential data and information; losing it is never a good idea. So, to keep it protected and secure, users need to keep a Teams data backup; but a manual backup method can be difficult. So, you can try Kernel Microsoft Teams Migration Tool. This tool can help you to migrate data between teams. All data, including chats, group chats, shared files, channels, etc., will be migrated easily without any risks.
Conclusion
Enabling guest access in Microsoft Teams is a crucial functionality, facilitating seamless collaboration with external users while ensuring the integrity of your data security. Should you require a reliable method to back up your Teams data, consider employing the Kernel Microsoft Teams Migration Tool. We trust you'll discover this blog to be enlightening. Stay connected with our page for additional Microsoft Teams-related articles, as we have more in the pipeline. We eagerly anticipate your feedback in the comments section below.