Read time 4 minutes
Summary: Learn to effortlessly overcome Outlook's attachment size restrictions and efficiently send larger files without encountering error messages. This comprehensive guide equips you with the knowledge to increase attachment limits, enhancing your email communication and productivity.
Have you ever encountered a situation when sending an attachment in Outlook triggers an error notification, indicating that the attachment size exceeds the allowable limit? If you've experienced this issue, you're in the right place. In this blog, we'll explore how to send large-sized attachments through Outlook without encountering errors.
Initially, it's important to recognize that the problem is related to file size. So, when you attempt to attach a file that's excessively large, you'll receive an error notification stating, "Attachment size exceeds the allowable limit".
This issue can occur not only when you attach a single large file but also when you add multiple attachments with a combined size exceeding 20 MB (20480 KB). The message size limit for webmail email accounts is typically set at 20 MB.
However, it's worth noting that some servers may allow messages of up to 25 MB. Understanding that the server permits attachments of up to 25 MB suggests there are potential ways to increase the attachment size in such cases. Let's explore how you can increase the limit for attachment size.
Step 1- Begin by pressing the Win + R keys together.
Step 2- Next, type 'regedit' in the provided box and then click 'OK'.
Step 3- Now, proceed with the following steps to navigate based on your Outlook version:
"HKEY_CURRENT_USER\¬Software\¬Microsoft\¬Office\¬14.0\¬Outlook\¬\Preferences" for Outlook 2010
"HKEY_CURRENT_USER\­Software\­Microsoft\­Office\­15.0\­Outlook\­\Preferences" For Outlook 2013
"HKEY_CURRENT_USER\­Software\­Microsoft\­Office\­16.0\­Outlook\­\Preferences" for Outlook 2016 (REFER THE SCREENSHOT)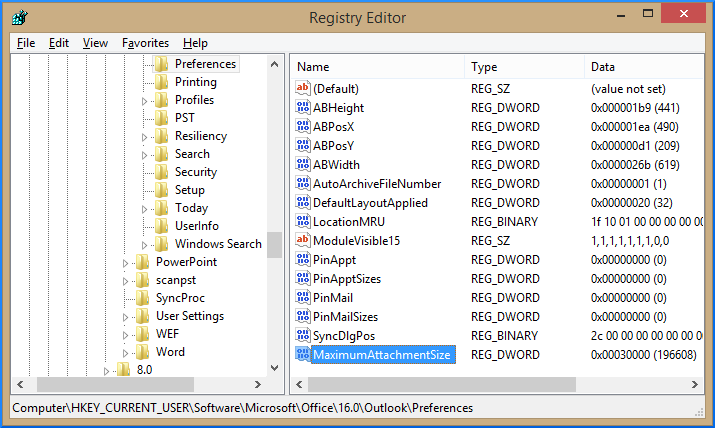 Step 4- In the Registry Editor window, locate the list that appears as you navigate. Within the list, you will find an option labeled 'MaximumAttachmentSize.' Double-click on this option.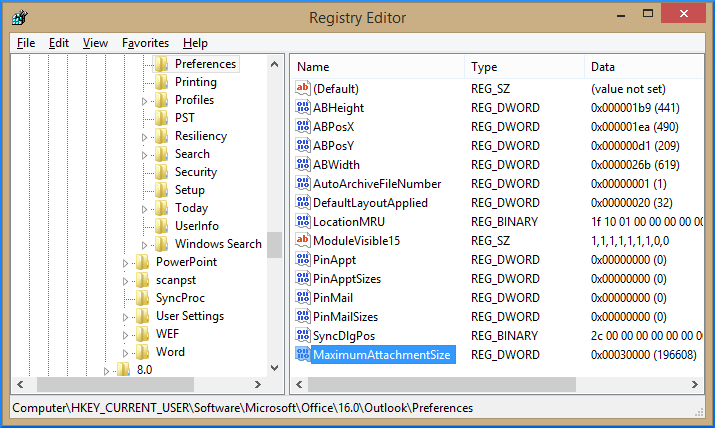 Note: If you cannot locate 'MaximumAttachmentSize' in the list, you can create it by right-clicking on an empty space in the Registry Editor. Then, select 'New' and choose 'DWORD (32-bit) Value.' (Refer to the image below for guidance)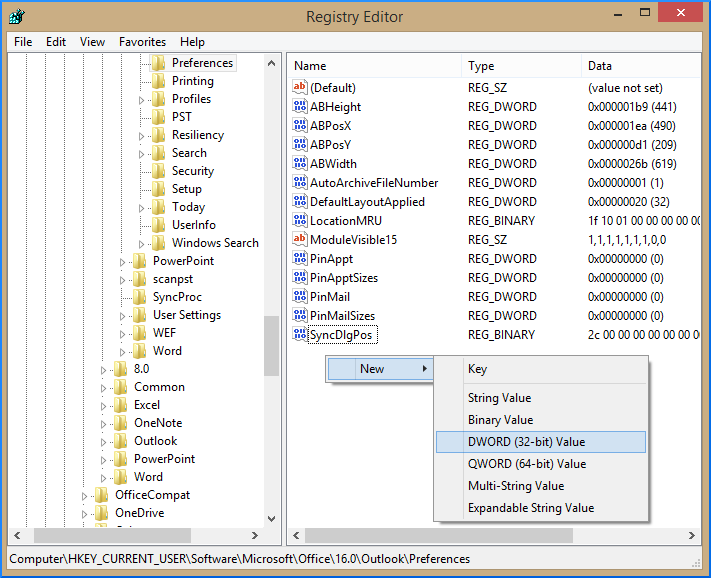 Step 5- A new dialogue box will appear, allowing you to specify the desired attachment size in KB. In this case, we're setting it to 25 MB, which is the server's limit. Enter '25000' in the 'Value Data' section, then click 'OK' to proceed.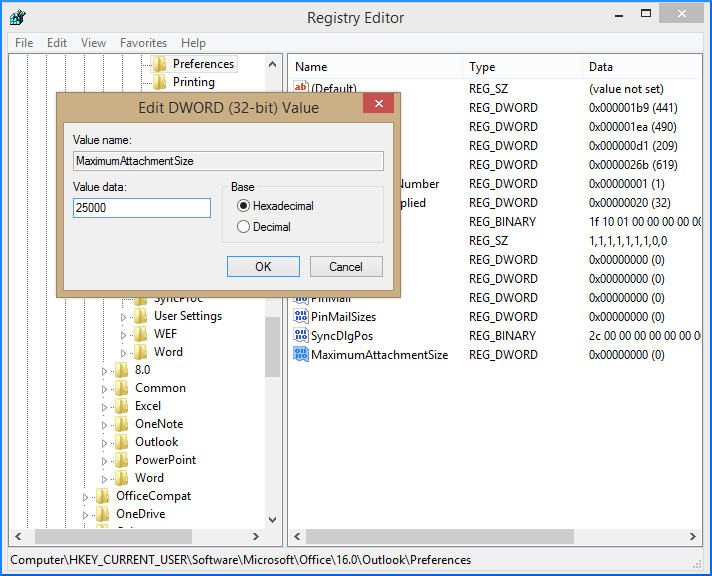 Step 6- Close the Registry Editor and attempt to send the email with the attachment once more.
What is the Maximum size for your Email Provider?
Absolutely, being aware of your email provider's attachment size limit is essential for smooth email communication. Here's a summary of some common email providers and their attachment size limits
What else do you require to tackle all issues with your Attachments?
We all recognize the significance of email attachments in our communication, and when challenges related to attachments arise, addressing them promptly becomes a top priority. We may not always possess the technical expertise to address the recurring technical glitches that arise from time to time, specially delay in opening Outlook attachments. In such situations, opting for a third-party tool can often be the most effective solution to resolve all your attachment-related issues. Kernel for Attachment Management is a meticulously designed tool that takes into account even the smallest details concerning attachments and the potential issues that can arise with them. This tool can swiftly recover email attachments and effectively compress large PST files, helping you save valuable storage space. It offers a plethora of exciting features and supports the execution of multiple customization rules for extraction.