Read time 5 minutes
Summary: Is your Outlook slowing down when opening attachments? This guide offers simple yet effective methods to resolve the issue. From disabling protected view to enabling Cached Exchange Mode, you'll find practical solutions to boost your email productivity. Plus, we recommend Kernel for Attachment Management, a powerful third-party tool to streamline attachment handling. Say goodbye to attachment delays and enhance your Outlook experience today
Attachments play a crucial role in Outlook email communication, facilitating the seamless sharing of documents among users. However, there are instances when email attachments may take an excessive amount of time to open. While several factors can contribute to the sluggishness in opening attachments, many of these issues can be resolved by users themselves. Some commonly employed methods to address these attachment-related challenges include:
Disable the Protected View for Outlook attachments
Disable Dynamic Data Exchange
Run Outlook in Cached Exchange Mode
Check the Size of Outlook Data Files
Disable the Antivirus Programs
Update MS Outlook
Run Outlook in Safe mode
Extract Outlook attachments
Delays in opening attachments can be frustrating for Outlook users and may result in productivity losses. Therefore, it is essential to address this issue promptly.

Disable the protected view for Outlook attachments
If you're experiencing slow opening times for Microsoft Office attachments in Outlook, particularly MS Word or Excel documents, it's worth checking if the 'Protected View' feature for Outlook attachments is enabled. Disabling the protected view property can help expedite the opening of attachments in Outlook.
Follow the steps outlined below to disable the protected view in Microsoft Office Word and resolve the Outlook attachment issue.
Click on the File menu in the toolbar.

Now select Options from the given list. It will take you to Word Options.

In the Word Options dialogue box, go to the Trust Center at bottom and click on Trust Center Settings.

Under Protected View in the Trust Center dialogue box, uncheck the third option Enable Protected View for Outlook Attachments, and click OK.

Now, Word files will no longer be protected as attachments in the Outlook application, resulting in faster opening times within Outlook.
Note: You'll need to disable the protected view property for each Office application separately.
Run outlook in cached Exchange mode
If you are using Outlook with an Exchange account, it is advisable to enable Cached Exchange Mode to improve the speed of opening attachments. Here's how you can enable it:
In Outlook, select File>Account Settings> Account Settings.
Select your Exchange account in the E-mail tab, and click the Change option.
Check the Use Cached Exchange Mode checkbox and it will enable the cached mode for your Outlook.
Now, close the Outlook application and restart it.
Disable Dynamic Data Exchange
To resolve slow performance issues in Outlook, consider disabling Dynamic Data Exchange (DDE). Here's how you can do it:
From the Start menu, select the Control Panel, and tap on the Folder option.
Under the File type button, choose the attachment file type & click on the Advanced option.
From the Open Action tab, go to Edit & then clear up the DDE checkbox.
Tap on OK & exit the window. Access Outlook again & try to open the attachments again.
Update MS Outlook
Users who are utilizing older versions such as Outlook 2003 and 2007 might encounter delays when opening attachments. Newer Outlook versions are better equipped to handle a larger volume of emails and their larger-sized attachments more efficiently. Consider updating your Outlook to the latest version to resolve slow email attachment opening issues.
Run Outlook in safe mode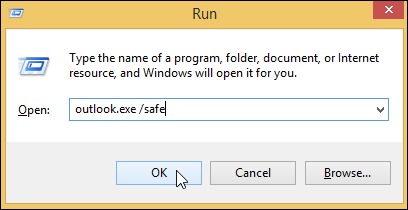 Anti-virus programs or firewalls may scan emails and potentially cause problems when opening attachments in Outlook. You can address this attachment issue by running Outlook in safe mode, which can be achieved by entering 'outlook.exe /safe' in the Run command interface.
Check the size of Outlook data files
If you encounter delays when opening Outlook attachments, one potential factor to consider is the size of your Outlook data files. This can occur if you have an extensive collection of email messages or other data stored within Outlook's folders, impacting the speed at which attachments are opened.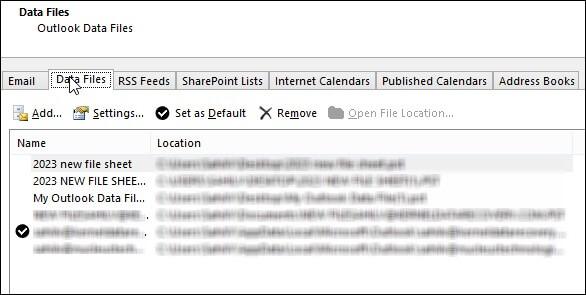 To assess the size of your Outlook data folders, follow these steps:
Open Outlook.
Navigate to 'File' > 'Account Settings' > 'Data Files.
You will see a list of all your Outlook data files along with their respective sizes. If any of these files appear excessively large, it may be necessary to take measures to reduce their size or consider archiving them to free up space on your hard drive.
Disable the antivirus programs
Another potential culprit behind Outlook attachment issues can be antivirus programs running in the background. These programs might occasionally interfere with Outlook, leading to delays or even causing the program to crash.
If you suspect that your antivirus program might be the source of the problem, you can attempt to temporarily disable it to check if it resolves your Outlook issue. However, it's crucial to keep in mind that having an active antivirus program on your computer is essential for your system's security. Therefore, only consider disabling it as a last resort. Alternatively, you might explore other antivirus programs or explore security features tailored for Outlook, such as Outlook Protected Mode, to address the issue.
To disable your antivirus program, you can follow these general steps:
Open the Control Panel on your computer.
Look for an option related to antivirus or security software settings.
Within these settings, you should find an option to temporarily turn off or disable the antivirus program.
However, please note that the exact steps can vary depending on the antivirus software you're using. It's advisable to consult the documentation or support resources provided by your specific antivirus program for detailed instructions on how to disable it safely.
Extract Outlook Attachments
If you continue to experience delays when opening Outlook attachments, it might be worth considering the use of a reliable third-party application designed for extracting attachments from Outlook emails. One such tool is Kernel for Attachment Management. This application is capable of:
Extracting attachments from Outlook PST files and storing them on the user's hard drive.
Removing attachments from Outlook PST files and saving them on the user's hard drive.
Working with attachments from any version of Outlook without altering the original emails.
Maintaining a log file to keep a comprehensive record of attachment management.
Optionally compressing attachment sizes to conserve disk space.
Using such a tool can help streamline attachment management and potentially alleviate performance issues related to Outlook attachments.
The bottom-line
Outlook attachments have been known to be potential vectors for malware infections. To safeguard your system and data, it's essential to employ a set of straightforward yet effective strategies that can help mitigate the risks associated with opening Outlook attachments. In this article, we provide a comprehensive guide to these protective measures, aimed at helping you prevent malware attacks and resolve any related concerns you may encounter.
Furthermore, if you find yourself dealing with a substantial volume of attachments or contend with a sluggish internet connection, the Kernel for Attachment Management utility can prove to be a valuable solution. We highly recommend giving this tool a try today, and you can even get started with a free trial to experience its benefits firsthand.