Read time 7 minutes
Summary: Unlock the secrets of accessing blocked attachments in Outlook with these five manual methods. From renaming files to adjusting security settings, this guide provides practical solutions. If these methods fall short, explore the efficient Kernel for Attachment Management tool for easy and swift recovery of lost or damaged Outlook attachments.
Hackers craft emails with convincing authenticity, luring recipients to open both the emails and their attached content. Malware, spyware, phishing, and various viruses take on forms like documents, PDFs, images, files, and voicemails. Upon clicking the attachment, the virus activates, installing malware on the computer and compromising files. Spyware can stealthily access and copy computer data, including keystrokes and passwords.
Email attachments can pose various threats to users in several ways-
Spamming

Spamming involves the relentless sending of unwanted emails, inundating users with content they do not desire. While webmail services offer spam folders to segregate such emails, they may not guarantee data security.

Ransomware

Ransomware effectively locks users out of their critical files, occasionally seizing control of the entire computer, denying access to the user. Ransomware victims are typically notified of the attack, and a ransom is demanded in exchange for access restoration.

Phishing

Phishing dupes recipients into divulging sensitive information by posing as a legitimate business representative. Often, recipients mistakenly believe they are interacting with a genuine company and willingly provide the requested information.
At times, Outlook blocks email attachments as a precautionary measure. This is because email attachments, especially .exe and database files, are common vehicles for spreading viruses. Outlook takes this preventive step to enhance email security.



If you attempt to send such files as attachments to an Outlook email address or any Exchange server/web-client, you may encounter the following warning message in Outlook.: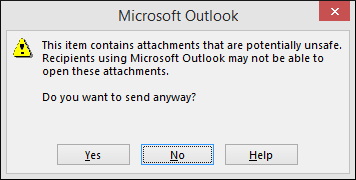 If you attempt to send these mentioned attachments from Outlook to a particular web client like Gmail, you might encounter the following error message in Outlook:



Starting with Outlook 2000 Service Release 1, all Outlook versions incorporate a security feature designed to automatically block suspicious attachments. While undoubtedly a beneficial security measure, this feature can occasionally flag genuine attachments from trusted senders as potentially unsafe. In such instances, you may need to download these attachments. In this post, we will outline specific methods to help you open and download these blocked attachments in Outlook.
Ways to open blocked attachments in MS Outlook.
There are various approaches to accessing blocked attachments. In this section, we will illuminate some of the most effective methods.
Method #1: Use a file share or FTP website to share files.
You can request the sender to share the file as a link rather than as an attachment. Numerous file-sharing websites like Google Drive, WeTransfer, HighTail, TransferBigFiles, DropSend, Egnyte, Dropbox, MediaFire, and others offer this functionality. These platforms enable users to share files, including those as large as 20 GB. For even larger files, you may explore their premium subscription options.
Method #2: You can request the sender to compress the blocked attachment and resend it to you.
Utilize file compression tools like WinZip and WinRAR for this purpose. Compression alters the file's extension to .zip or .rar, which Outlook typically does not block.
Method #3: Rename the file.
If you or the sender lack access to a third-party compression tool, consider asking the sender to rename the files using an extension that Outlook does not perceive as a threat. For instance, renaming the .exe file to a .doc file extension can be a workaround.
To save and rename blocked attachments in Outlook, follow these steps:
Access Outlook & right click on the attachment. From the pop-up menu, tap on Save As.
Next, you need to select the desired location (i.e. Desktop in this case). Click Save.
Go to the file location & right click on the attachment. Tap on Rename & give an appropriate file extension at the end of the file.
Method #4: Ask Server administrator for change the security settings.
If you use Outlook on an Exchange server, you can request your administrator to adjust the mailbox security settings to allow blocked attachments.
Method #5: Change of security behavior.
If you are not using Outlook with Exchange or if your server administrator permits altering Outlook's security behavior, then this method is applicable. However, it involves registry modification, which should be approached with caution. Incorrect changes can lead to severe issues, so it's advisable to create a registry backup beforehand. Here are the steps to adjust security behavior:
Close Outlook if running.
Hold + R keys and enter regedit in the text field.
Make sure that the following registry key exists in your Outlook Version:
For Example, for MS Outlook 2016:

HKEY_CURRENT_USER\Software\Microsoft\Office\16.0\Outlook\Security

Note: If the registry key exists, then you can skip Step 4.

If the registry key does not exist, then you need to create it.

Click the following registry key:

HKEY_CURRENT_USER\Software\Microsoft

From the Menu bar, click on the Edit tab and from the drop-down menu, click on New > Key.
For Outlook 2016, type 16.0 (or 15.0, 14.0, 12.0, 11.0, 10.0, 9.0 for Outlook 2013, 2010, 2007,2003, 2002 and 2000) and press Enter.
On the Edit tab and from the drop-down menu, click on New > Key.
Now, type Outlook and press Enter.
On the Edit tab and from the drop-down menu, click on New > Key.
Type Security and press Enter.

On the Edit tab and from the drop-down menu, click on New > click String Value.
Enter the following name for the new value: Level1Remove.
Press Enter.
Right-click on the new stirring value name > click Modify.
Type the file name extension that you would like to open in Outlook, for example, .exe.
To specify multiple files, one only needs to separate the extensions with semicolons such as .exe;.mdb
Click OK and exit the registry editor.
Restart your computer.
Open Outlook and check whether the earlier blocked email attachment can be opened/saved or not. As seen from the snippet below, one can see that the earlier blocked attachment with a .exe extension can now be saved on the disk drive.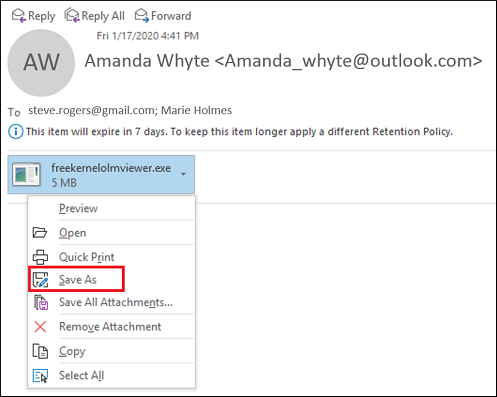 Method #6: Kernel for Attachment Management
If all of the above methods do not work for you, then you need a proficient third-party tool to extract these attachments. One such tool is Kernel for Attachment Management. This tool comes in handy when you want to extract and open an attachment that is either corrupted, damaged, or blocked by Outlook due to security reasons. Moreover, the advanced algorithms employed in the making of this useful utility is designed to recover any lost/damaged email attachments. Apart from this, the user can create multiple customization rules to extract email attachments. We suggest the user try out the trial version to get acquainted with the tool.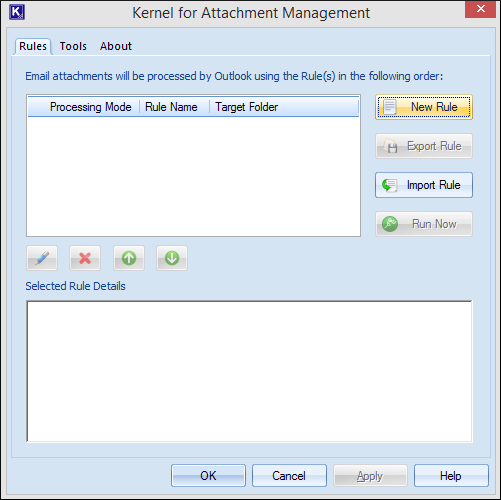 Conclusion
This post has detailed five manual methods to help you access blocked attachments in Outlook. If these methods prove ineffective, consider using the Kernel for Attachment Management tool for effortless and speedy recovery of lost or damaged Outlook attachments.