Read time 7 minutes
Introduction
Hackers design emails in such a way that they seem totally genuine, and the receivers gets tempted to click the open the emails and the attachments present in them. The malware, spyware, phishing, and other types of viruses are sent as documents, PDFs, images, files, voicemails, etc. As soon as the attachment is clicked, the virus starts working, the malware is installed on the computer, and the files are attacked. The spyware can copy the information on your computer, the keystrokes, and the passwords.
There are different ways the email attachment can be harmful to the users–
Spamming

Spamming is sending unwanted emails that users do not want to receive, but the senders send them constantly. Although the webmails have a specific folder to put the unwanted emails, it does not provide any security to the data.

Ransomware

Ransomware stops receivers from accessing their important files, and sometimes they hijack the computer and do not even let the user sign-in. The victims of the ransomware are notified about the attack and some ransom money is demanded.

Phishing

Phishing tricks the receiver to share their sensitive information by disguising as the representative of a legitimate business. Generally, the receivers feel that they have gotten the email from the business and provide the required information.
Sometimes, when we receive email messages in which attachments are blocked by the Outlook. To no surprise, one of the most common ways to spread viruses is through email attachments. That is why Outlook blocks specific email attachments, including .exe and database files, to name a few.



If you ever try to send these files as attachments either to an Outlook email id or to any exchange server/ web-client, then you might get the following warning message in Outlook: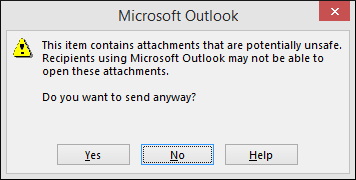 If you try to send the attachments mentioned above from Outlook to specific web client such as Gmail, then you might receive the following error message in Outlook:



Since Outlook 2000 service release 1, all Outlook versions include a security feature that blocks suspicious attachments automatically. This security feature is no doubt a bliss as the blocked attachments might put your computer at risk for viruses and threats. But, sometimes, a genuine attachment from a trusted sender could also be marked as potentially unsafe. In that case, you must download that attachment. In this post, we are going to describe specific methods that can easily let you open and download these blocked attachments in Outlook.
Ways to Open Blocked Attachments in MS Outlook
There are several ways to access the blocked attachments. In this section, we will shed some light on some of the most promising methods.
Method #1: Use a File Share or FTP Website to Share Files
You can ask the sender to share the file as a link instead of as an attachment. File share websites such as Google Drive, WeTransfer, HighTail, TransferBigFiles, DropSend, Egnyte, Dropbox, MediaFire, and more. These file-sharing platforms allow the user to share even files big as 20 GB. If you would like to share even bigger files, then you might consider subscribing to their premium features.
Method #2: Use a File Compression Utility to Share Files
You can ask the sender to compress the blocked attachment and resend it to you. File compression utilities such as WinZip and WinRAR can be used to perform these compression tasks. Compression changes the file name extension to .zip or .rar, which are not blocked by Outlook.
Method #3: Rename the File
If you or the sender don't have access to a third-party compression tool, then you can ask the sender to rename the files to an extension, which is not considered as a threat by Outlook. For example, you can ask the sender to rename .exe file to a .doc file extension.
Method #4: Ask Server Administrator to Change the Security Settings
If you are using Outlook on the Exchange server, then you might ask your administrator to change the security of your mailbox to accept blocked attachments.
Method #5: Change of Security Behavior
If you do not use Outlook with Exchange or Server administrator allows you to change the Outlook security behavior, then this method is for you. This method involves modifying the registry. Special care should be taken while modifying the registry; if done incorrectly, then it might result in some severe issues. It is recommended to back up the registry before making any changes in it. The steps to change security behavior are listed below:
Close Outlook if running.
Hold + R keys and enter regedit in the text field.
Make sure that the following registry key exists in your Outlook Version:
For Example, for MS Outlook 2016:

HKEY_CURRENT_USER\Software\Microsoft\Office\16.0\Outlook\Security

Note: If the registry key exists, then you can skip Step 4.

If the registry key does not exist, then you need to create it.

Click the following registry key:

HKEY_CURRENT_USER\Software\Microsoft

From the Menu bar, click on the Edit tab and from the drop-down menu, click on New > Key.
For Outlook 2016, type 16.0 (or 15.0, 14.0, 12.0, 11.0, 10.0, 9.0 for Outlook 2013, 2010, 2007,2003, 2002 and 2000) and press Enter.
On the Edit tab and from the drop-down menu, click on New > Key.
Now, type Outlook and press Enter.
On the Edit tab and from the drop-down menu, click on New > Key.
Type Security and press Enter.

On the Edit tab and from the drop-down menu, click on New > click String Value.
Enter the following name for the new value: Level1Remove.
Press Enter.
Right-click on the new stirring value name > click Modify.
Type the file name extension that you would like to open in Outlook, for example, .exe.
To specify multiple files, one only needs to sperate the extensions with semicolons such as .exe;.mdb
Click OK and exit the registry editor.
Restart your computer.
Open Outlook and check whether the earlier blocked email attachment can be opened/saved or not. As seen from the snippet below, one can see that the earlier blocked attachment with a .exe extension can now be saved on the disk drive.
Method #6: Kernel for Attachment Management
If all of the above methods do not work for you, then you need a proficient third-party tool to extract these attachments. One such tool is Kernel for Attachment Management. This tool comes in handy when you want to extract and open an attachment that is either corrupted, damaged, or blocked by Outlook due to security reasons. Moreover, the advanced algorithms employed in the making of this useful utility is designed to recover any lost/damaged email attachments. Apart from this, the user can create multiple customization rules to extract email attachments. We suggest the user try out the trial version to get acquainted with the tool.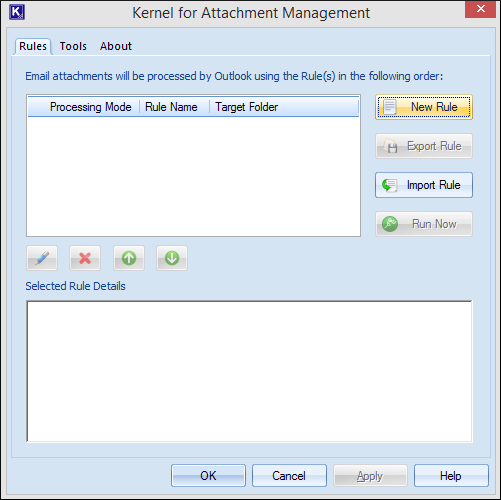 Conclusion
A total of five manual methods have been discussed in this post that can assist you in opening blocked attachments in Outlook. If these methods don't work for you, then you should try out Kernel for Attachment Management tool, which offers easy and swift recovery of lost/ damaged Outlook attachments.