Read time 5 minutes
Without a second thought, I can clearly mention that MS Outlook is the world's best top-rated email client by Microsoft Corporation. It even allows you to configure your multiple email accounts into one place so that you can access all of them together. Besides, the personal information of an Outlook mailbox is stored in PST (Personal Storage Table) and OST (Offline Storage Table) files of MS Outlook. The data stored in Outlook files includes everything – emails, attachments, contacts, calendar, notes, tasks, journals, etc. Many business users prefer to protect their crucial data by setting PST passwords.

Instant Solution
Try Kernel Outlook Password Recovery tool to quickly view, unlock, remove and set a new password of PST files. The software supports Outlook 2019, 2016, 2013, 2010 and all the previous versions.
There are millions of users today who are using password protected PST files to protect their crucial data. So, it is well understood that at some point in time someone will surely forget these long-tailed unique passwords. Unfortunately, that will be a time when you require the data immediately and you no longer remember the password. This is when the role of password retrieval comes into the picture.
Can you view Outlook passwords?
You must know that there is no straightforward way to reveal Outlook password but you can easily recover the password in a few easy steps. We are here with a manual method for Outlook password finder recovery & an automated Password Outlook viewer cum recovery tool. Follow the instructions carefully below.
Recover the lost account password
Access Outlook on the web & tap on Sign In.
Now, you need to type in your email address & hit Next. As you get on the Enter Password window, tap on Forgot Password.
They will now verify your identity by sending a code to your email id & helping you to recover your password.
Fill in the one time code in the next window & you are all set to login with your new
Outlook password.
View Outlook password with password recovery software:
We have the best software that will help in recovery and viewing the Outlook PST password. The Outlook Password Recovery software can view Outlook PST password for PST file size up to 500 MB. Simply follow the step-by-step process to view Outlook Password and get access to PST file data.
Follow the steps and view the Outlook password after recovery.
Step 1: Launch the software – the free version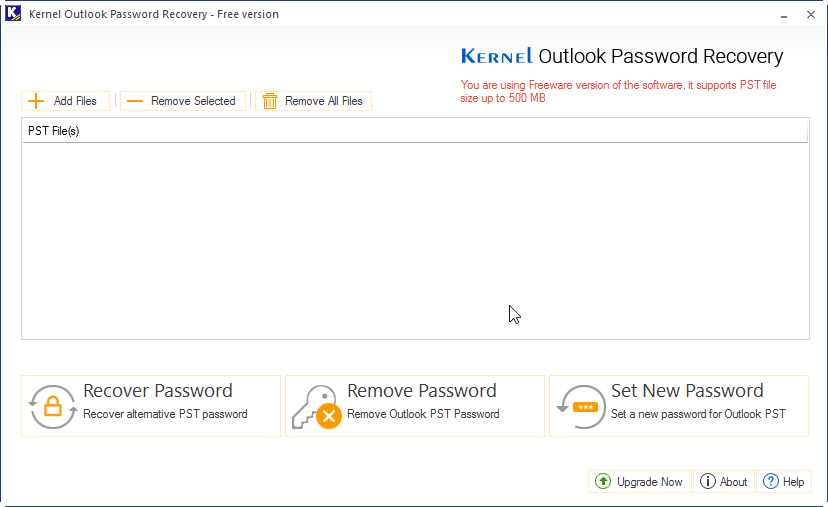 Step 2: To recover and view the PST file password, select the PST file with the Add Files button and choose the Recover Password option as shown.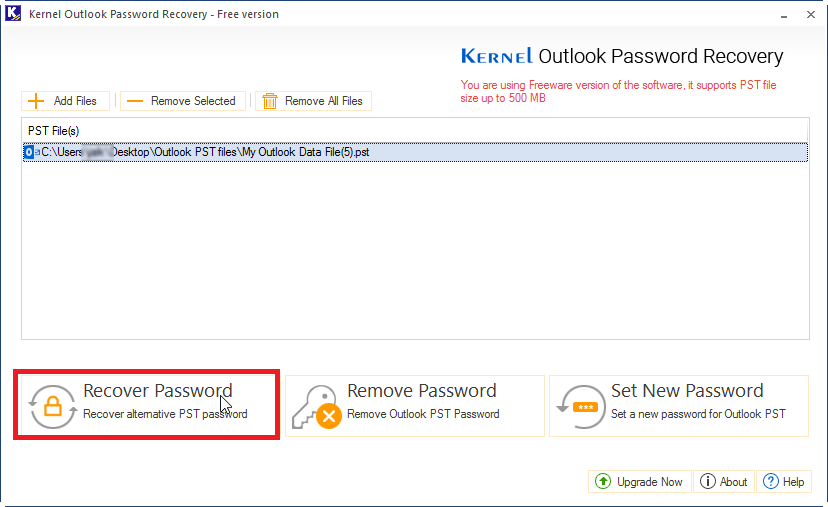 Step 3: The tool starts the scanning of the PST file and recovers the password and displays it in the tool environment. Click Ok and move ahead.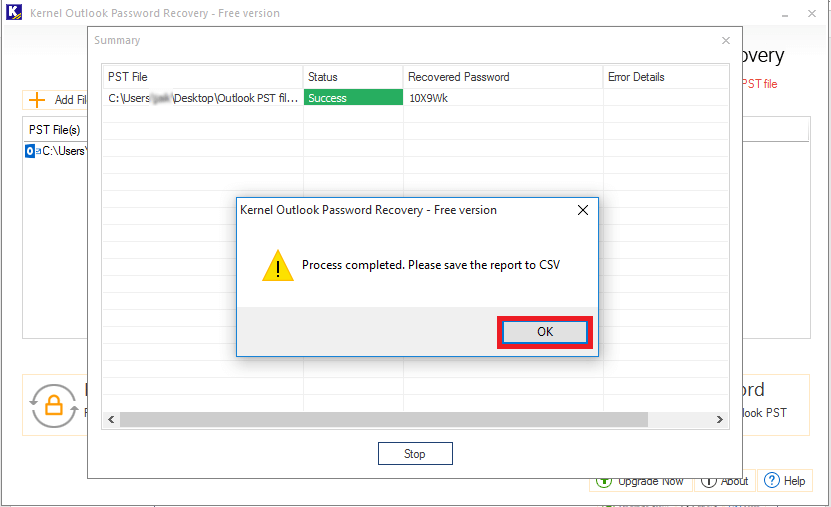 Step 4: You can save the recovery report in the form of CSV file for future use.
This is the easiest method to recover a password from a PST file via this alternate password Outlook viewer option. Moreover, it even allows you to set a new password for your PST files.
Change Outlook PST passwords.
To change your password with the tool, you need to follow a similar process.
Launch the software on your system and click Add Files to the PST files.

After adding the file, click Set New Password, and you will be prompted to make a backup of the PST files before moving ahead. Choose an option as per your preferences and continue.

In the Set New Password window, provide the desired password for the PST file and click OK.

Once the password is changed, a message will appear on your screen, confirming the same. Click OK to end the process.

This way, you can quickly change the password for your Outlook PST file & troubleshoot your Outlook password finder issues.
Final words:
The software is recommended by professional data recovery experts for recovery of forgot Outlook PST password. It can quickly view, unlock, remove and set a new password for PST files. It is available free of cost with no special requirements and configurations. Simply, you can download and install the software and access your crucial data saved in a PST file.
FAQs
Q- How do I fix Outlook asking for password again and again?
A- Here are a few troubleshooting steps to fix this issue:
To fix the Outlook asking for password issue, go to the File menu and click on Account Settings > Account Settings.
Tap on the Change tab & click on More Settings.
Go to the Security tab & uncheck the box "Always prompt for logon credentials".
Q- How many password attempts can be done on Outlook?
A- Sign-in will require a CAPTCHA after ten unsuccessful attempts with an incorrect password. Upon a further ten incorrect password attempts and a successful CAPTCHA attempt, you'll be locked for the next 15 minutes.