Read time 3 minutes
When a user configures a POP3 account in MS Outlook, it automatically generates a default PST data file for that account. While there is a predefined location for this data file, you also have the option to create it on your OneDrive account. This flexibility extends to when you're backing up or archiving your emails as well.
Typically, a data file's size can reach several gigabytes. However, a free OneDrive account offers storage for up to 5 GB only. Consequently, a sizable PST file can pose challenges for your OneDrive, resulting in syncing issues and various other problems. Here's an illustrative example:/p>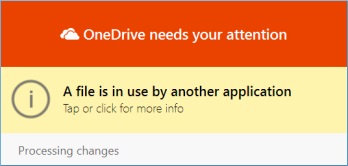 This error indicates that OneDrive encounters synchronization issues because the file is currently in use by other applications. It typically arises when the PST file contains a substantial amount of data, causing OneDrive to take an extended amount of time to sync the file.
So, the PST file takes too much space and processing time OneDrive and interrupts the work pace. So, it is not suggested to store PST files on OneDrive.
In this article, we'll guide you through the process of removing an Outlook PST data file from OneDrive and relocating it to a different folder.
Follow below steps, executing one after the other:
If Outlook is running, close the application and wait till OneDrive synchronization is complete.
Navigate the following path/location: C:\Users\username\OneDrive\Documents\Outlook Files.
Note: If you don't see the PST data file in the above location, you can look for file's exact path as given below.

Open Outlook, right-click on the account, a new window would pop-up, here click on Data File Properties followed by clicking on Advanced, and now double-click on the file to get the file address.

Now, in this step, you have to copy the data file from OneDrive folder and move the file to a new location. Right-click on the PST data file and click Copy.
Move the PST file to a new path/location on your system but not anywhere inside OneDrive.
For example, C: \ Others.
Rename the file you have moved to a new location. For example, username@domain_copy.pst
Now, open Outlook again. Click on File tab and select Account Settings.

Inside the Email tab, select the appropriate account and click Change Folder.
Note: Sometimes you don't see the Change Folder button; in such a case, it is possible that your selected Outlook account won't have a PST file.
Select the Outlook account and click New Outlook Data file.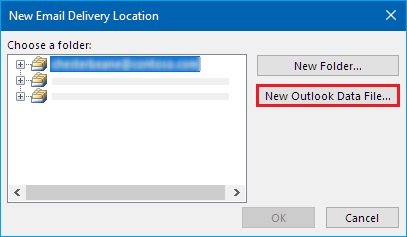 Browse and locate the PST file which you renamed and copied to a different location on your machine (in step 3 & 4). Select the file and click Ok.
In Data Files tab, select the file location including the string OneDrive, and click Remove; click Yes.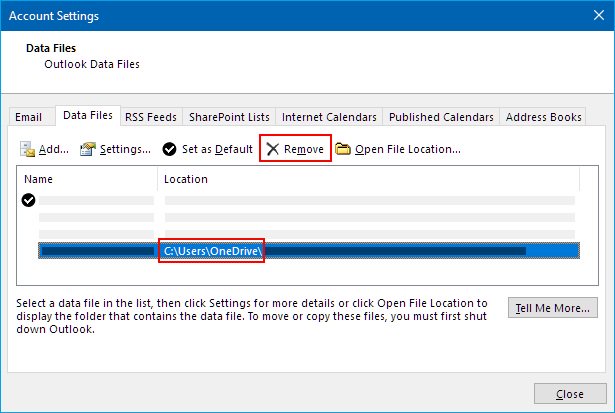 The Outlook PST data file is disconnected now.
Note: For moving or deleting the OneDrive copy of PST file, you would need to exit Outlook.
Conclusion
Storing a PST file in OneDrive can result in several technical challenges, primarily due to its substantial size, which can trigger severe synchronization issues. To make effective use of a PST file in OneDrive, it's advisable to employ professional software that can segment the large PST file into smaller, more manageable files. Kernel for PST Repair software, for example, can assist you in maintaining the health and reducing the size of your PST file. Subsequently, you can confidently save these smaller PST files in OneDrive.