Read time 5 minutes
Summary: How to access and utilize the free Inbox Repair Tool for repairing corrupt Outlook data files. This article provides step-by-step guidance on downloading and effectively using the tool to resolve common PST file issues, ensuring data recovery and smooth Outlook performance.
In MS Outlook, essential mail data, including emails, calendars, and attachments, is stored in .pst files. These files can become corrupted, rendering them inaccessible. Fortunately, the Inbox Repair Tool, known as Scanpst.exe, is a built-in utility designed to repair damaged Outlook data files at no cost. However, some users have encountered difficulties locating Scanpst.exe due to accidental deletion or drive corruption. In such cases, users should first check if the file is hidden on their system and unhide it if necessary. For instance, to do so, follow these steps:
C:\Program Files (x86)\Microsoft Office\root\Office16
In order to unhide click on View tab > Options. Go to View tab > Hidden files and folders and check Show hidden files, folders, and drives.
This blog will delve into the causes of data file corruption, outlining the repair processes involving Quick Repair, the Inbox Repair Tool, and the utilization of a professional third-party tool for PST file repair.
How to repair Outlook application using Quick Repair?
It is unlikely that the Inbox Repair Tool is missing from the suite, but in case of accidental deletion, one can repair the MS office using Quick Repair. For this, go to Control panel > Programs and Features > MS Office, and select Change.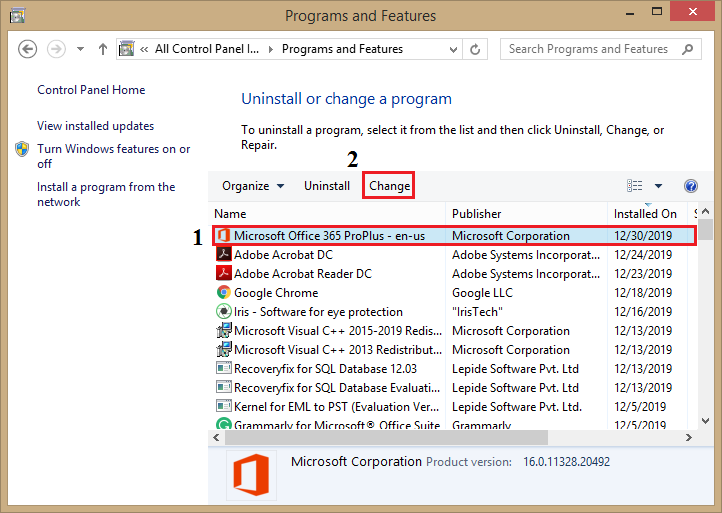 Clicking on Change will open a dialog box. Choose Quick Repair and click Repair. Now, wait for the process to complete.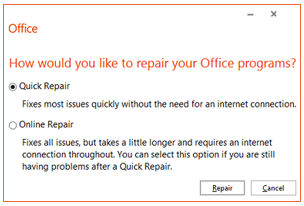 If Quick Repair fails to fix the issue, you can try Online Repair, provided you have the Internet connection throughout.
How to Repair Outlook Data Files Using Inbox Repair Tool for Free?
Depending on your Outlook and machine version, the Inbox Repair Tool can be found here-

In Outlook 2019: C:\Program Files (x86)\Microsoft Office\root\Office16

In Outlook 2016: C:\Program Files (x86)\Microsoft Office\root\Office16

In Outlook 2013: C:\Program Files (x86)\Microsoft Office\Office15

In Outlook 2010: C:\Program Files (x86)\Microsoft Office\Office14

In Outlook 2007: C:\Program Files (x86)\Microsoft Office\Office12

Now, open Scanpst.exe.
Next, browse for the .pst files and click Next. In general, the PST files can be found here-

C:\Users\user\Documents\Outlook Files

The tool will now scan the PST file for consistency.
If any inconstancies were found, then click Repair.
If successful, then you will be prompted with a Repair Complete message.
Now, open Outlook and try to access the repaired PST file.
An Automated Tool – Kernel for Outlook PST
In cases of severe file corruption, the Inbox Repair Tool proves ineffective, necessitating the use of a third-party solution. An exemplary tool for this purpose is Kernel for Outlook PST Repair. With this versatile tool, users can resolve challenging issues such as the Outlook not responding error and PST file access denied errors effectively.
This specialized tool is designed to address the repair of severely corrupted PST files and offers the capability to save them in multiple formats, including PST, DBX, MBOX, and more. Here are some key features of this dependable tool:
Can repair large sized PST files
Can even recover deleted email items
Repair both ANSI and UNICODE formats
Export directly to Office 365, email servers and webmails
After installing the program, launch it. The welcome screen displays a pop-up dialog box. The user can either browse single or multiple corrupt PST files. The user interface is quite friendly and highly descriptive.
Conclusion
"In summary, this blog post has explored methods for repairing corrupt Outlook data files, including the Quick Repair option and Scanpst.exe for free solutions, as well as the use of an automated tool for PST file repair. We highly recommend the latter as a superior alternative to the conventional Scanpst.exe.