Read time 7 min
Amongst many email clients available for different operating systems and offered by different companies, AOL mail is one that is used by many. But AOL mail account storing loads of important emails and other items is very common. This makes email management a little tricky. So, what would you do in such situations?
Using email clients like Outlook for mailing and maintaining other work stuff, usually helps AOL users a lot in this regard. Outlook 2016 and Outlook – Office 365 are very versatile, and you can use your AOL mail account in Outlook 2016 without installing any plugin or any other software.
The process of doing so includes setting up of IMAP account in Outlook 2016. And in this article, we'll jaunt you through the method with which you can set up your AOL account in Outlook 2016 and use multiple emails concurrently.
Steps to Set Up and Access Your AOL Email Account in Outlook 2016
Before starting, owing an AOL mail account & installing Outlook 2016 on your computer are necessary. After that you can proceed to:
Enable Allow Apps that Use Less Secure Sign in Option in AOL Security
Open AOL Mail website and sign in.
Move on to your AOL profile section and click on Options.
Select Account Info.
A new tab would open comprising your account info, security options, activities track, and preferences. Here, click on Account Security.
Once the page is loaded, click on Allow apps that use less secure sign in option, as shown below.
Before you can proceed straight to turn the security option ON, you will have to sign-in again. In this step, enter your AOL username and click Next.
Type-in your password and click Sign in.
Now, turn the security option ON, as shown screenshot below.
Add AOL Mail Account in Outlook 2016 PC Client
Now that you've turned the security option ON, which allows less secure applications to have access to your AOL mail, you can move on to the Outlook part, follow below steps:
Open Outlook.
Click on the File tab and click Add Account.
A new Outlook window would show up on the screen. Here, type-in your AOL email address and click on Advanced Options drop-down and select let me set up my account manually and click Connect.
Select POP from the following account type options given.
In this Outlook window, you have to key in some critical information like Incoming & Outgoing Mail & Ports respectively. For POP configuration, briefly input the following information:

Incoming Mail:
Server: pop.aol.com
Port: 995
Encryption Method: Checkmark, this server requires an encrypted connection (SSL/TLS)
Require logon using Secure Password Authentication (SPA): NO
Outgoing Mail:
Server: smtp.aol.com
Port: 465
Encryption Method: SSL/TLS
Require logon using Secure Password Authentication (SPA): NO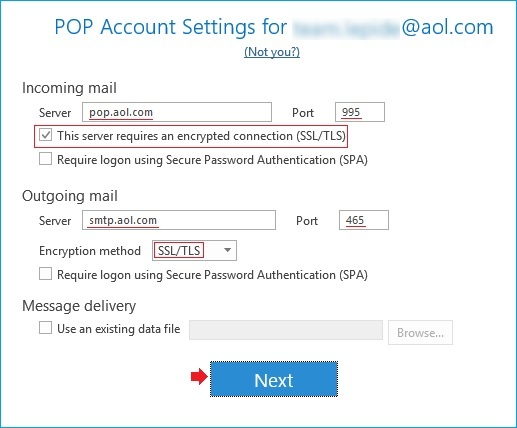 Note: If you have an existing data file then browse for it under Message Delivery section.
Once you're done with the above details, click Next.
Now, enter the password of your AOL email and click Connect.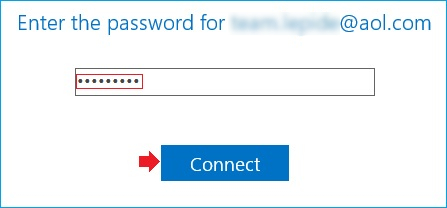 Finally, when the AOL email account setup in Outlook 2016 is complete, click Ok.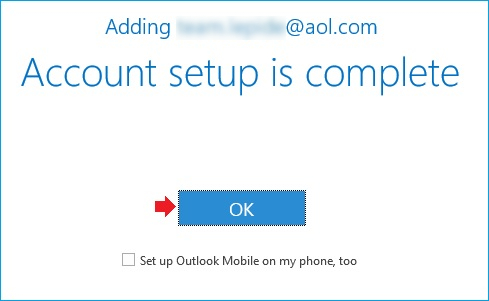 In Outlook, you can see all the accounts listed on the left side, as shown below.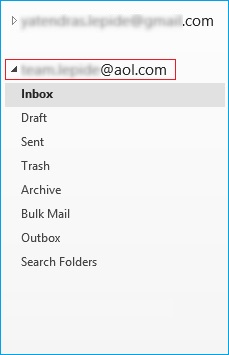 What to do if AOL Emails are Inaccessible Because of PST File Corruption?
Sometimes, AOL emails become inaccessible in Outlook because of PST file corruption. In that case, you need to repair the PST files first. For repairing corrupt or damaged Outlook PST files, Kernel for Outlook PST Repair is the best tool which ensures you the data recovery, so that you'll never lose your data stored in the Outlook PST file. Outlook PST repair boasts versatile features like file repair, recovery, cross platform email migration, etc. Also, it enables the user to recover permanently deleted emails, whether the deletion was on purpose or the files was deleted mistakenly.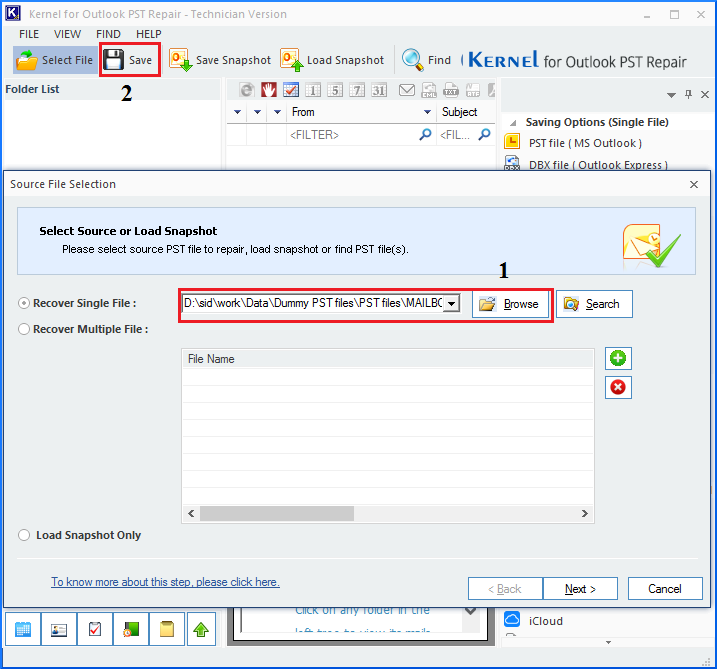 The tool supports a wide range of all famous Windows Operating System and allows the user to migrate between different email client platforms without any hassle. For example, there are various manual methods to migrating AOL mails to office 365 but Outlook PST tool turns the whole process of migration into a breeze.
Conclusion
The addition of an AOL account in Microsoft Outlook allows you to use the beneficial features along with secure email communication. You can add the AOL account in Outlook easily by using the given process. Suppose the account is inaccessible due to the corruption in the PST file. In that case, Kernel Outlook PST Repair software can recover the complete account without interfering with the AOL account's mailbox's integrity. It will provide you a preview of recovered items that you can save in a new PST file.