Read time 6 minutes
If you're worried about whether your employees are giving their 100% or not during their work hours, then the best way to find out is by tracking employees' activity. But, is it really beneficial to track user's activity in an organization?
We believe tracking your employee's activities allows you to check what your employees are up to, so that they can focus on their work continuously, and it could be done easily with an employee desktop viewer. Installing an employee desktop viewer on the user's system not only compels employees to focus on their work but also improves the organization's overall productivity.
But, how could you track Microsoft 365 users' activity? What if your employees are accessing their Microsoft 365 account outside the office premises?
Well, you don't have to worry about that as well because Microsoft provides an Office 365 user activity report feature that allows you to see how your employees are using Microsoft 365 services. You can examine which users are using the service the most, or who don't need an Microsoft 365 license at all.
You can generate audit reports for up to 180 days, though reports are not created immediately (it takes 48 hours to generate last activity reports). So, how can you access audit reports in Microsoft 365? Let's see.
Viewing the Report Dashboard
It's easy for a Microsoft 365 administrator to check the Office 365 user activity report dashboard by following the below steps:
Sign in to Microsoft 365 and go to the admin center.
In the admin center, select Reports and then click Usage.
Click Select a report in the upper corner to select from a list of all available reports to check for more information.

Make sure you have administrative rights to access this option. Microsoft 365 user activity report are only accessible to Global Admins, SharePoint Admins, Exchange Admins, or Reports readers.
In the Microsoft 365 admin center, you can access Office 365 user activity log reports for multiple items, such as Email, Mailbox usage, Active users, Office activations, and many more. Here we will discuss how you can track user email activity in the Microsoft 365 admin center.
Email Activity Reports in Microsoft 365 Admin Center
With email activity reports, you can analyze the email activity of your employees. Here's how you can reach the Email Activity report:
Go to Microsoft 365 Admin center and click Reports.
Select the Email Activity widget on the Reports dashboard.

To know more about the earlier email activities of your employees, you can check the Activity and User charts.
Things to Know About Email Activity Reports
There are some things that you should know about Email Activity reports before accessing them.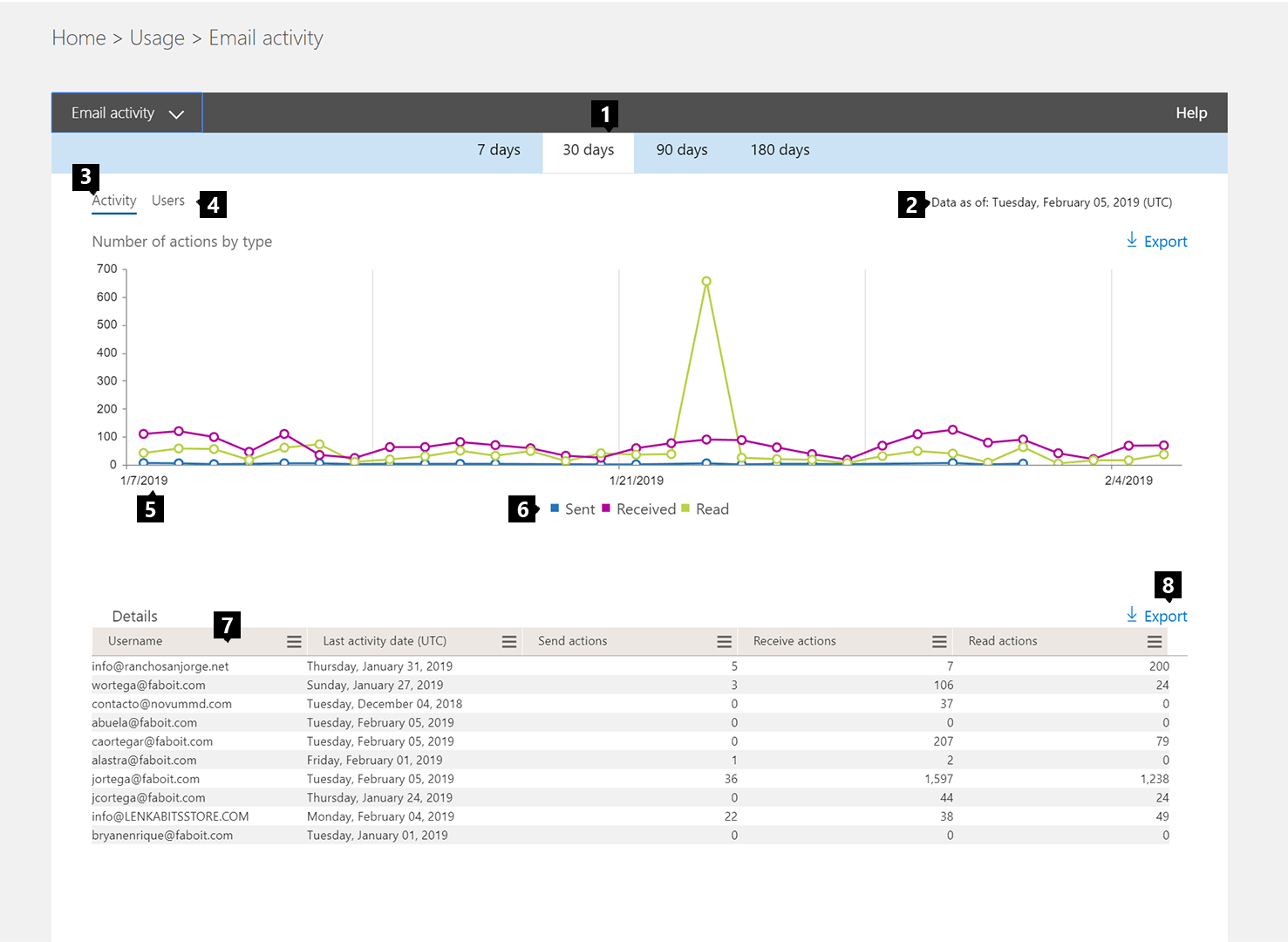 You can view email activity reports for up to 180 days. But, if you select a particular day in the report, the table will display only for the last 28 days from the current date.
It takes 24 to 48 hours to generate Office 365 user activity log report for any user activity.
The Activity chart helps you understand the trend of the number of email activities ongoing in your firm.
The User chart helps you know the unique users generating email activities. You can learn about the users who send, receive, or read emails.
Activity chart shows activity type like an email sent, received, or read against the selected date range.
The filtering options allow you to check the activity for a specific item like Sent, Received, or Read.
The activity table represents you with a breakdown of the email activities at the per-user level. It will display all users with an Exchange product assigned to them and their email activities. For example, the User name displays the email address of the user, deleted date shows the date the user was deleted, Read actions is the number of times an email read action was recorded for the user, etc.
You can even export Email activity reports to Excel or .csv files by clicking or tapping the Export link. It will export the data for all the users that are using Microsoft 365 email accounts.
Likewise, you can view Office 365 user activity report for Mailbox usage, SharePoint site usage, Email apps usage, Microsoft 365 groups, etc.
However, if you're interested in viewing the licensing information, then you'll need access to the Billing section. If you're a global administrator, you can follow the steps below to preview license information-
To know how many licenses, you have assigned and unassigned, go to Microsoft 365 admin center and click Billing >> Licenses.
Now, if you want to check the list of active users, then go to Users, and then click Active users. You can click the Views drop-down box to filter the list.

Conclusion
Having information regarding user's activity in Microsoft 365 allows you to manage your Microsoft 365 in a better way. You can quickly analyze which users are using the most storage space, who is sending, receiving, or reading emails, or how many users are active or inactive. In this article, we talked about how you can track the email activities of your Microsoft 365 users.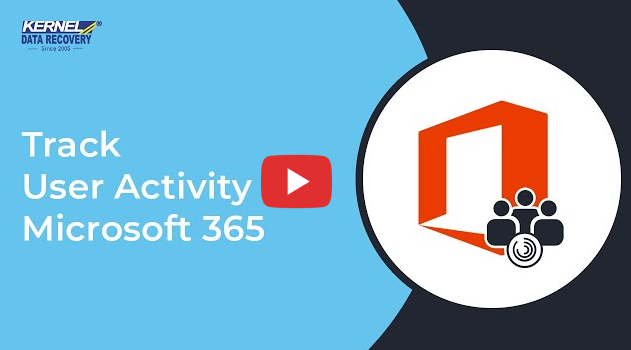 FAQs
Q – Does Microsoft track the users data?
Microsoft collects user data to personalize user experiences, enhance security, & improve their software, services, & devices. However, users can choose which data to share with Microsoft, & privacy settings can easily be changed via the Windows 10 device settings. As long as users are aware of what data Microsoft is collecting & are comfortable with the privacy settings on their device, they can enjoy a personalized & safe user experience.
Q – How do I track the user activity in Office 365?
By navigating to the Active users tab in the Office 365 report, you can view a comprehensive report detailing user activity over the past 7, 30, 90 or 180 days. This report allows you to identify trends & patterns in user behavior, & make data-driven decisions to optimize your team's performance.
Q – What activity reports are available in Office 365?
You can choose from the following reports based on your subscription level.
Email activity
Office activations
Email apps usage
Active Users
Mailbox usage
Office 365 groups
OneDrive for Business usage
OneDrive for Business user activity
Q – Who can access the Office 365 reports?
Here is the list of people who can access Office 365 reports.
Global admins
Exchange admins
SharePoint admins
Skype for Business admins
Global reader
Usage Summary Reports reader
Reports reader
Teams Administrator