Read time 4 minutes
Outlook is an email manager which is used by millions of users to keep their personal information well managed and organized. It is a one-stop destination for all your email accounts as it adds multiple emails and manages all emails, contacts, appointments, schedules, tasks, notes, and much more. You can easily add your GoDaddy email account to your Outlook profile along with others. However, if you are working on Outlook 2016, you may encounter some technical hitches, which may result in the GoDaddy email not working. These problems are a result of certain contradictory settings in Outlook or in the server. In this article, we will be discussing in detail all the feasible solutions for the issue of GoDaddy email not working with Outlook 2016.
Possible Methods to Resolve GoDaddy Issues Outlook 2016
There are various reasons why the issue of GoDaddy email not working with Outlook 2016 can still exist for some users. However, it can also be as easily resolved using the following approaches:
Check your internet connection
The prime reason for any technical glitch with email clients is low internet connectivity. To begin with, make sure you have a strong and stable network with enough bandwidth and speed. If not, then start your Wi-Fi router again. Otherwise, switch to another available network.
Re-check Outlook settings
Even a slight mismatched setting in Outlook can lead to issues in sending or receiving emails. Hence, it becomes equally important to double-check the settings. This majorly includes the incoming server names, outgoing server names, and correct server ports.
Re-check login credentials
In case there is no issue with the Outlook settings, the second-best thing to check is the login credentials of the GoDaddy email account, which has been added to Outlook. Make sure that you have logged in with the correct account. In case of any mistake, a new GoDaddy account with correct credentials can be configured in the same.
Disable anti-virus programs
Often certain anti-virus programs detect a server as a potential threat to the system. This might be the case here as well behind the GoDaddy email is not working with Outlook 2016. Due to security settings, an anti-virus program might prevent Outlook and its server from sending and receiving emails seamlessly.
Make changes to port settings
The Simple Mail Transfer Protocol (SMTP) and Internet Message Access Protocol (IMAP) are extensively used in Outlook to receive and send emails. They ensure that emails reach the right recipient while keeping all data intact. A port is the path and destination of those emails. Needless to say, the settings of these two need to be in place to ensure smooth sending and receiving of emails on time. Make sure to keep the Outgoing Server Port Number to either 465 or 25.
Precaution is suggested!
It is always suggested to have the right knowledge about email clients to avoid problems arising within them. One of the major setbacks is losing all mailbox items. Hence, it is always a good practice to keep a backup of all your data. This comes quite handy in worst-case scenarios.
But did You Know you Could take Backup of Your IMAP Mailbox?
The Kernel IMAP Backup software has been carefully designed to take backup of your IMAP mailbox items and keep their stores in PST, EML, DOC, PDF, MSG, MHT, HTML, or DOCX format.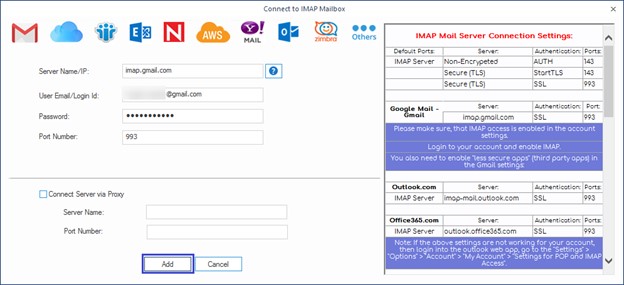 Why Should you Consider the Kernel IMAP Backup Tool?
It has the potential to take the backup of single as well as multiple IMAP mailboxes at the same time.
It supports various email clients which deal with IMAP servers, including Outlook, Yahoo, Gmail, Zimbra, AOL, Amazon WorkMail, Office365.com, etc.
All the users have the freedom to save mailbox data into a file format of their choice.
The filters provided can make the selection of mailbox data easier.
The Kernel IMAP Backup tool ensures the utmost accuracy and security of the data and maintains its integrity throughout.
It has a simple and straightforward process where you need to add the desired IMAP server account, select the filter, and the backup process will begin.
The tool works well with all versions of the Windows systems.
Conclusion
Many users have encountered issues like GoDaddy email not working with Outlook 2016. This can be a result of various reasons. To begin with, make sure you are working on the internet with good connectivity. In addition, several mismatched settings in Outlook and its server ports also create issues. Double-check the login credentials of the GoDaddy email account. However, it is always advisable to take the backup of your IMAP mailbox to Outlook using professional software like the Kernel IMAP Backup.