Free Methods to Convert MBOX to PST File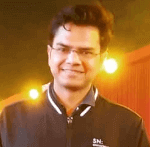 Updated On - 04 May 2020
MBOX is a file format supported by more than 20 email clients like Thunderbird, Apple Mail, Powermail, SeaMonkey and many more. However, due to professional reasons, many users need to access their MBOX mailboxes in Microsoft Outlook. MS Outlook has many features that are suitable for professional uses, Also, there is a perception that Outlook email client is better than its MBOX counterparts. However, for accessing MBOX emails in Outlook, they have to convert MBOX to PST file format.
Why is MS Outlook Preferred Over MBOX Email Clients?
Before going for the conversion, it is good to understand the advantages of PST over the MBOX format:
PST supports multiple types of data
MBOX format is suitable only for email messages. But the PST format can support emails, contacts, tasks, calendars, notes and more.
Advanced format
PST format is very advanced for storing mailbox data systematically. But the MBOX format is very simple, and emails are saved sequentially.
Outlook supports Exchange accounts
MS Outlook is designed for Exchange connectivity. And it is possible to work in offline mode in Outlook.
More control and better security features
Outlook provides more control for users and offers advanced security features for emails and attachments.

Instant Solution
Try automated tool Kernel for MBOX to PST Converter to convert MBOX/MBX/MBS emails to PST, DBX, EML, Office 365 and Exchange Server.

A Simple Method to Move MBOX Emails to Outlook/PST
To move the MBOX format emails to PST, you have to follow these three simple steps:
Save MBOX emails as EML files.
Drag and drop the EML files to Outlook.
Export emails to PST files.
Save MBOX Emails as EML Files
Open the MBOX email client. Right-click on a folder and click New Folder option.

Enter a name and click Create Folder.

Select all the EML messages you want to migrate and move them to newly created folder.
Now all the emails are present in the folder.
Choose all the emails and select the Save as option. It will save the emails in EML format to any desired location.
Drag and Drop EML Files to Outlook
Open the folder where EML files are saved. Select all the emails and simply drag and drop them to any Outlook folder.
Export Emails to PST Files
To export the emails to a PST file, follow Fil > Open & Export > Import/Export.

In the Import/Export wizard, choose Export to a file and click Next.

Select Outlook Data File (.pst). Click Next.

Go to the folder where EML files are saved and click Next.

Input a location for the new PST file, choose the desired option, and click Finish to end the process.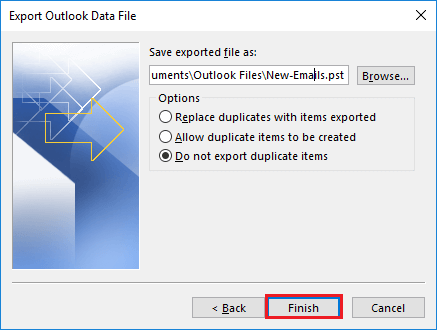 Note: You can also assign a password to the newly created PST file.
A new PST file is created at the desired location.

An Automated Method to Convert MBOX to PST
The manual method clearly indicates that it is quite a time taking process, and only a user who has worked on both MBOX email client and Microsoft Outlook can perform the whole process. So, using a professional MBOX to PST converter is a good option for normal users. Kernel for MBOX to PST Converter can easily export the data from MBOX platform to Outlook. It lets the user filter the data based on different criteria like To, From, Subject, Date, and attachment. MBOX to PST converter can also freely convert 25 items per folder in PST format.
Video Tutorial for MBOX to PST Converter Tool

Users Review and Rating for MBOX to PST Converter
From CNET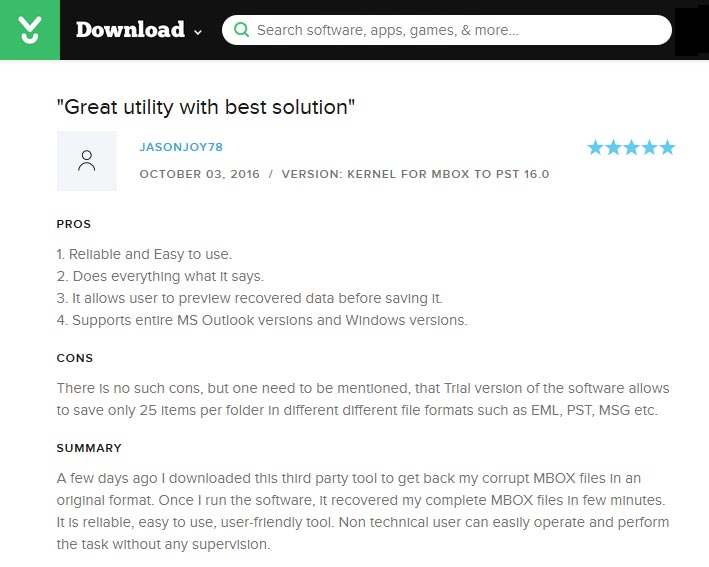 From Brothersoft