OST files are created by Outlook in an Exchange server environment to allow Exchange users to access the mailbox data and work in offline mode.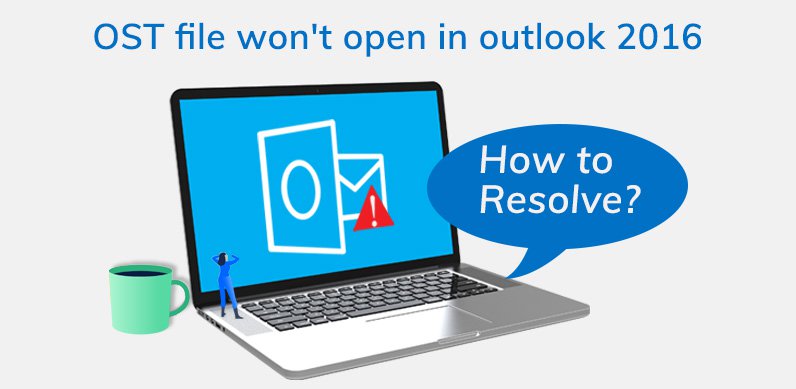 However, while accessing an offline OST file, sometimes users may receive an error, which says 'OST file cannot be opened.' According to many queries submitted on Microsoft forums, this error is majorly reported in Outlook 2016. Apart from this, there are various errors that make it impossible for users to open their OST files.
Common OST File Errors in Outlook
'OST file cannot be opened' is one of the most discussed errors related to Outlook. However, some other errors that make it difficult for users to access their OST file includes:
OST is in use by another application
Microsoft Outlook not responding
Default Outlook.ost is in use and cannot be accessed
The set of folders cannot be displayed
Now, the reason behind these errors could be anything like the abrupt termination of Outlook, importing OST files inappropriately, synchronization error between OST and Exchange Server, etc. But, the most common error is often corruption in the OST file that makes it inaccessible with MS Outlook 2016. Here, we will discuss the methods that can be used to repair corrupt OST files in order to make them open them via MS Outlook.
Methods to Fix 'OST file cannot be opened' Error
The first thing that the users can do is to troubleshoot the OST file with manual approaches. However, if the error still persists, try to restart your system or follow the below methods.
Close all the Outlook Processes
Ending the entire Outlook processes and restarting them might fix the issues that you're facing. To end the processes;
Close MS Outlook application.
Now, go to the Task Manager and click the Processes tab
Scroll down and look for Communicator, Lync, Outlook, or Ucmapi Processes. If any of these are found, end these processes and restart your system
Doing so might fix the error that you are facing while opening the OST file with Outlook.
Disable the Cached Exchange Mode in Outlook
Disabling the Cached Exchange mode in Outlook will fix the MS Outlook configuration in your system, which might allow you to open OST files.
Close the MS Outlook application and go to the Control Panel
Now, click the Mail option and then select Email Accounts
Under the Email Accounts, click the Email tab
The Exchange Account will appear on the screen, click Change
In the next step, you will find the Cached Exchange Mode option; uncheck it.
Once the Cached Exchange Mode is disabled, restart your system and try to access the OST file with it.
Disable the Outlook Add-ins
We always think that Add-ins provides extra functionality to an application, but sometimes, they could be the hidden enemies for us. Thus, it is viable to disable the add-ins if you're facing any problems with the application. To disable an Add-in in Outlook, launch the Outlook in safe mode. To open Outlook in the safe mode, you can either type 'Outlook/safe' in the Run dialog box, or you can follow the below steps:
Go to the shortcut icon of MS Outlook
Now, press and hold the CTRL button and double-click the application shortcut
A window prompt will appear on the screen, click Yes to start the application in Safe Mode.
Running MS Outlook in safe mode will disable the add-ins, and you might be able to open the OST files with it. If it succeeds, you can remove the add-in permanently.
The manual methods mentioned above can help you fix problems related to MS Outlook. But, if the problem lies within your OST file, then you need to fix OST file corruption issues. And manual methods to do so are very tedious and time-consuming, and there is no guarantee that they will provide 100% reliable solutions. Thus, you should try an automated solution if the manual methods don't work for you.
Kernel OST to PST Converter is an advanced utility specially designed to export data from OST files. Using this software, you can also repair your damaged or inaccessible OST files. Besides, if you want to save the repaired files in other formats, then this software allows you to save it to DBX, MBOX, MSG, EML, TXT, RTF, HTML, etc. Moreover, you can export the OST files to Office 365 and Exchange Server as well.
Wrapping Up
OST file cannot be opened' in MS Outlook is one of the standard errors faced by Outlook 2016 users. Although some users have technical expertise in fixing this error, not everyone is capable of that. So, we created this blog to help you show how this error can be fixed with manual methods. Also, we have mentioned an automated solution that can be very helpful in the situation.