Read time 6 minutes
Summary: If you're facing audio issues with your MP4 files, it's likely a problem with the file's codec, corruption, or compatibility with your media player. To fix this, try updating your audio codecs, converting the file to a different format, or repairing the file's corruption with a tool like Kernel Video Repair. This powerful software can quickly identify and fix issues with your audio files so that your media playback is smooth and trouble-free.
"I downloaded a high definition mp4 file of 50 minutes, but when I opened the file in Windows Media Player, there was no sound in it. How can I resolve this issue?" – Jerry Colon
"I faced a problem with my mp4 video file. Recently, when I tried to open the mp4 file with Windows Media Player, I didn't get any sound from it. Can anyone help me resolve this issue?" – Smith Ferry
If you're also amongst the above users with similar problems and looking for a solution to resolve 'mp4 has no sound' error, then you're at the right place.
MP4 is amongst one of the most popular video file formats, which is widely used by individuals. It offers a great video streaming experience to every user in all qualities like Blu-ray, HD, 4K, etc.
However, MP4 files are also prone to corruption errors that make them inaccessible via Windows Media Player. Having no sound while playing the video is amongst one of those errors faced by MP4 users. In this article, we will discuss how you can resolve the 'MP4 file has no sound' error.
Causes of 'MP4 has no sound' issue
This issue is not related to hardware, so you don't have to take your device for repair. It happens due to software issues. Now, we cannot say which software or software element causes this error. However, the leading causes behind this error could be the following:
If any specific codec is not present or working correctly for any media file, then the media file won't function properly.
Also, not every user is aware of the codes, most of the time; they don't even know what codecs need to be downloaded for the specific media file. Well, you can try to download the required codecs for the specific files from any codec package available online, which might resolve your problem.
Corruption in media player installation
Though it is very simple to download and install a media player on your system, sometimes the installation can be faulty.
Also, the irrelevant updates to the operating system can cause corruption to media players or affect their working process.
Some media players are not compatible to play some MP4 video files correctly. So, it is recommended to play MP4 files in standard players like the VLC Media Player or Windows Media Player
Most of the time, it's the media file that is corrupt and causes the 'no sound' issue. Now, the reason behind media file corruption could be an improper shutdown of the media application, corruption in hard drives in which the file is stored, or malware issues with your computer.
In order to avoid corruption and errors in your media files, you can use antivirus software that offers complete protection for your data. download MP4 video files from genuine websites, links, and have a backup copy for urgent use in the future in case of complete damage to the original file. However, once the file is corrupt, it's not that simple to recover it.
Methods to fix 'MP4 has no sound' issue
Coming to the methods to fix this error, there are only a few options available. And if these methods don't work for you, then you must seek professional help.
Play the MP4 file with VLC Media Player
VLC is amongst one of the best media players, which not only allows you to play various video file formats but also enables you to fix minor corruption errors in the file. To open your file with VLC Media Player, follow the below steps:
Select the MP4 file, which has no sound.
Right-click on the file, and select Open with, and then click VLC media.

The video file might start playing in the VLC.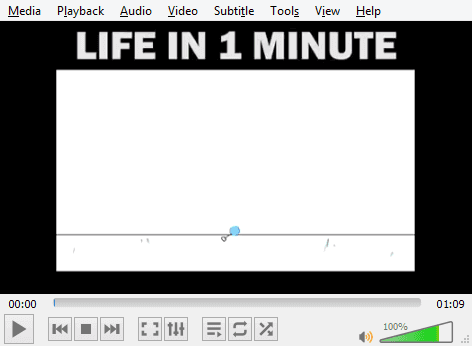 If the MP4 file opens properly with audio, it means the Windows Media Player doesn't have the particular codecs for the file.
Installing the required audio codecs
Your MP4 video may not play if your computer does not have the default audio codec. Follow the steps below to install these audio codes.
Access Windows Media Player and hold Alt + H to go to the Help menu. Open "About Windows Media Player".

Tap on Technical Support Information.

In the pop-up menu, select your web browser. This option displays a detailed list of audio and video codec options.
Find out the audio codec you need from the internet and download it.

If the MP4 file is still not accessible with other media players, then try converting the MP4 file to any other format. There are various free methods to convert MP4 to other formats; you can opt for any method that suits your requirements. For instance, you can take help from the VLC media player to convert MP4 files to AVI, WMV formats, or you can also use free online video converter tools. Here's how.
From the Media menu option, choose Covert/Save.

Add the MP4 file you need to convert.

After adding the file, tap on the Convert option.
Choose the output format and use the Browse option to save the file.
Tap on Start to begin the conversion process.

However, if you're unable to convert your file with manual methods, then use a professional tool like Kernel Video Converter, which offers smooth conversion of video files to multiple file formats. You can convert multiple files at once with the help of this tool.
As mentioned above, the main reason behind the mp4 file having no sound could be corruption in the MP4 files. So, the best way to fix this issue is to repair the corrupt MP4 file. Now, there are multiple free methods to repair corrupt mp4 files like using the VLC media player.
But, if the file is highly corrupt, then none of the manual methods work perfectly. In that case, you should use a professional utility that can fix corruption errors of media files quickly.
Kernel Video Repair
Kernel Video Repair is an excellent utility that can quickly fix all the significant corruption errors in your video files. It is designed with cutting-edge algorithms that make it easy for users to repair their MP4 files. Besides, you can upload multiple files with the 'drag and drop' feature to repair all of them in a single instance. The tool widely supports all video file formats, recorders, devices, and all Windows OS versions.
Conclusion
It could be frustrating for any user if the media file they are playing has no sound, especially the MP4 files, as they are widely used across the globe. But, the more frustrating part is fixing that error because users don't easily find solutions for it. In this article, we discussed how you can fix the 'MP4 has no sound' issue with various effective methods. Also, we talked about automated solutions that can be helpful if the manual methods don't work properly.