Read time 7 minutes
Summary: AVI and MP4 are prominent video formats, each with unique features. AVI, introduced by Microsoft in 1992, supports various codecs, while MP4, introduced in 2001, is versatile, accommodating audio, video, subtitles, and images. Dedicated video conversion software ensures secure format conversions.
MP4 and AVI stand out as the primary video formats used for viewing content on computers and various devices. MP4 is the preferred format for online sharing, streaming, and online playback of videos. On the other hand, AVI is well-suited for both audio and video files, compatible with nearly all video and audio players. The abbreviation AVI represents Audio-Video Interleaved, underscoring its significant role in facilitating the playback of digital videos.
Microsoft introduced AVI in the early 1990s, and it initially gained widespread compatibility with media players on the Windows Operating System. As Apple's operating systems emerged, AVI also became playable on iOS-based media players. Various codecs, such as DivX and Xvid, are available to compress audio and video files for storage within AVI containers, effectively preserving their quality and reducing file size.
Structure of the AVI File
The AVI file format exhibits a straightforward structure comprising two essential components. The first component is a header file, which stores metadata about the file, including its size, name, frame rate, and other relevant properties. This header section is labeled with the 'hdrl' tag. The second part encompasses information about the audio and video files and is designated by the 'movi' tag. Some other codecs may use a single 'movi' tag to encompass the compressed data file.
Although the extension of the video file remains AVI, the file format of the video-audio file is RIFF (Resource Interchange File Format).
What are the Benefits of the AVI File?
Because Microsoft is the maker of AVI file format, it supports all the media players supported by Windows.
Due to the flexibility of data compression in AVI format, there are multiple codecs that support this format.
It is a suitable format to run high quality and better resolution videos.
You can burn AVI video files to run them on CD/DVDs.
AVI format can run the same video on any electronic devices like smartphones, tablets, smart televisions, etc.
AVI supports 256 colors and RLE compression.
A Comparison between AVI and MP4 File
AVI – Microsoft introduced the Audio Video Interleaved (AVI) multimedia container in November 1992, and it relies on various codecs for media playback, including popular options like DivX and XviD. Unlike some other video formats like MPEG and MOV, AVI allows users to create files without compression. This unique feature results in completely lossless videos that are playable in any situation, ensuring the highest quality and broad compatibility.
MP4 – MP4 has emerged as the universal format for storing audio and video files. It was introduced in 2001 and its format specifications were based on the QuickTime format. MP4's versatility is evident in its ability to not only save audio and video but also subtitles and even images, making it a highly versatile and widely used multimedia format.
How to Convert MP4 File to AVI File Format?
Converting an MP4 file to an AVI file may not have a direct method, so it's advisable to utilize dedicated video file conversion software. While there are online converters available, it's important to exercise caution when using them, primarily due to security concerns. Downloading and using reputable video conversion software provides a safer and more reliable solution for achieving the desired format conversion.
So, you can use Kernel Video Converter software that is completely offline and work on only your computer. It has a simple user-interface and a simple process to convert the video. Using this tool one can easily convert MP4 to other formats. Here is the process of the conversion:
Install the software and run it from the Application menu.

After opening the software, click the Add (+) button to choose the video file.

Browse to the location of the video file. Select it and click Open. You can choose multiple files at a single time.

After selecting the video, you will see its thumbnail. Click Next.

Choose the AVI format as the desired output format for the video. Click Convert Now button.

Select the location where you want to keep the newly created file. Click OK.

After converting the video, the software will show the conversion status as Success and its saving location. You can save the conversion report in the CSV file and close the software.

If you click the link of the saving file location, then you can check the new file in the AVI format.
Video Tutorial: Convert MP4 to AVI Videos File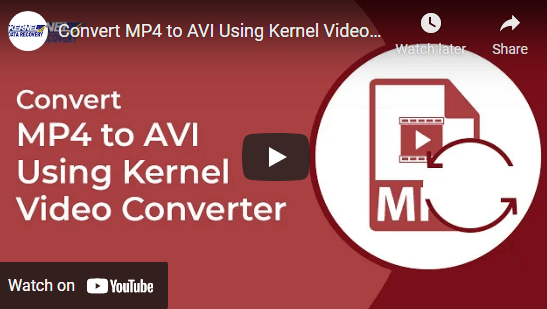 Conclusion
A Video Conversion tool indeed offers a versatile solution for various video conversion needs. When you encounter a situation where your device doesn't support a particular video format, using converter software can be the perfect remedy. This software typically supports a wide range of major video formats such as MP4, MOV, MPEG, MKV, AVI, ASF, WMV, FLV, DivX, MJPEG, M4V, 3G2, TS, 3GP, AVCHD, and more.
Many converter tools offer a free version, allowing you to convert selected videos into your chosen format without any cost. This flexibility allows you to perform conversions like MP4 to MP3, MP4 to AVI, AVI to MP4, MKV to MP4, 3GP to MP4, and so on. Importantly, these conversions often take less time compared to other converter software, making the process efficient and convenient.