Read time 8 minutes
"I have a lot of videos stored on my laptop. Today when I tried opening some of my videos, I am prompted with an error message- Error 0xc00d5212. Any suggestions are welcome." It was a common query from users which we are going to address and resolve in this blog.
The availability of a wide variety of storage media and imaging modalities has bought data digitization to our doorstep. Out of all of the stored data on our systems, the multimedia category is the largest. As digital data is growing, so do the problems associated with it. Due to various reasons, multimedia is prone to corruption. Out of the several error codes, one might get error code 0xc00d5212, which is the prime topic of discussion in the post. The article discusses at length about how to fix error 0xc00d5212 when playing video.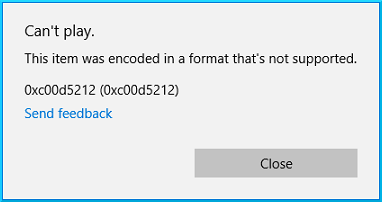 Causes Behind Error Code 0xc00d5212
Some of the most prominent reasons behind error code 0xc00d5212 are given below:
Unsupported video file format.
Unsupported video codec.
Outdated display drivers.
Outdated Windows.
The conflict between multiple audio drivers.
Damaged system files
Corruption of video file.
Ways to Fix Error Code 0xc00d5212
In this section, we will discuss some of the tested and reliable ways to fix the error code issue at hand.
Method #1: Install Correct Codecs
A codec program is used for the encoding or decoding a signal. They find their use in video editing, video conferencing, and streaming media. If the codec isn't working correctly, probably due to faulty installation, then it will, in turn, affect the multimedia files associated with it. Hence it is required to install the correct codes for your media player. Steps to install correct codecs for windows media player are given below:
Open Windows Media Player.
Click on Tools > Options.
Now, in the Player tab, either select Once a day or Once a Week options under Automatic updates and click OK.
Right-click on the video file and select Open with Windows Media Player. At this point, you might get prompted to install the codec, so click Install.
Method #2 Update Old Display Drivers
This could be the possible reason why you are you getting the aforementioned error code. Hence, we strongly suggest you update the video drivers and also check for the latest drivers regularly. One can also look for driver repair software to fix any driver-related issues. Please follow the steps mentioned below to update your video driver:
Hold + X keys and select Run from the menu or Hold + R keys to directly launch the Run box.
In the Run, box enter devmgmt.msc and click OK.
This will open the Device Manager window. Expand the Display adapters menu and right-click on your graphics adapter, then click on the Properties.
From the Properties pop-up window, select the Driver tab then click on Update Driver.
Once it is done installing the relevant driver, restart your Windows machine, and try playing your video file.
Method #3 Changing the Video Format
Once the video files become corrupt, one can try changing from the existing format to a different format such as MP4, AVI, MOV, or any other format by simply renaming the extension after selecting and clicking the F2 key..
Method #4 Use VLC Media Player
The VLC player is widely known as the universal media player as it can play a wide range of video formats and support most of the codecs as compared to other media players. Try playing your affected video file in VLC after installing it.
Method #5 Update Windows
It is often the case that updating your Windows OS to the most recent release is the cure to many Windows-related issues. It can be done as follows:
Go to Settings menu > Update & Security > Windows Update.
Click on Check for Updates. The updates will be installed automatically.
Click on Restart Now.
Now try playing your affected video file.
The above solutions can fix the problem for you but the user cannot completely rely on these solutions instead can attempt and succeed if the problem is minor.
In addition, users can try attempting prevention measures for the error like
Installing updated Antivirus application
Always have a backup of system video files
Using supported video players only for playing video files
Checking installed device driver software for update regularly
Use a perfect video converter tool only for converting your video files
Method #6 Kernel Video Repair
If you are still unable to play your affected files, then it is high time to look for other alternate options. Kernel Video Repair is capable of repairing all kinds of inaccessible, corrupt video files. In addition to this, there is no limitation when it comes to the size of the video file for repair. With the inbuilt preview functionality, one can preview/analyze the repaired video files before saving them. The graphic user interface of this tool is user-friendly and easy to get acquainted with. It supports video formats such as MP4, MOV, MPEG, MJPEG, MTS, M4V, MKV, AVI, AVCHD, WEBM, ASF, WMV, FLV, DIVX, 3G2, TS, 3GP, F4V. For a Corporate or Tech license, it comes with an added functionality using which you can recover even the deleted images.
After the installation, launch the tool. In the welcome window, you will see a few interactive tabs. To repair a corrupt video file, one should click on the + tab and select the affected file.
Select the corrupt video(s) and click Open.
After you have selected the files, click Repair Files.
Choose the location of the video where you want to save the files after recovering them. Click OK.
Get the complete status of the repair process and click Close when the process gets complete.
Conclusion
We have briefly discussed the possible reasons behind the error code 0xc00d5212. A total of five manual methods to get past this error code have been discussed in detail. If you have tried all of these manual methods and had no luck, then we recommend the best video repair software. Several prominent features of this tool set it apart from other repair tools.