Read time 5 minutes
MS Outlook from Microsoft is one of the most used email clients serving not only Windows users but also Mac users (as Outlook for Mac) providing ease with email handling.
With lots of perks on one side, there are some drawbacks on the other. From millions of Outlook users, many go through sudden issues popping on the screen out of nowhere.
Microsoft runs numerous product & service specific forums on which the users can post their queries. If you'll have a sight on Office forums, it is easy to notice the wave of issues with which users are struggling and the ways in which they are affecting the productivity.

Understand why OST file corrupts!
OST files are Offline Storage Tables, which holds a copy of the original mailbox available on the Exchange Server. This copy synchronizes at specific intervals. Thus it enables the account owner to have access to the mailbox all the time even without the server connectivity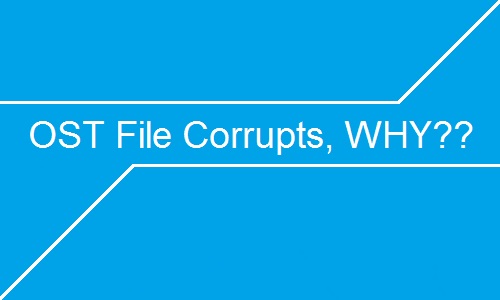 There are various reasons why the Outlook OST emails become inaccessible:
Deletion of file(s) or folder(s) from Exchange folder
Malware or virus attack.
Synchronization failure due to abnormal shutdown failure.
Outlook is crashing because of internal discrepancies.
Bad sectors error in the hard drive where the OST file is stored.
Changes in the internal structure of Outlook OST file.
Issues due to Add-ins are causing damage to the OST file.
Fix OST file corruption issue
Remove silent (not in use) Outlook OST profiles:

Open Outlook and click on File tab > Account Settings > Manage Profiles; click Show Profiles.
From there you can select all the silent Outlook profiles and remove them.

Make another copy of Outlook OST file; this will eliminate all the issues associated with the old OST file.
In case if the error is not sorted even after going through the above steps then, create a new profile.
Error due to running in Compatibility Mode
Generally, Compatibility Mode is not required for Outlook (any version) on Windows Vista, 7, 8, 8.1 and 10. So, it is not suggested to use compatibility mode for any application that is designed for the Windows.
Below are the most common errors which you might have faced because of running Outlook in Compatibility Mode:
"Cannot open your default email folders. Information store could not be opened."
"Cannot start Microsoft Outlook. Cannot open the Outlook Windows. The server is not available. Contact your administrator if this condition persists."
"Cannot display the folder. File access is denied. You do not have the permission required to access the file C:\Users\username\localsettings\application\data\microsoft\outlook\outlook.ost"
Compatibility mode creates conflicts if enabled for Outlook. So, you should think of disabling it if you face any issues.
Disable Compatibility Mode on 64-bit Windows OS, follow the steps below:
Navigate to the address: C:\Program Files(x86)\Microsoft Office\Office XX\Outlook.exe.
Right-click on the application (exe), click on Properties and select the Compatibility tab.
Uncheck the checkbox named Run this program in compatibility mode, click Apply; click Ok.
If the Compatibility tab is missing, follow steps below:
Click Start > search for Program Compatibility Troubleshooter.
Start the utility; click Next;
Select Outlook XX from the list of programs.
Follow the steps for disabling Compatibility Mode.
Use a professional tool
Using a professional OST to PST conversion tool is the best way to repair and recover OST file data and avoid any chances of things going bad. It is quite common that not all the users are techy and possess enough technical knowledge to come over issues like this, especially when you are handling your business email with Outlook.
Kernel for OST to PST
Kernel for OST to PST is an advanced OST to PST converter tool which is specially designed to handle scenarios like above.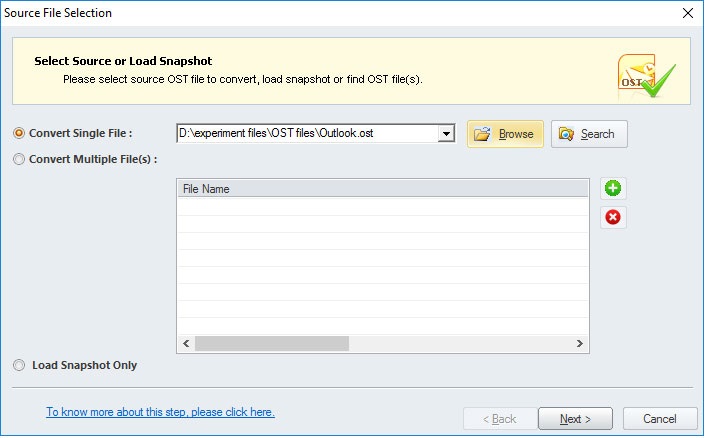 With this tool, you can re-create and recover damaged OST file without even worrying about fixing the issue at first place. The tool offers a delicate GUI for ease of access & offers standard user-friendliness. You can even import multiple corrupt or damaged Outlook OST files at once and repair all of them in a single go.
Conclusion
It can be difficult to find out an appropriate solution for the error you are facing with Microsoft Outlook, as there are many errors which can occur and reflect badly on user's productivity. We've listed the most appropriate methods which can come handy in the such a situation. Overall, it is recommended to use a professional tool at first to avoid data loss.