Read time 10 minutes
Summary:The blog offers a comprehensive guide on exporting contacts from Microsoft Outlook. It covers multiple Outlook versions, including 2010 and 2013/2016, detailing the step-by-step process for exporting contacts. Additionally, it introduces an alternative solution using the Kernel OST to PST Converter for more advanced users.
Looking to effortlessly export your contacts from MS Outlook? You're in the right spot
Outlook contacts play a pivotal role for individuals and organizations alike, enabling users to maintain essential connections with clients and other important contacts. However, there comes a time when users need to export their Outlook contacts, either for migration to another email client or as a backup measure. With various versions of MS Outlook available, each having its unique settings, it's essential to understand different approaches to exporting contacts. In this guide, we will walk you through the simplest methods to export contacts across various Outlook versions.
In this article, we will guide you through the process of exporting contacts from the following MS Outlook versions:
Exporting Contacts from Outlook 2010
Exporting contacts from Outlook 2010 is a straightforward process if you are familiar with the basic steps of exporting data files from Outlook. Here's a simple guide on how to do it:
Open MS Outlook and go to the File tab.
Now, click Options, and then select the Advanced option.
Go to the Export section and click Export. The import/export wizard will appear on the screen.
Select Export to a file and click Next.
Now, choose the type of export from Create a file type section. Usually, people choose Comma Separated Values (Windows), which is a .csv file format. After selecting the file type click Next.

Note: If you intend to export contacts for use with another Outlook account, select the option 'Outlook Data File (.pst).
In the next step, select the contact folder that you want to export and click Next.

Note: With the CSV option, you can only export one folder at a time.
Select a location where you want to save the contact folder(s) and give a name to it, and then click OK.
The Export to a file wizard will appear on the screen, click Next to move ahead with the process.
Now, click Finish to start the export process immediately. Though Outlook doesn't display any notification on completion of the process, the Import and Export progress will disappear.
Once the Export process is complete, click OK to exit the process.
The Outlook 2010 contacts will be available on the location where you saved them.
Exporting Contacts from Outlook 2013/2016
Many individuals opt for the latest versions of MS Outlook, namely Outlook 2013 and 2016. While Outlook 2019 is available, it's not as widely adopted. Let's explore how to export contacts from Outlook 2013/2016.
Open MS Outlook and go to the File tab.
Click Open & Export, and then select Import/Export option.
Choose Export to a file from the Import/Export wizard.
Select Comma Separated Values option to save contacts in CSV file format, else select Outlook Data file to save contacts in PST file format and click Next.
Now, select the Contact folder that you want to export and click Next.
Select a location on your system to save the selected contact folder and click Next.
In the Export to a File wizard, you can Map custom fields. Click Finish to start the export process.

Note: You cannot cancel the export process once it is started.
The export process will commence, and you can monitor its progress on the screen. Once it's completed, you can locate and access the CSV file in your chosen destination.
Saving contacts to CSV or PST file format in Outlook 2013/2016 is much easier as compared to other versions.
While the methods outlined above provide a way to manually export Outlook contacts to CSV format, they may not always be entirely reliable in every scenario due to various factors. It's essential to keep a backup plan in mind for exporting contacts from Outlook or even when exporting emails from Outlook.
Alternate Solution – Kernel OST to PST Converter
Outlook users are often aware that an OST file containing their Outlook data is automatically generated on their desktop. This OST file can be utilized to export contacts from Outlook with the assistance of an OST to PST converter tool, which is specifically designed for advanced data export to PST file format. Here's a guide on how to export contacts from an OST file to various other file formats:
To initiate the tool, double-click on it, and the opening wizard will appear on your screen. Choose the desired OST file and click 'Next'.
Review the provided information about the tool and the conversion process, then click 'Finish'.
The tool will scan the OST file and present all its folders on the left-hand side. From the sub-tree structure, select the 'Contacts' folder and click 'Save'.
Select the specific file format in which you want to save the Contacts. You can choose from options like PST, DBX, MBOX, EML, etc.
If you're unable to find the contacts in the previous step, then select the entire mailbox of the OST file and select Contacts from Item type in the Select Filters section, and then click Next.
Ignore making any changes in the next step and click Next.
Select the destination where you want to save the Outlook contacts and click Finish.
The OST to PST Converter tool will start saving the contacts, once it is finished, a notification will appear on the screen confirming the same. Click OK to end the process.
This method provides the simplest way to export Outlook contacts to PST format, enabling you to use the PST file with other Outlook accounts.
Conclusion
Exporting Outlook contacts is crucial for creating backups or transferring them to another email client. In this article, we've explored various techniques for exporting Outlook contacts. However, if you encounter difficulties with manual methods, you can always rely on the Kernel OST to PST converter. This utility not only facilitates exporting Outlook contacts to multiple file formats but also offers a fast and efficient conversion of OST files to PST.
Expert Reviews on Reddit about Kernel for OST to PST Converter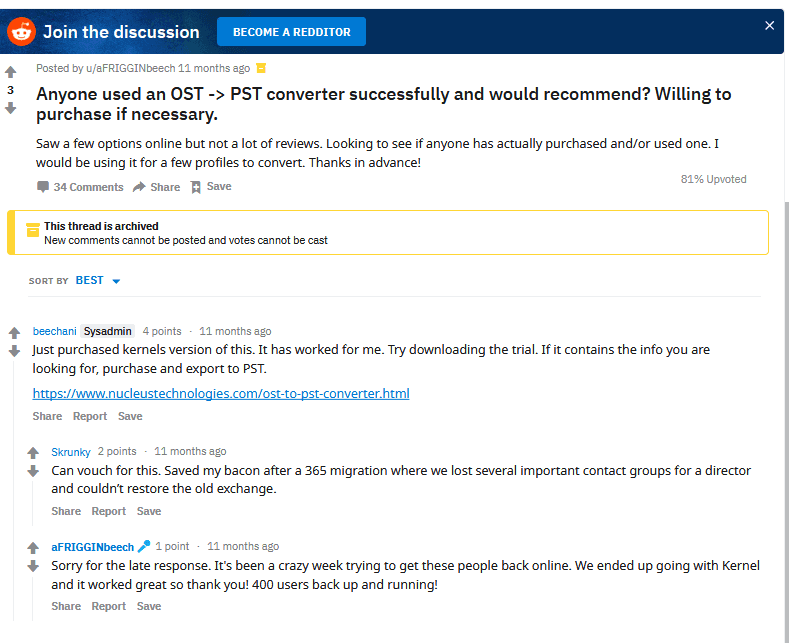 FAQs
Q- What file type is Outlook contacts?
A- PST and CSV are both file formats suitable for importing contacts into Outlook. However, it's crucial to understand that PST files are Outlook-specific and may contain more than just contact information, whereas CSV files are a more versatile file type that can be utilized with a wide range of programs. 
Q- How do I automatically Export data from Outlook to Excel?
A- Here's what you need to do:
Open Outlook & navigate to the "File" tab.
From there, click on "Open & Export" & select "Import/Export."
Choose "Export to a file" & then select either Excel or csv as the file type.
After selecting a destination folder to save the file in, click "Finish."