Read time: 4 minutes
There was a time when people used AOL email to send and receive pictures. This was a common way to share photos with friends and family. Thus, AOL email was a staple in most American homes. It was the go-to for email. But as technology has progressed, AOL Email has been left in the dust, and the way we share photos has changed. Most people now use services like iCloud or Google Photos to store and share their pictures.
But for those who still have AOL email, we are here to address one major issue. One of the main needs people have with AOL Email is that they want to download pictures without doing some serious hacking. So, if you're looking to download pictures from your AOL Email account, this blog is here to help.
Downloading Pictures from AOL Email
If you have pictures in your AOL email that you would like to download to your computer, you can do so by following a few simple steps. But before you carry out the steps, it is always important to backup IMAP emails using MS Outlook. This can be your Outlook backup. For AOL mail images download, follow the steps now.
Method 1: Using the Save Image As Option
Log in to your AOL mail and tap on Inbox.

Next, click on the email message containing the images you want to download.
Right-click on the email attachment file and tap on the Save Image As option.
After the successful download, all the images from your AOL email will be downloaded easily.
Method 2: Download Via Web Interface
To download pictures from AOL email through the web interface:
Log in to your AOL account and open the email that contains the images you want to download.
Single-click on each individual picture to open it in its own window.
As you click on the photo, the images will be automatically downloaded. These downloaded photos will be saved in the Downloads folder of your drive.
How to back up AOL emails?
There are many times when you want to back up the entire AOL email data. And at times, the backup process becomes mandatory. The manual methods to back up are not always reliable. Moreover, this can further lead to email inaccessibility and more. So, you should use a professional AOL email backup tool. Kernel IMAP Backup is the perfect tool for your needs.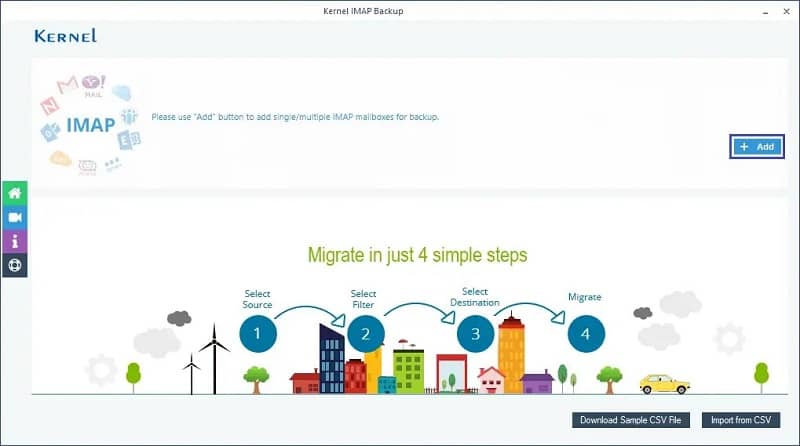 This tool can backup multiple IMAP mailboxes at the same time. This is useful if you have multiple AOL accounts or if you want to back up multiple folders in an account. The tool supports various email formats such as PST, EML, MSG, etc., and allows users to save the backup files in the desired format. It also provides an option to filter emails by date range, folder selection, etc. It supports all the major IMAP servers like Exchange, Zimbra, Amazon WorkMail, AOL, G Suite, etc & you can even export Gmail emails to CSV.
Thus, this software provides various features that make it a convenient and effective AOL email backup tool.
The Bottomline
Here, we have learned to download pictures from AOL email. We first went over the basics of downloading attachments and then showed you how to download specific pictures from AOL email. Now, you should now be able to easily download the pictures that are sent to your AOL email account.
If you wish to export AOL Emails to PST to counter the corruption issues, it is recommended to go for the mentioned Kernel software.