Read time: 4 minutes
Summary: This article discusses migrating from outdated IceWarp to Outlook PST. It highlights IceWarp's limitations, offers a manual method, and recommends the efficient Kernel IMAP Backup tool for secure and versatile email migration and backup.
Today, I will provide in-depth insights into IceWarp and its transition to Outlook PST. This discussion will focus on the necessity of migrating emails from the IceWarp cloud to Outlook PST. If you're seeking a solution to migrate the IceWarp cloud, including all attachments, to Outlook PST, you've come to the right source. It's worth noting that "how to export IceWarp emails to PST" has emerged as one of the most frequently searched queries on the internet.
Previously, IceWarp operated under the name "Merak Mail Server," serving as a commercial client-based groupware and mail server solution created by IceWarp Limited. This software was designed for use on both Windows and Linux platforms. In essence, IceWarp functions as an email server, offering mail server capabilities for both on-premises and hosted environments.
IceWarp offers a comprehensive range of productivity web applications. This suite encompasses Email, Calendar Scheduling, Real-Time Online Document Editing, Seamless Team Chat Collaboration, Voice Search, Video Calling, and personalized, secure online Storage. IceWarp serves as a formidable alternative to services like Exchange Server, G Suite, and Office 365, providing an all-inclusive user interface that's readily deployable on servers or within its dedicated cloud data server infrastructure. As a seasoned technical writer, I consistently recommend maintaining IMAP email backups through MS Outlook for added data security.
Reasons to prefer Outlook PST over IceWarp cloud
As mentioned earlier, IceWarp was once a prominent email service provider known for offering online file storage, email services, email collection, and robust virus/spam protection. However, as email has evolved to become an indispensable element of corporate life, many email service providers have adapted and enhanced their services continuously. Regrettably, IceWarp has lagged behind in this regard, failing to keep pace with the evolving email landscape. This lack of adaptation and innovation has ultimately contributed to IceWarp's decline, as it has retained its services in a static state, refraining from updating its features and webmail interface.
If you're someone who is willing to switch from IceWarp to Outlook, then Check out the following features-
Outlook is one of the most popular desktop-based email clients that allow us to deal with any number of email accounts from one place.
If you want to customize your email client, Outlook is a wonderful choice as it is open source, which offers a significant benefit in terms of speeding up the development and deployment of security patches.
The Outlook email client application is easy to use and easy to set up, hence users want to export IceWarp webmail emails to Outlook PST.
Methods to migrate Emails from IceWarp to Outlook PST
Manual Method
Follow the steps of outlook configuration to add the IceWarp account to MS Outlook.
We will start by adding the IceWarp Cloud account to MS Outlook by following the instruction given below-
Go to the Microsoft Outlook application on your PC.
Click on the "File" tab and choose "Add Account" to create a new account.
Now, select Advanced Options and check "Let me set up my account manually" and press the "Connect" button.
Select between POP or IMAP in Advanced Setup. Here, we will go for "IMAP."
Enter the information required for the IMAP Account Settings.
Now check whether Secure Password Authentication is required for incoming and outgoing mail and click Next.
Enter your account password and press the Connect button.
Now, wait Outlook will inform you that the account is being set up. And when you're finished, the account will certify that it was correctly set up. And click Done.
Secondly, we will export the PST file from IceWarp
Choose File and go to Open & Export and click Import/Export.
Select Export to a file, and then select Next.
Select Outlook Data File from the drop-down menu.
Select the email folder you want to export and tap Next.
Now browse the location and choose an appropriate name for your PST file; then select Finish.
Drawbacks of the Manual Method
No direct way to move emails from IceWarp to Outlook PST.
No filtration option available to filter data.
Lengthy and time-consuming method.
Deep knowledge required to complete the process.
Expert Solution
To avoid such limitations of the manual IceWarp backup method, you can try this professional Kernel IMAP Backup tool to backup IMAP mailbox emails to save IMAP data to PST, EML, MSG, MHT, HTML, DOC, DOCX & PDF formats.
With this backup tool, you can effortlessly back up multiple IMAP mailboxes. It's a straightforward process that involves just three simple steps: adding an IMAP account, configuring the backup settings, and initiating the backup. This tool offers the convenience of filtering IMAP mailbox data by date and folder selection, ensuring both the accuracy and security of your data throughout the backup process. Furthermore, it's not limited to IceWarp; it also supports various other email platforms such as Gmail, Yahoo, Outlook.com, G Suite, Amazon WorkMail, AOL, Zimbra, and more.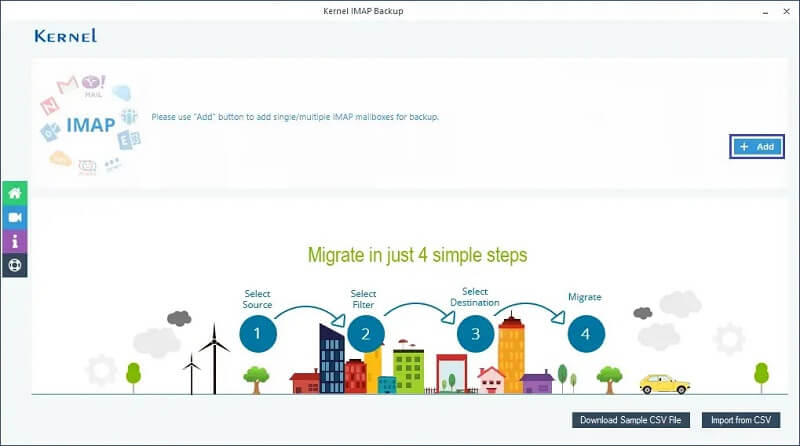 Summing up
Migrating away from IceWarp is becoming increasingly necessary due to its outdated nature. However, it's crucial to maintain a reliable backup of your IceWarp data. To simplify this process, I've authored this blog to introduce you to a professional tool called Kernel IMAP Backup. This tool will not only assist you in migrating your data from IceWarp but also ensure the safe and secure backup of your valuable information.