Read time: 9 minutes
Most users are familiar with the Office 365 cloud platform, a powerful tool for productivity and email connectivity. However, like any other application, Office 365 can experience occasional connectivity issues.
If you're facing problems with your Office 365 setup, feel free to explore our leading solutions. Our blog offers in-depth guidance to help you restore seamless operation to your Office 365 environment.
Easy Solutions to Fix the Office 365 Connectivity Issues
While Office 365 is extensively used for communication and collaboration, some users have faced connectivity problems with the service. These issues can stem from factors like incorrect DNS settings, firewall restrictions, or other related causes.
By following the troubleshooting methods below, users can get back to work with minimal interruption.
Updating Windows
If you're having trouble connecting to Office 365, one potential cause could be outdated or missing Windows updates. To check for updates:
Go to Start > Settings > Update & Security.
Under Windows Update, select Check for updates.
If any updates are found, install them, and then try connecting to Office 365 again.
If this doesn't resolve your issue, see the next section.
Checking Firewall & Proxy Settings
If you encounter connectivity problems with Office 365, it's essential to verify if your firewall or proxy settings are hindering the connection. To inspect your firewall and proxy settings:
Go to Start > Settings > Network & Internet.
Select Proxy from the left-hand menu, and make sure that the Automatically detect setting is turned on and that both Use a proxy server and Use automatic configuration script are turned off.
Next, go to Start > Settings > Update & Security > Windows Defender Firewall.
Select the Allow an app or feature through Windows Defender Firewall link from the left-hand menu.
Make sure that all three tick boxes are selected for the Office 365 applications you're trying to use, and then select OK.
Modifying DNS Settings
Proper DNS configuration is crucial for accessing websites and online services. Incorrect DNS settings can hinder your connection to Office 365. Here's how to troubleshoot DNS settings.
Click Start > Control Panel > Network and Internet > Network Connections.
Go to your network connection and select Properties.
Make sure that IP settings are selected to Automatic (DHCP), and then click Save.
Running Microsoft 365 Diagnostic
To resolve connectivity problems, your best course of action is to conduct a Microsoft 365 Diagnostic. This tool will pinpoint any potential issues with your connection to Office 365 and offer detailed instructions on resolving them.
To use the Microsoft 365 Diagnostic:
Go to https://diagnostics.office.com in your web browser. Sign in with your email address.
On the Welcome screen, look out for your issues and tap to begin a complete diagnostic process.
Follow the instructions to complete the diagnostic.
Once the diagnostic has been completed, follow any recommended steps to fix any issues that were identified.
Checking Service Issues
If you're experiencing difficulties connecting to Office 365, it could be due to a service problem. To see if there are any ongoing service issues that might be impacting your connection, please visit the Office 365 Service Health Dashboard at https://portal.office.com/adminportal/home#/servicehealth.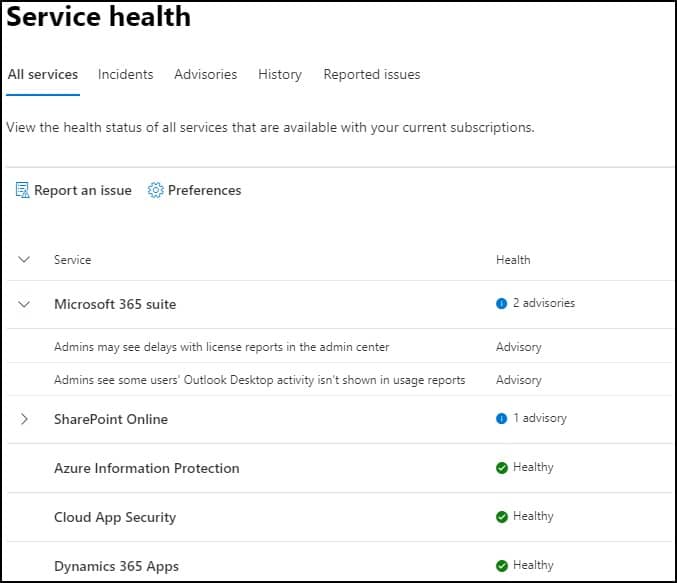 If the message states, 'All systems are operational,' your connection isn't currently affected by any service issues. However, if you encounter the message 'We're sorry, but we're having some technical difficulties,' or if there's an alert for a specific service like Exchange Online, SharePoint Online, or Skype for Business Online, there might be a service problem impacting your connection..
For further details about the service problem, click on the alert. The Service Health Dashboard will furnish you with additional information about the issue, including its onset and expected duration.
Repairing Outlook Profiles
If you encounter Outlook connectivity problems with your Office 365 account, one solution is to troubleshoot by repairing your Outlook profile. This process addresses any corrupted data within your profile that might be causing the issue.
First, open Outlook and go to File > Account Settings > Account Settings. Select the Office 365 account.
Next, click on Repair.
Follow the steps and then restart Outlook. This should resolve any connectivity issues you were having.
Resetting the Office 365 Password
If you are having difficulties connecting to Office 365, resetting your password may resolve the issue. To reset your Office 365 password:
Go to the Microsoft Online Services Password Reset page (https://passwordreset.microsoftonline.com/passwordreset#!/).
Enter your Office 365 email address and click Next.
Follow the on-screen instructions to reset your password.
If the issue is not resolved, contact your Office 365 administrator for further assistance.
Creating a New Outlook Profile
Creating a new Outlook profile after deleting the old one can be a straightforward solution to resolve Office 365 connectivity problems. Here's how you can do it
Access Outlook and tap on the option Account Settings. Tap on Manage Profiles.
Next, click on the Show Profiles option.
Tap on Add and create a new profile, then add your Office 365 account details and try connecting again.

You may need to contact your Office 365 administrator for further assistance if this doesn't fix the problem.
Office 365 Service Outages
Although rare, sometimes Office 365 may experience an outage that prevents users from connecting and you cannot even configure Office 365 account in Outlook.
If there is an issue with a specific service, Microsoft will usually provide information on how to resolve it.
Use the Microsoft Remote Connectivity Analyzer
The Microsoft Remote Connectivity Analyzer is a complimentary online tool designed to assist you in diagnosing and resolving Office 365 connectivity problems. Just input your email address and password, specify the issue type you're facing, and the tool will conduct diagnostic tests to pinpoint the problem. Once identified, you can quickly take the necessary steps to resolve the issue.
Can backups work during Office 365 downtime?
An effective strategy for addressing Office 365 connectivity problems is to establish an Office 365 backup. By doing so, even if Office 365 encounters downtime, users can still access their data and email. Additionally, this approach safeguards your data in the event of an outage or any other connectivity problem.
We recognize that one of the standout features of Office 365 is the freedom to access data from any internet-connected device. Yet, this convenience has a downside: Office 365 doesn't offer a built-in backup solution for users' data. So, how can we ensure a straightforward Office 365 backup? The simplest solution would be the Kernel Office 365 Backup and Restore tool.
This tool provides a comprehensive backup solution for all Office 365 data through a user-friendly interface. It supports modern authentication for Office 365 login and offers intelligent filters for selecting specific data based on criteria such as date, folder, and item type. With this advanced software, users can generate unlimited backups effortlessly.
The tool also retains the read & unread status of all the messages in the Office 365 mailbox and can even export Office 365 distribution group members to CSV.
Final Say
Office 365 connectivity often poses challenges for businesses. We've highlighted the most effective troubleshooting methods for addressing Office 365 connectivity problems. By adhering to these approaches, you can pinpoint and resolve issues that might be hindering your business from fully utilizing Office 365.
Additionally, remember to explore our Office 365 backup tool, offering detailed backup of mailbox items such as messages, contacts, and calendar events. It has the ability to export Office 365 to PST, EML, MSG, MHT, HTML, DOCX and DOC file formats.