Read time: 3 min
While using Microsoft Outlook, you might feel the need to check spelling and grammar for the email message you have typed before sending it. You face a problem with the spelling and grammar checker as it is not flagging misspelled and missing words correctly. In simple words, the Spelling & Grammar checker is not working as you expect.
Causes of the 'Spell Check not Working' Issue in Outlook
The automatic spell check in Outlook saves us from making blunders in our professional emails and reports. But, when spell check in Outlook not working, we may make some gruesome mistakes that we overlook due to the automatic spelling checks. There can be different reasons behind such sudden stopping of spell checking.
The feature has been turned off.
The language of the email is not supported by the grammar checker.
The Outlook version is old.
An update is pending for Outlook.
Any other third-party add-ins have stopped the grammar checker from working.
Malware attacks.
Here are some ways that will help you fix the problems of the Spelling & Grammar checker.
Please note: While using Excel, the spelling and grammar checker doesn't highlight as you type. You will have to manually initiate checking by selecting Review >> Spelling or pressing F7 key on your keyboard.
Check Manually for Spelling and Grammar Before Sending
You can check for spellings with F7 shortcut key on your keyboard or you can click Review tab from the menu bar and click on Spelling & Grammar.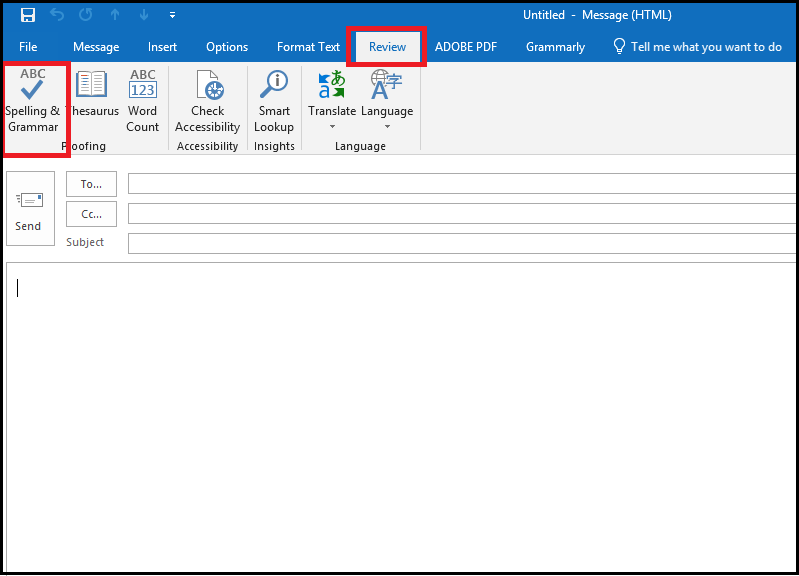 Another way to set up spelling and grammar check in Outlook is given here in simple steps:
For Outlook 2019, 2016, 2013, 2010
Open Outlook and go to:
File >> Options >> Mail. Under Compose Message, select Always check spelling before sending >> click OK.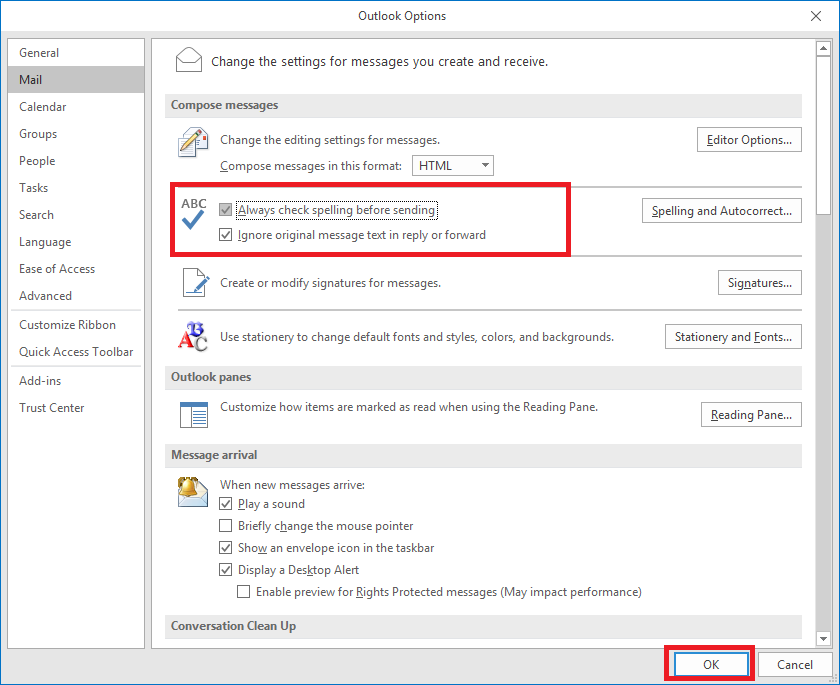 For MS Outlook 2007:
Click Tools >> Options. Click Spelling tab and select Always Check Spelling before Sending
Enable Proof Reading at Template Level Using Language Options:
You can also enable and disable spelling and grammar checking at the template level for every email message you send. To do so, follow the steps mentioned:
For Outlook 2019, 2016, 2013, 2010
Click on New Email >> click Review >> Language >> Set Proofing Language >> uncheck Do not check spelling or grammar >> click Set As Default and hit OK button to finalize the settings.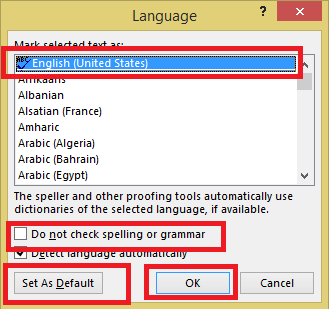 For MS Outlook 2007:
Click on New >> Select Mail Message >> in tab Home >> in Proofing group >> click Spelling >> Set Language >> uncheck Do not check spelling or grammar >> click Default button
By following the above steps, you can disable and enable spelling and grammar check for different languages as required and apply the changes at the template level.
Final Words:
These are a few recommended ways to set spelling and grammar checking. Thus, you can work smoothly while sending crucial data and avoid blunders due to misspelled words or grammatical issues in your written messages.