Read time 5 minutes
Microsoft introduced Outlook for Mac in 2011, and since then, it has been upgraded multiple times with various versions. The user interface of Outlook is designed as per macOS, and many of its features are quite different from those of its Windows counterpart.
Generally, Outlook for Mac works smoothly and does not show any error or symptoms that stop the mailbox from opening or sending/receiving emails. If you face problems like Outlook not opening or some other errors, you should read the complete article and follow various methods based on your issue.
Issue-1. Outlook is crashing unexpectedly on startup
When the user has added a new account and synchronization is stopped due to an application crash, then Outlook shows such a screen-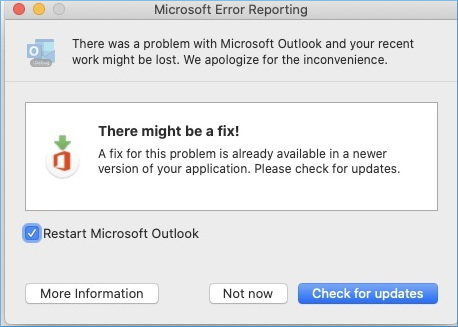 Cause – Outlook crashes during the account synchronization when the calendar event has a 'NULL OriginalStart' property.
Solution – You can remove the calendar event from the account before connecting it with Outlook for Mac. If you have already joined the account, you should update the application with version 16.47 later.
In the Help option in the toolbar, click 'Check for Updates.'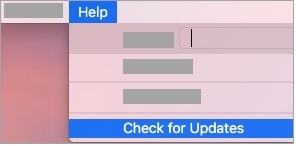 An update for Outlook is pending; click it to update.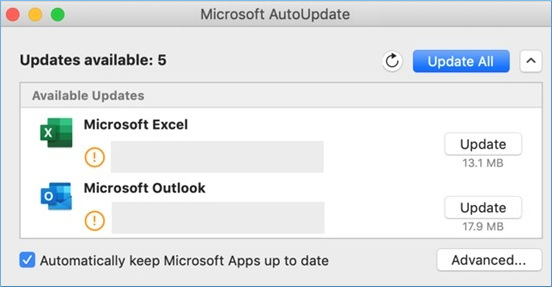 Issue-2. Searches in Outlook are not recovering results
Sometimes, the users using the older version of Outlook for Mac on macOS Big Sur face a problem that search results either do not bring any result or show limited information.
Solution – If you change the file association and Reindex Spotlight to the new version of Outlook for Mac, it will resolve the search results problem. Here are the steps-
In the Apple Menu, go to System Preferences and choose Spotlight.
In the Privacy tab, go to Finder.
On the Go menu, select go to Folder.
Choose the following location and paste its complete path in the 'Go to the folder' dialog box,

~/Library/Group Containers/UBF8T346G9.Office/Outlook/Outlook 15 Profiles/

Now, drag the mail folder to the Privacy tab. After adding it, remove the folder, and Spotlight will re-index with the new folder.
Issue-3. Outlook screen is flickering in iMac computers
When the user is running macOS Mojave on iMac computers, some users may face a challenge that Outlook starts to flicker.
Solution – The problem occurs when an iMac computer is a 27-inch machine with Retina. If you want to use Outlook for Mac, you should reinstall the application or restart the machine.
Issue-4. Error-17099 and Error-3253 while sending an email with an attachment
If you want to attach a file or zipped file, and Outlook for Mac shows some errors like 17099 and 3253, you can try to send it separately using other means.
Solution – The problem starts to occur when there is Norton Security for Mac version 8.6.3 or latest. Recently, Norton has introduced a hotfix solution to the problem.
Issue-5. The user cannot send or receive emails in Outlook for Mac
It is the biggest issue that a user faces when overall email communication is stopped. Now new email does not come to the mailbox or go out to other mailboxes.
Cause- There can be multiple causes behind the problem-
The computer does not have an Internet connection.
IMAP/POP accounts require authentication.
ISP or network firewall has stopped emails by blocking them.
The email server is unavailable.
Account credentials are saved incorrectly.
Solution – For each cause, you should use an appropriate solution.
Check Internet connection.
You can check the Internet cable, Wi-Fi router, and other connection problems.
In the Outlook menu, ensure that the 'Work Offline' option is not checked.
Authenticate your account.
Follow Tools>>accounts.
In the Account box, choose the account.
In the Outgoing server, choose More options.
Choose your authentication type and input the correct credentials.
Input email server address.
In the Tools menu, choose Accounts. Then, choose the account.
In the outgoing server box, input the current email server address for IMAP/POP/SMTP accounts.
Issue-6. An account is not opening in Outlook for Mac
If the account is not opening completely, it can be due to the corruption in the OLM file for the account.
Solution – If you know about OLM file location in MAC Outlook, you should repair the corrupt OLM file to access the account content and attach it again with Outlook. Though there are some free ways to convert OLM to PST file, they are time-consuming. Kernel OLM to PST Converter helps you recover data from corrupt OLM files and export them to PST format.
Conclusion
When Outlook is not working on Mac, you can manually attempt to remove various technical issues due to Internet or server problems. But, when the OLM file is corrupt, you cannot remove the corruption easily. It would help if you used a professional OLM repair software like Kernel OLM to PST Converter to retrieve the complete mailbox and save it in PST format.