Read time: 6 minutes
Summary: Learn how to easily remove a Microsoft Teams audio device on both Windows and Mac operating systems. This guide provides step-by-step instructions for managing your audio settings, ensuring a hassle-free experience. Additionally, it offers data protection tips to safeguard your information during the removal process. Don't forget to back up your data with the recommended migration tool.
Are you encountering problems with your audio device while using Microsoft Teams? Many of us have faced the frustrating issues of sound glitches, audio errors, or compatibility issues when attempting to utilize a Microsoft Teams audio device on both Windows and Mac operating systems. Troubleshooting such problems can indeed be vexing, but the good news is that the solution is not overly complex.
Join us for a comprehensive tutorial on how to remove an audio device from Microsoft Teams. Our guide will walk you through the process on both Windows and Mac systems, ensuring you have the necessary instructions to manage your audio devices effectively. Additionally, we'll share valuable data protection tips to safeguard your information throughout the removal process. If you're seeking a thorough guide to managing your computer's audio settings, let's get started.
Remove Microsoft Teams Audio Device Easily
Eliminating the Microsoft Teams audio device from your computer, whether you're using Windows or Mac, is now a straightforward and hassle-free procedure. In just a few simple steps, you can swiftly disable Microsoft Teams' audio when joining web conferences, making voice calls, or engaging in video calls.
Note: If you happen to forget to turn off the audio device setting after your conference participation, Teams will automatically remember your preference and deactivate the device.
For Windows OS:
Here, we will guide you through removing Microsoft Teams audio devices on Windows.
Access Control Panel

To initiate the process, begin by accessing the Control Panel. You can achieve this by either clicking on the Start button or pressing the Windows key, followed by entering "Control Panel" into the search box. Finally, select it to launch the application.

Change View Settings

After accessing the Control Panel, click on the dropdown menu labeled "View by," then choose "Small icons" from the available options. This selection will enhance your visibility of settings and simplify the process of locating your desired items.

Open the Sound Settings

Once you've adjusted your view settings, find and click on "Sound." This action will bring up a window with two tabs: "Playback" and "Recording." Within these tabs, you'll find a list of all the audio devices currently installed on your computer.

Locate Audio Devices
Now that you can see all of your audio devices, locate any that are associated with Microsoft Teams or any other application that you wish to remove from your computer. Once located, right-click on it and choose the "Disable" option from the menu that appears. This will disable any sound coming from this device and make it no longer work with Microsoft Teams or any other application running on your computer.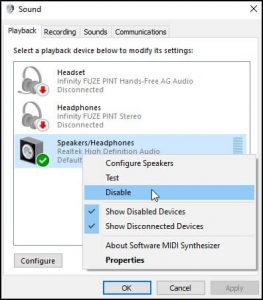 For Mac OS:
Whether you're a beginner or an expert, it can be difficult to troubleshoot audio devices on your Mac. Here, we'll go over how to remove a Microsoft Teams audio device from Mac.
Open System Preferences

The first step is to launch the "System Preferences" window. To do this, click on the Apple icon at the top of the screen & select "System Preferences." This will give you a new window with all your Mac system settings.

Select Sound

Once System Preferences is open, choose "Sound" This will display the screen where you can adjust all your sound settings.

Select Output/Input

From here, select "Output/Input" from the menu. You should now have a list of all connected audio devices on your Mac. Right-click on any device that is not being used as your default sound output device and go for "Use This Device For Sound Output." You may also want to select an input device if necessary for recording purposes.

Restart Microsoft Teams
After implementing these adjustments, relaunch Microsoft Teams by completely closing it and then reopening it. Consequently, when you attempt to utilize Teams for audio input or output, it will cease utilizing an undesired device as the default choice. Instead, it will utilize the device you specified in System Preferences.
Safety Tips to Protect your Data When Removing Microsoft Teams Audio Device
Did you know that when you remove a Microsoft Teams audio device, your data could be at risk? It's true! That's why it's crucial to take the necessary steps to protect yourself. Now, we'll discuss some of the best safety tips for protecting your data when removing a Microsoft Teams audio device & improving your MS Teams performance.
Unplug Devices
Disconnect your headset or any other audio peripherals from your computer while it's still powered on. This guarantees that all configurations are properly stored prior to detaching the device. If needed, allow a few seconds to pass before reattaching it.
Uninstall Any Associated Software
Before detaching your audio device from the system, ensure you uninstall any linked software programs. This step is crucial in guaranteeing the complete removal of all pertinent files and leaving no residual traces on your computer.
To accomplish this, initiate the Control Panel and choose "Programs and Features." Next, locate any software associated with your audio device and proceed to uninstall them if necessary.
Migrate Teams Data Before Removal
Finally, it's important to migrate any Team data before attempting the removal of an audio device. By using dedicated migration tools like Kernel Microsoft Teams Migration, users can easily move their Teams data from one location to another without having to worry about losing any of their valuable data during the uninstallation of an audio device.
The user-friendly interface facilitates a swift migration of team chats and files with just a few clicks, dispelling the notion that migration is a challenging task. This tool not only preserves threaded conversations and files but also seamlessly transfers the associated permissions.
Furthermore, this powerful tool lets you run multiple migrations simultaneously as well as schedule migrations effectively. With a host of automated features, each migration detailed report of completion that can be utilized for future reference. To top it all off, this robust solution supports all Office 365 accounts having MS Teams.
Final Thoughts
As demonstrated earlier, uninstalling a Microsoft Teams audio device from either your Windows or Mac computer is a manageable task. While the specifics may vary between operating systems, the overall procedure remains consistent. We trust that you'll now be able to effectively remove any audio devices from your computer. Nevertheless, it's advisable to first transfer all critical data to another tenant before proceeding with the removal. This precaution ensures that no data is lost in the process. Our migration tool is the optimal solution for such requirements, offering a swift and user-friendly experience. Don't hesitate, go ahead and initiate the download now!
If you have any additional queries, don't hesitate to reach out to our team of skilled professionals for support.