Read time: 6 minutes
We've all been there – you're using Microsoft Outlook, and you delete an entire folder of emails that you need. Maybe you accidentally deleted the folder in Outlook. Or maybe you made a change to your account settings that resulted in some folders being deleted. Whatever the reason, it's frustrating when you can't find a folder in Outlook.
Luckily, there are ways to recover any deleted folders—and it's pretty simple. In this blog, we'll walk you through the steps for recovering deleted folders in Outlook. Here, you'll know how to get your folders back and keep them from being deleted in the future.
Recovering the Deleted Items in Outlook
In most cases, it's easy to recover deleted folders in Outlook. Simply follow the steps, and you should be able to get your folder and all its contents back in no time.
Step One: Check the Deleted Items or Trash Folder
The first thing you'll want to do is check to see if the folder is in either the Deleted Items or Trash folder. To do this, simply open either of those folders and search for the item you're looking for.


If you still can't find the folder you're looking for, try doing a search. Under your email account, select Search folders. Then see what you're looking for in the search box and hit enter. At times, when you access this option, Outlook not responding issue pops up, so it is advisable to keep your Outlook up to date to counter such situations.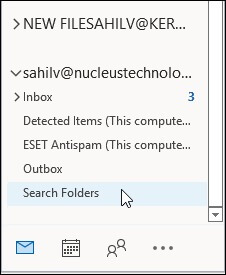 Step Two: Moving Deleted Items
After you have found the items you need in the Deleted Items or Trash Folder, it is time to right-click on it
Next, tap on Move Folder. All your deleted items will be shifted to the desired location in Other Folder.
If you are unable to search for the items or find the item there, it may be due to the type of email account you are using in Outlook. So, try the next method.
Recover Deleted Folders in Outlook – Microsoft 365 or Exchange Server
If you have a Microsoft 365 or Exchange Server account, there's a good chance that your deleted items are still on the server and can be recovered. Here's how:
Go to your email folder list in Outlook and choose Deleted Items.
From the Folder menu, select 'Recover Deleted Items.'
In the 'Recover Deleted Items' window, select the items you want to recover and mark the checkbox "Restore Selected Items."
Tap OK. The items will now be moved back to their original locations.

Note: If you can't find the item in your Deleted Items folder, it's been permanently deleted from the server and can't be recovered.
Check your Backups
Unfortunately, if you've tried all the above steps and still can't find your deleted folder, it's possible it's gone forever. When a folder is deleted, all its contents are permanently erased from the server—meaning there's no way to recover them except through backups.
If you regularly back up your computer using Windows backup features or another backup program, there's a chance that your missing folder may be restored as part of that process. To check, go to Control Panel > System and Maintenance > Backup and Restore. If you see an entry for Outlook under backups, select it and then click Restore my files to restore any missing folders.
Note: If you have a POP or IMAP account, ask your email provider whether they have a way to recover lost messages from your account on their servers. Some email providers might be able to retrieve messages if they were accidentally deleted within a certain time frame (for example, within 10 days).
Recovering Deleted Folders with a Professional Solution
Still not able to recover the deleted items and folders in Outlook? We both can agree on this as manual methods require good technical expertise. But now we have the easiest solution suitable for any user. It is the Kernel for Outlook PST Repair tool.
It is one of the most renowned PST repair tools available on the market today. The tool is known for its simple interface and accurate results. Some of its key features include:
Recovers Deleted Outlook Emails: The tool can recover permanently deleted as well as soft-deleted emails. It can also recover emails from corrupt or damaged PST files.
Repairs Large PST Files: It repairs PST files of any size, including 2 GB, 4 GB, and 8 GB PST files. It can also repair password-protected and encrypted PST files.
Recover Deleted Attachments: The tool can recover attachments that have been permanently deleted or lost due to corruption. It can also repair corrupt attachment files.
Saves Emails in Different Formats: This utility can save recovered emails in different formats, such as MSG, EML, HTML, DBF, and MBOX. It can also export recovered emails to Office 365, Exchange Server, and Gmail.
Smart Filtering Options: It offers several smart filtering options that help users to recover only specific emails. These options include date range, email header, sender/recipient address, and subject.
Retain Meta Properties: The software retains all the meta properties of recovered emails, such as To, From, Cc, Bcc, Subject, Date/Time, and Attachments.

Furthermore, a trial version of the software is available for a free evaluation. You can use this trial version to analyze the various features and functionalities offered by the tool before purchasing it. You can even evaluate the efficacy of this tool in resolving your Outlook data corruption issues.
Final Say
Overall, it is not that difficult to recover deleted folders in Outlook if you know where to look and what to do. Just follow the steps outlined above, and you should be able to get your folder back in no time. Of course, if you are still having trouble or have any other questions, please visit our site.