Read time 5 minutes
Duplicate emails in Outlook are not a rare occurrence in a business environment. The administrator must often delete the emails manually and check if the crucial emails are not deleted accidentally. When the number of duplicate emails increases, then manual deletion is not feasible. It may take many manly hours and efforts to find the right reason for the duplicate emails. So, it is not easier to remove duplicates because you should fix them without compromising the user's data and the client's account.

Instant Solution
Try automated tool Kernel for Outlook Duplicates Remover to detect & find duplicates MS Outlook items. It supports MS Outlook Office 365, 2019, 2016, 2013, 2010, 2007, 2003, 2002, 2000, 98, 97.
To help you understand the duplicate Outlook emails problem, we have explored all the top possible reasons and an apt solution that will surely help you to remove duplicate email items.
Top reasons why duplicate email problem occur in MS Outlook.
There are multiple reasons behind duplicate emails that might be sent or received in Outlook. Below listed are the top reasons that are explained one by one.
Received Email is Corrupt or Infected:

In Outlook 2016, 2013, 2010, etc., multiple, or duplicate email copies are a result of corruption. It could take place on any sent or received email items. The issue can be controlled or fixed instantly from the server end by contacting the IT Administrator.

Synchronizing Outlook Email on Multiple Devices:

It is a common practice of many Outlook users to use the same Outlook profile on multiple devices like desktops, laptops, tablets, and mobiles which ultimately leads to the creation of multiple copies or duplicates of emails. You can resolve this by manually deleting emails one by one.

Multiple Outlook Accounts:

Mostly, Outlook users configure their personal as well as professional email together. They work separately being in one place and obviously helps in increasing productivity. But it becomes a bit confusing, so make sure the accounts are separate indeed and are not showing as aliases for the one Outlook account. If you are using aliases, the single mailbox might get set up twice, leading to duplicate Outlook emails.

Having Multiple Folders Set Up

Another common cause of getting duplicate emails in Outlook is when you have multiple folders set up for storing your messages. For example, if you have an Inbox folder and a Sent Items folder, each time you send an email, a copy of the message will be stored in both folders. This can lead to duplicates appearing in your inbox when you view your email from either folder.

Settings of Outlook not Configured Properly:

MS Outlook generates duplicates for every Send/Receive cycle due to the account settings; the checkbox "Leave a copy of the messages on the server" has been enabled. You can fix this by disabling the Account Setting in all the MS Outlook versions.

Outlook Setup Downloading Messages from Other Email Accounts

Duplicate emails can also appear if you have set up Outlook to download messages from another email account, such as a POP3 account. When you do this, each time you receive an email in the other account, a copy of the message is also downloaded and stored in Outlook. In Outlook, you can see duplicate emails in your inbox as a result of this issue.

Importing PST File to Current Outlook Profile:

Users archive emails to PST files for backup or exporting data. If you import any of the PST files to the same Outlook profile from which it was exported, it will create duplicates for complete mailbox data items.

Rules Configuration is Incorrect:

This could be a simple mistake that you might be making by configuring inappropriate rules. This becomes messy when an email message is received. Due to incorrect rules, Outlook builds duplicate data in the mailbox.

Archive Messages

The issue of duplicate Outlook emails can also occur when Outlook is set up to automatically archive messages. Whenever you receive a new email in Outlook, a copy of that message is also saved in an archive file. If you look at your email archive from the inbox, duplicates may appear.
A Perfect Professional Solution to Remove Duplicate Emails in Outlook:
Kernel for Outlook Duplicates Remover tool is the best professional and automated solution to remove multiple copies of email items from Outlook PST files. The Outlook duplicates remover tool has all the potential to detect and find duplicate copies in single as well as multiple PST files at once. The tool guarantees no data loss as it is very smartly designed with the help of intelligent algorithms which easily detect duplicate items and report them immediately.
Here is the quick step-by-step process that will help you to understand and run the tool for removing duplicate items in Outlook.
Step 1: Create a task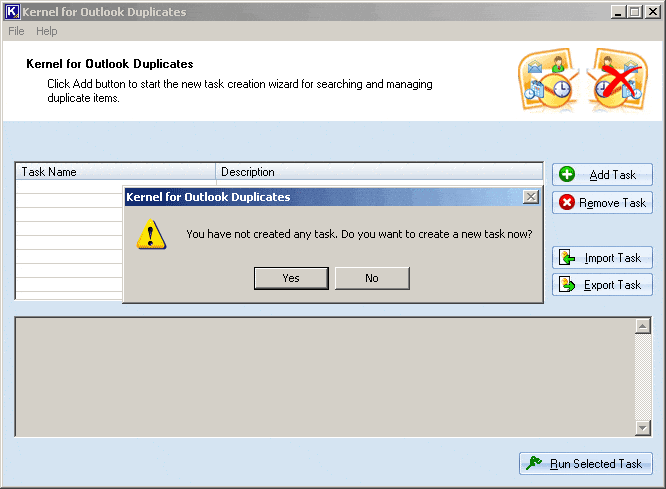 Step 2: Choose appropriate actions.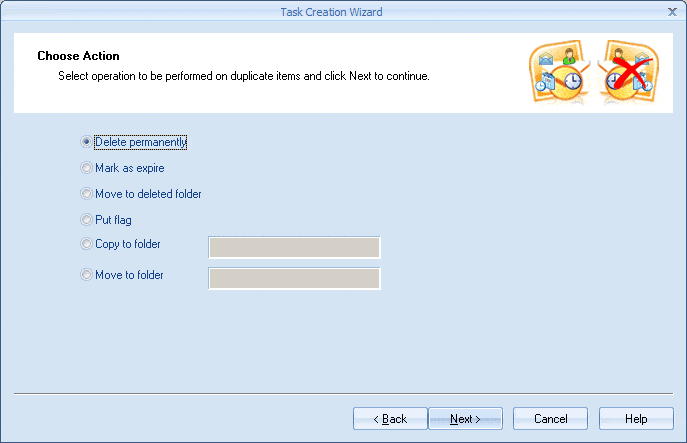 Step 3: Save the report.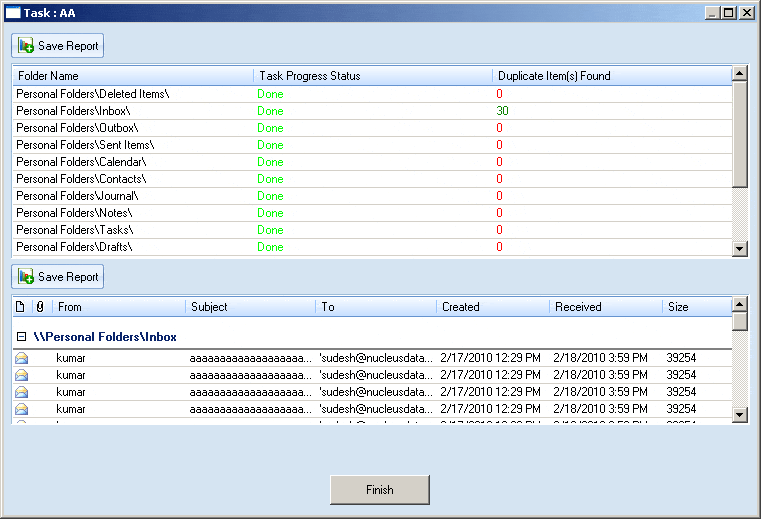 Final words:
Outlook duplicate emails can be caused by a number of things, from corrupted items in your Outlook data file to sync issues with other email clients or devices. In this post, we have provided you with insight intosome of the top reasons for duplicate emails in Outlook and provide you with the easiest solution of Kernel for Outlook Duplicates Remover tool.
It is a simple and cost-effective tool that helps users get rid of all duplicate items from their mailbox in just a few clicks. The software offers advanced features,making it one of the most popular choices among professionals and home users. So if you are looking for an efficient way to manage your mailbox and remove all duplicate items, download it today!
Video: To know Complete Process of Outlook Duplicates Remover Tool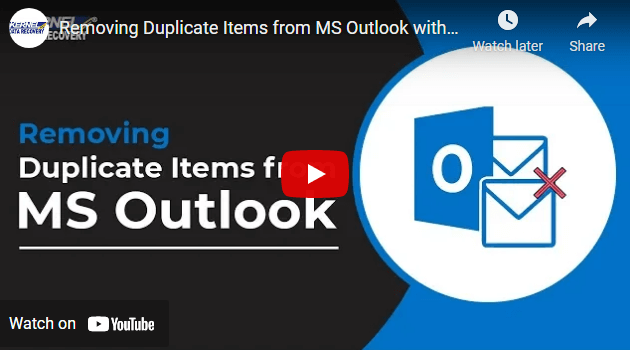 FAQs
Q- Why do I keep receiving duplicate emails in Outlook 2007?
A- This issue may be the result of the same account being configured multiple times. To fix, open Outlook, click on "Tools", select "Account Settings" & then remove the duplicate account.
Q- Does Microsoft have a duplicate file remover?
A- Microsoft offers the Duplicate Media Finder Free (DMF-Free) that allows you to easily search & delete any identical files, whether it be documents, music, movies, or even dll files. With DMF-Free, there are no limitations to the number of duplicates you can remove.
Q- How do I find duplicate emails in Outlook?
A- You can find duplicate emails in Outlook by using the built-in "Clean Up" feature. Here are the steps to follow:
Firstly, select the particular mailbox folder you would like to check.
Then, navigate to the "Home" tab & click on "Cleanup".
To eliminate duplicate emails within a conversation, select "Clean up Conversation".